An investment in the US equity market throughout 2021 (depending on your risk profile) has been a great decision: a simple ETF index tracker like SPY:NYSE, which tracks the SP500, has generated over 23% returns in Australian dollar terms year to date. Last week third-quarter earnings season started, and if the opening is an indication of what's to come then that positive momentum should continue.
According to FactSet's analysis, more S&P 500 companies are beating EPS estimates for the third quarter than average and they are beating EPS estimates by a wider margin than average. Currently, there is earnings growth of more than 20% YoY for the fourth quarter expected and earnings growth of more than 40% for the full year. These above-average growth rates are due to a combination of higher earnings for 2021, and the comparison to the lockdown-impacted weaker earnings in 2020 throughout most industries.
The below table from FactSet shows the breakdown of that bounce back in company revenues across the various sectors. The sharp surge in oil prices this year, as economies rebound, and people start moving around again is most evident in the over 50% gains seen by the energy sector. The fact its sector weighting is less than 3% of the index currently explains why those outsized gains are not driving the index like they would have in the previous decades.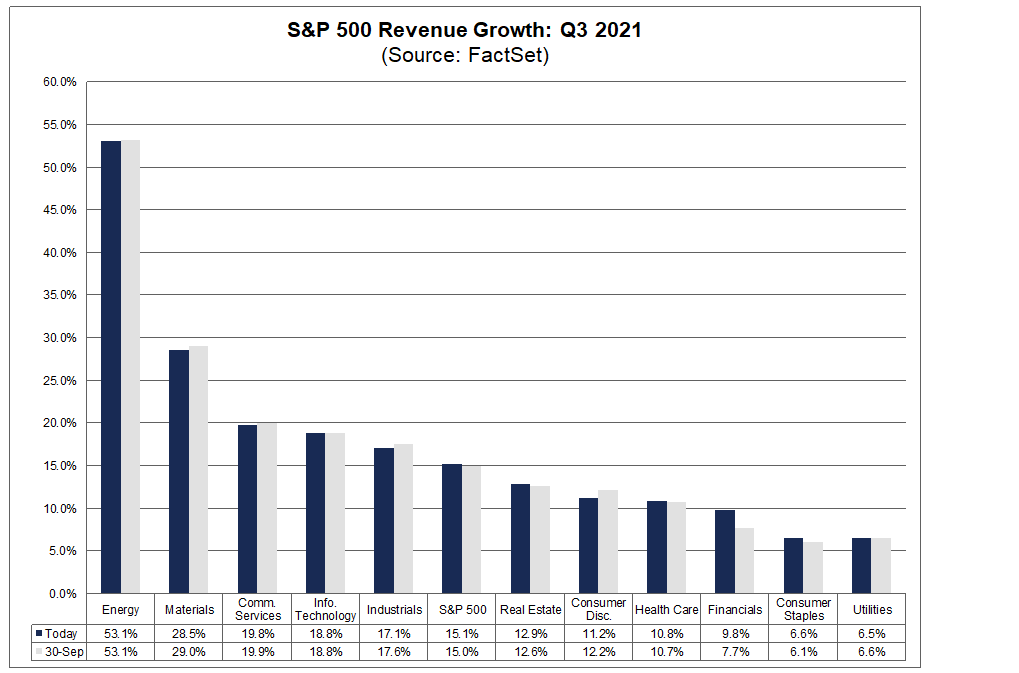 Last week the positive revenue surprises from Wall Street's major banks kicked off the reporting season, helped by exuberant consumer credit card spending, strong financial market trading, and M&A deals. Announced M&A has totaled $3.24 trillion USD through to 3Q, making 2021 already the largest year for announced M&A since 2007.
If the projected 15.1% revenue growth across the index is the actual rate for the quarter, it will mark the second-highest YoY revenue growth rate reported by the index since FactSet began tracking this metric in 2008, trailing only the previous quarter.
While we have strong revenue growth and margins being maintained allowing earnings growth to continue into the last quarter, then it makes sense to expect the market to continue to push higher. Goldman Sachs have maintained their year-end 2021 target of 4700 pts, indicating just over 5% gains from current levels.
Market momentum was tested in September, but record levels of US cash assets are being deployed into equities. According to Goldman analysis; households, mutual funds, pension funds, and foreign investors hold $19 trillion of US cash assets, accounting for 68% of total US cash assets and reflecting a $4 trillion rise vs. their pre-pandemic holdings. US ETF and mutual fund net inflows Year To Date (YTD) are the highest in any year since 2001. The ratio of equity to bond inflows in the US is currently near a record high.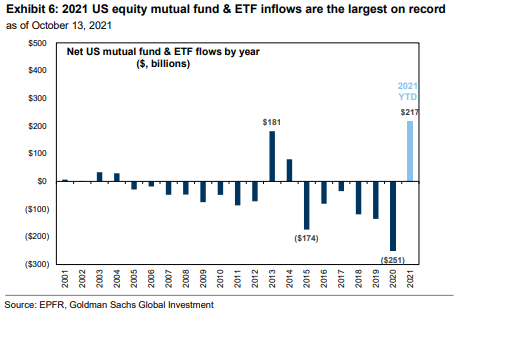 According to one Goldman's estimate, US households currently allocate 47% of their assets to equities, having surpassed the previous record high set in March 2000. During the first half of 2021, household equity demand has annualized $848 billion, well above the 5-year average of $151 billion. The average household is clearly chasing returns and they are prepared to take more risk in doing so.
The corporate sector will also be increasing that upward pressure on the market, upping their demand for equity as we head into 2022. Goldman's analysis shows during 1H 2021, corporations were net buyers of just $73 billion of stocks as many buyback programs remained on hold while equity issuance hit an all-time high. A total of $884 billion in buyback programs have been authorized YTD, the highest level on record. Those buybacks will accelerate into year-end and continue into 2022.
The extent of that bounce back in corporate demand can be visualised in the chart below.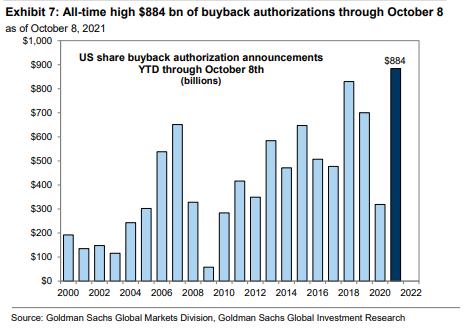 The one hurdle that investors will hear from companies over the coming weeks, particularly from the technology manufacturers – will be on supply bottlenecks.
Companies will have to address the current shortage of components and their outlook for managing this reduced manufacturing capacity. Apple (AAPL:NASDAQ) has already reported that it's been forced to slash its production plans for the iPhone 13 for the December quarter. They will not be alone as there is no quick solution to pressure currently on global supply chains.
The optimist can look at a supply chain constraint as postponed demand and not demand destroyed. Assuming no external shocks (which can never be forecast) the outlook for US company earnings looks positive. Shifting asset allocations should also keep the bid side of the market well supported heading into year-end and let's see if the seasonal "Santa rally" unfolds.
The views expressed in this article are the views of the stated author as at the date published and are subject to change based on markets and other conditions. Past performance is not a reliable indicator of future performance. Mason Stevens is only providing general advice in providing this information. You should consider this information, along with all your other investments and strategies when assessing the appropriateness of the information to your individual circumstances. Mason Stevens and its associates and their respective directors and other staff each declare that they may hold interests in securities and/or earn fees or other benefits from transactions arising as a result of information contained in this article.