US equity markets continue to march higher and earnings momentum is driving the indices to record levels. Over 70% of SP500 companies have reported, and close to 80 percent of them have beaten Q3 earnings estimates, according to JP Morgan's quantitative research team.
For those companies that have reported, revenue growth is up 19% YOY. Granted, the above-average growth rates are enhanced by the easier comparison in 2020 due to Covid-19, but the higher earnings are still surprising analysts.
Looking forward into the next quarter, that momentum remains into the close of the year too. Typically, analysts will reduce earnings estimates during the first month of a new quarter – not this time. According to Factset analysis, the cumulative Q4 bottom-up EPS estimate for SP500 companies has increased by 0.9% to $51.53. To put that in context, over the past ten years the average decline in analyst estimates during the first month of the quarter has been 2 percent. If you then factor in the current elevated forward 12-month P/E ratio of 21x that market is currently trading you start to understand why the market pushing higher.
The below sector breakdown from JP Morgan highlights where those surprises are coming from.
The financials sector got the momentum going early and then with the surging oil price this year its no surprise the energy companies kept the positive news flow.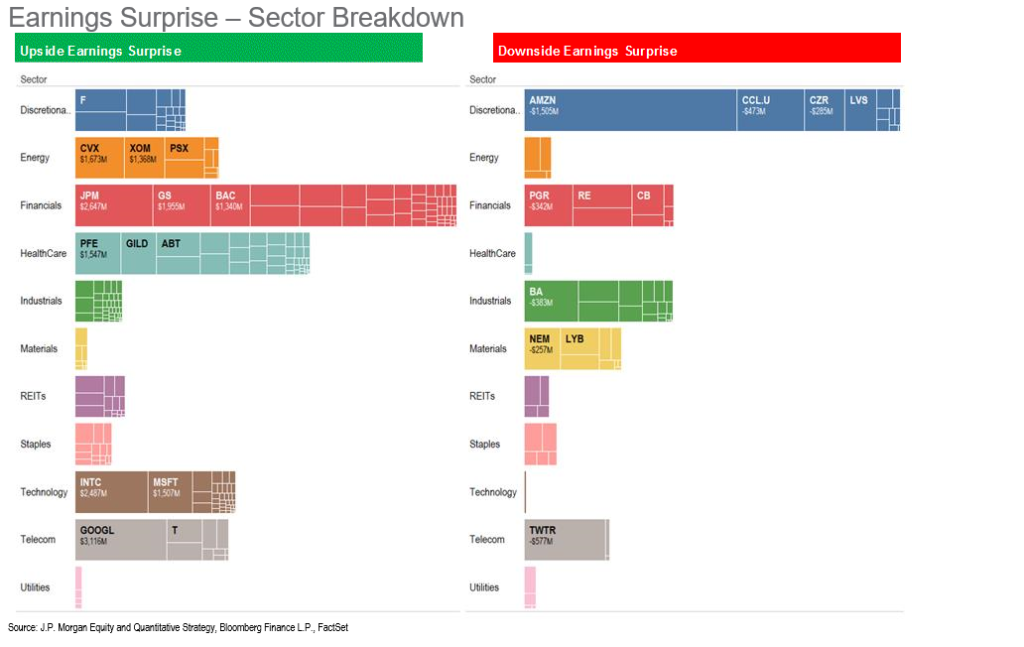 Looking at what the companies have been saying in earnings calls, Goldman's in a recent report have highlighted four key themes:
1. Supply chains are stretched and the inflationary pressure that is generating
Every industry is facing increases in logistic costs and delivery delays. A record number of 77 ships stand anchored at the Port of Los Angeles, as can be seen from the chart below this is far from normal. Labour shortages and high job openings is pushing up wages.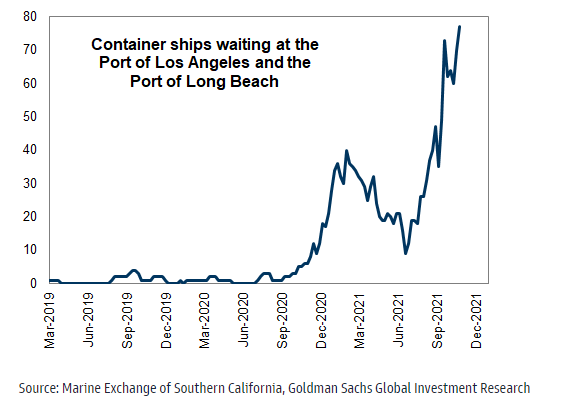 2. Margins
The higher costs are impacting margins but not to the extent it has in recent cycles. Goldman's expect Q3 earnings season margins to contract to 11.6% from the record levels realised in the first half at 12.2%. Companies are passing on price increases to customers at a pace not seen since 1995 according the recent NABE business conditions survey.
3. High Consumer Demand
The reason these companies can push on the higher costs is real goods consumption stands at 115% of pre-pandemic levels. Consumers after a long period of Covid-19 restrictions are opening their wallets and leaning towards goods over services.
4. The trend to automation has accelerated in response to supply chain disruptions
Managements are overcoming their supply chain issues by spending more on technology and automation. Capex will grow by 6% in 2021 and 10% in 2022 as the shift to a more digital consumer has accelerated.
The below transcript is from the global manufacturer and marketer of consumer products
Procter & Gamble Company (PG): "As discussed last quarter and in the more recent investor conferences, we've announced price increases in the U.S. on portions of our Baby Care, Feminine Care, Adult Incontinence, Family Care, Home Care and Fabric Care businesses. In the last few weeks, we've also announced to retailers in the U.S. that we will increase prices on segments of our Grooming, Skin Care and Oral Care businesses."
This quote is an example of many along similar lines that have been occurring on investor calls. The issue is nothing above sounds transitory in nature. This appears in direct contrast to what Central bankers have saying to bond markets and why inflation concerns are mounting.
Stepping back from the economics to close, I liked the below chart from Citibank's equity strategy team. The blue line below shows how the market has changed this year. With more time on their hands during lockdown searching for ways to make money- the US market has seen a dramatic increase in retail participation. That increased participation fuelled by online education is seeing option volumes explode.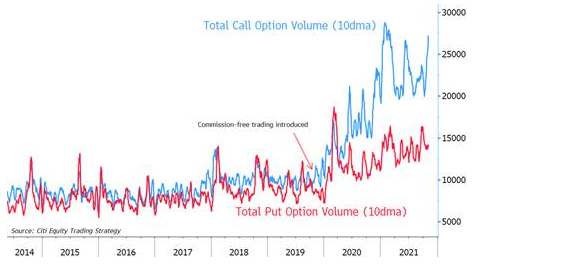 Source: Citibank
Like any substantial shift in participation it's usually temporary and dependent on success. As we head into the close of 2021 the momentum is building on the earnings front and given the above increased usage of derivatives price action is going to get faster and more erratic.
The views expressed in this article are the views of the stated author as at the date published and are subject to change based on markets and other conditions. Past performance is not a reliable indicator of future performance. Mason Stevens is only providing general advice in providing this information. You should consider this information, along with all your other investments and strategies when assessing the appropriateness of the information to your individual circumstances. Mason Stevens and its associates and their respective directors and other staff each declare that they may hold interests in securities and/or earn fees or other benefits from transactions arising as a result of information contained in this article.