Government and corporate interests around the world are turning their attention towards our output of carbon into the atmosphere, sparking a wave of investment trends from electric vehicles to renewable energy infrastructure.
Show me private and public sectors collectively making noise, and I'll show you an investing super trend.
Many of the sustainability themes that are discussed in financial markets (including our own pieces) entail reducing emissions that we will produce in the future, be it through clean energy to less pollutant modes of transportation.
But what about the carbon dioxide already in our atmosphere?
According to 2° Institute and CSIRO, the level of CO2 (measured in parts per million) has fluctuated in a band between 180 and 280ppm for the last 800,000 years.
Today, that figure is at 406ppm.
As investors and residents of Earth, how can we address the problem we have already created, rather than simply look to stem the further damage we'll do in the future?
Introduction to Carbon Sequestration
To set out a point of scientific clarity, the level of carbon on Earth is not increasing: our atmosphere is a closed system, we can't add or takeaway what's trapped in this big blue ball.
What we can do is change where that carbon is stored – from coal to air, to trees, to seas.
Carbon sequestration is the process of removing/capturing carbon dioxide from the atmosphere, through biological or chemical processes.
In essence, it aims to extract carbon from the atmosphere to mitigate the impact of climate change, by moving it into other storage vessels which are not as damaging to the environment, be it an organic or man-made storage.
The below diagram provides a good illustration of how this cycle of carbon operates: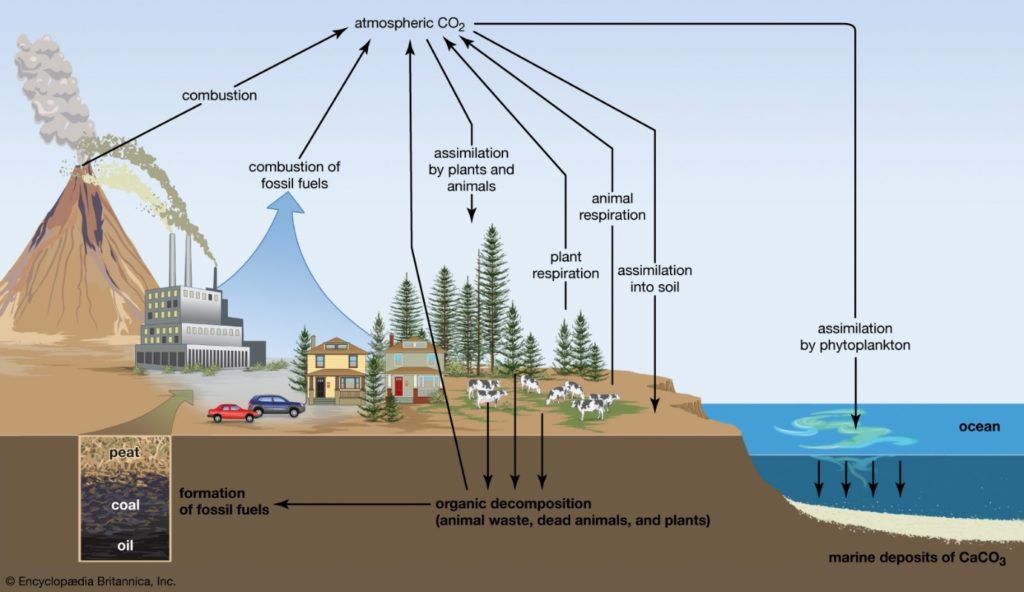 Source: Encyclopedia Britannica
It may be surprising to know that the atmosphere is not the largest store of carbon, in fact far from it.
There are around 65,500 billion tonnes of carbon on Earth, mostly stored in rocks, with the ocean holding approximately 38,000 billion tonnes in 2010 (source: NASA, World Ocean Review), over 16x more than plants and soil.
Global Market for Carbon Capture
According to the IEA, annual carbon capture, utilisation and storage (CCUS) capacity is only 40 million tonnes, so clearly a very long runway to meet our need to remove excess levels of carbon dioxide from the terrestrial atmosphere.
CCUS facilities operating and in development, 2010-2020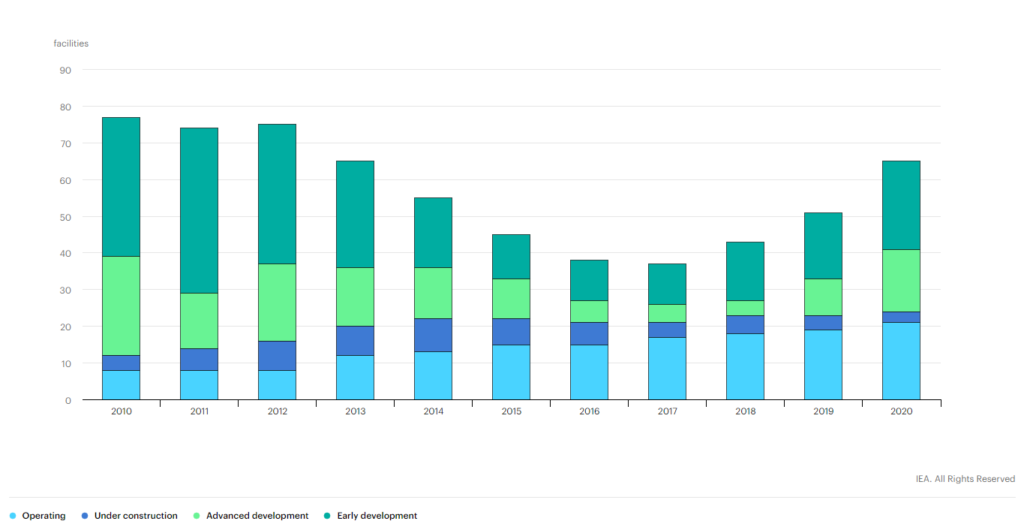 Source: IEA
Though COVID was certainly a handbrake on the development of this industry, an increasing volume of new projects are coming on each year.
BusinessWire released a report last month suggesting that the carbon capture market globally would be worth $1.46 billion USD by the end of this year, and $2.97 billion by 2025.
That's impressive given that the primary investment has come from corporates.
ExxonMobil (XOM:NYSE) recently announced a $3 billion USD investment pipeline into new CCUS projects over 5 years. They are even more bullish on the carbon capture market, projecting a $2 trillion USD total addressable market by 2040.
Closer to home, the Morrison Government announced $412 million AUD of new investment into CCUS projects, including a $50 million AUD CCUS development fund. Six companies were direct beneficiaries of this project;
Santos Limited (STO:ASX)
Mineral Carbonation International
Energy Developments Pty Ltd
Carbon Transport and Storage Company
Corporate Carbon Advisory Pty Ltd
Boral limited (BLD:ASX)
This is part of a larger $1.2 billion infrastructure investment planned out by the government for CCUS technologies and capabilities.
Particularly after the mixed outcome of the COP26 summit, and looming inability to meet Paris goals, governments will start to pay more attention to what technologies can be developed and employed to assist in decarbonisation efforts alongside existing initiatives.
To put that in a more cynical way, governments would rather invest into technology that can work to solve the problem, without needing to tackle hard issues like limiting fossil fuel usage or set more ambitious climate goals – this was unfortunately termed at COP26, by a certain world leader, as "the Australian way".
Under the Sea
Most of the CCUS market is not open to public investment at this time, aside from large energy and mining companies looking to add projects onto their existing business operations.
The growth of investment and potential to solve climate issues means it's all but certain that we will see companies such as Climeworks, Net Power or Carbfix come to the market in the coming years.
However, the lack of current opportunities now allows us to think out of the box and consider an opportunity which has not yet permeated in the popular narrative.
When we think of syphoning carbon from the atmosphere, it's usually accompanied by either a vision of rolling forests, or indeed of giant industrial fans.
But to quote a classic Disney movie, The Little Mermaid: "we in luck here, down in the muck here, under the sea".

Or, more specifically, under the seaweed.

Seaweed is one of the most resilient forms of plant life on Earth, and a report by BBC suggests that seaweed sequesters nearly 200 million tonnes of carbon dioxide per year – that's more than 1,300% of Australia's annual emissions last year.
In fact, seaweed farms off the coast of Australia have been measured as absorbing carbon up to 50x faster than forests on land (source: Conservation International).
Of course, this opens up the potential for carbon credits to be associated with these projects, so called "blue carbon credits".
As a quick thought experiment, consider that a 2019 study found that growing seaweed in just 3.8% of federal waters off the Californian coast would offset all carbon emissions from the state's entire agriculture industry. That level of carbon emissions was estimated to be 34.4 million tonnes.
Though there is no uniform way to price carbon credits globally, let's take today's Australian carbon credit (ACCU) price of $38 AUD per credit (one credit = one tonne of carbon dioxide).
$38 x 34,400,000 = $1,307,200,000 AUD
A project off California alone gives the global seaweed market a value of ~$1 billion USD in credits alone, without touching the potential for farming seaweed for human consumption, or biomass for cattle feed.
And that's using today's carbon credit price – something which is and will likely to continue going absolutely parabolic.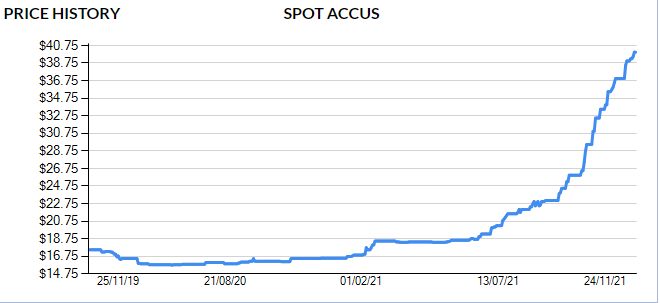 Source: Jarden
I Can Sea Clearly Now
There should be very little doubt to investors that money will flow into technologies which can assist in decarbonisation – nothing gets the chequebook out like an existential crisis, particularly when it also earns you social favour.
Government and corporate investment continue to build in strategic initiatives, and as our effort to halt climate disaster accelerates so too will the level of capital required to create actionable outcomes.
For a trend so clearly telegraphed, there are a myriad of viable opportunities all presenting themselves at the very earliest stages of their development.
In the case of carbon capture, there is attention already on CCUS operations using extraction and fans, or reforesting.
But the idea of employing one of our largest natural resources – the ocean – has not yet gained the traction it should.
A wonderful outcome would be coastal cities along the world harvesting seaweed as a sustainable method of both feeding a growing population and filtering carbon from our atmosphere. More sushi for all, I think that's an investment thesis we can all rally behind.
The views expressed in this article are the views of the stated author as at the date published and are subject to change based on markets and other conditions. Past performance is not a reliable indicator of future performance. Mason Stevens is only providing general advice in providing this information. You should consider this information, along with all your other investments and strategies when assessing the appropriateness of the information to your individual circumstances. Mason Stevens and its associates and their respective directors and other staff each declare that they may hold interests in securities and/or earn fees or other benefits from transactions arising as a result of information contained in this article.