"Every gambler knows
That the secret to survivin'
Is knowin' what to throw away
And knowin' what to keep."


Kenny Rogers (1978)
Following on with our dive into sectors that are technology-related, be it music, with Spotify and Apple music, and the computer gaming sector with Activision Blizzard, Electronic Arts and Zynga, we broaden our view and look at the US Sports betting and iGaming sector.
According to a recent report by JPMorgan, the industry is expected to experience significant growth over the next 5 years, with multiple expansion and value creation within the US Gaming sector. Sports betting revenues currently sit at circa $900million for 2019 and is expected to grow to $7.6billion by 2025, while US iGaming revenues is tracking towards $1.4billion in 2020 and is expected to be $4.6billion by 2025. While online sports betting (OSB) has a larger total addressable market (TAM) than iGaming, the market is very competitive and should have a harder road to profitability, while iGaming is profitable right now.
Sports betting is currently legal in 23 US states/jurisdictions and is operational in 19. This covers 41% of the US population. The regulatory structure of each state also varies significantly, whether its restricting betting to land-based casinos or variations in tax rates. Existing operators include traditional casino businesses, international sports book operators and daily fantasy sports operators. The key growth drivers to this infant industry are:
Brand recognition
First mover advantage
Willingness to spend on marketing /customer acquisition costs
Media/Sports League partnerships.
In 2019, the states with the highest sports betting revenue were Nevada at $329m (no surprise there) followed by New Jersey at $299m, Pennsylvania at $112m and Indiana at $43m. New Jersey ranks second as sports betting in its neighbour state of New York is currently illegal. Over the next 5 years, it is expected that 13 additional state will legalise online sports betting bringing the total to 36, covering 70% of the US population. Of the expected growth in revenue to $7.6billion over the next 5 years, $3.3billion comes from states where OSB is currently legal, with an additional $4.3billion coming from states that could potentially legalise the industry, including California that is by far the largest potential growth market.
The sports betting market is very competitive, with operators including fantasy sports operators (FanDuel & Draft Kings), traditional casino operators (MGM resorts, Penn National Gaming and Caesars Entertainment Inc) and various other sports book operators (Pointsbet, Sugarhouse/Rush Street Interactive, Bet 365, Foxbet etc). Key drivers of each states OSB market include:
Proclivity to gamble –  lottery spend per capita provides insights here; Massachusetts $1000 per annum v $300 in Oregon, Nth Carolina & Tennessee
Land-based vs online – those with both will have a key advantage
Number of skins –  skins are referred to any digital object in the game that changes the visual outlook of the player
Tax rates and cost structures –  high tax rates like Pennsylvania make it more difficult for operators to promote heavily and remain profitable
Existing Sports Teams – certain states have a greater number of professional and collegiate sports teams with a dedicated fan base.
Online/internet gaming (iGaming) is forecast to grow revenues from $1.4billion in 2020 to $4.6billion by 2025. Two states, New Jersey and Pennsylvania are expected to account for 66% and 33% of the existing $1.4billion revenue in 2020. Michigan is expected to legalise its online gaming market later this year (2020)  and between these three state will account for $2.8billion of the $4.6billion in revenue by 2025. The states that are expected to legalise online gaming in the next few years, are those with existing commercial casinos and online sports betting already, including Colorado, Illinois, Indiana & Iowa. As the industry grows, it is expected that 5 to 10 main competitors to emerge with 3 to 4 of these capturing the majority of market share.
OSB platforms like DraftKings and Fanduel already have standalone iGaming apps as do your traditional casino companies like MGM, PENN & CZR. Emerging firms include Golden Nugget Online Gaming and Rush Street Interative, both of which are in the process of listing to become better capitalised to compete in the industry.
Despite appealing to a wider audience, JPMorgan believes iGaming to be more profitable over the next 5 years compared to OSB. A key reason is the lower marketing spend for iGaming (13% of revenues) v online sports betting (32% of revenues). Casinos, for example, can leverage their data base of existing customers and promote omni channel offerings. In addition, iGaming operators do not have to pay fees to sports leagues such as NFL (Gridiron) and NBA (Basketball). Finally, there is very few avenues for real money online gambling other than legal channels whereas there is a huge illegal market in sports betting who invariably offer more attractive odds as they do not pay state taxes.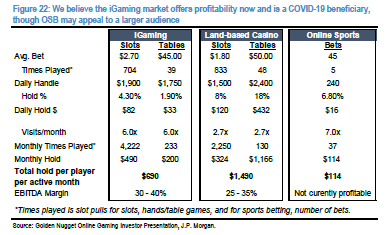 Source: JPMorgan
The views expressed in this article are the views of the stated author as at the date published and are subject to change based on markets and other conditions. Past performance is not a reliable indicator of future performance. Mason Stevens is only providing general advice in providing this information. You should consider this information, along with all your other investments and strategies when assessing the appropriateness of the information to your individual circumstances. Mason Stevens and its associates and their respective directors and other staff each declare that they may hold interests in securities and/or earn fees or other benefits from transactions arising as a result of information contained in this article.