U.S. data released on last Wednesday showed the Consumer Price Index (CPI) grew 6.2% year-on-year and 0.9% month-on-month in October, while the core CPI rose 4.6% year-on-year and 0.6% month-on-month.
Those are significant numbers: you have to go back to the early nineties, when interest rates were considerably higher, to have seen such a high CPI print.
While supply chain bottlenecks have been a significant contributor, surging energy costs are the focus for governments shackled with ballooning debt. US President Joe Biden has requested the National Economic Council to find ways to reduce energy costs, with the possibility of releasing more supplies from the US Strategic Petroleum Reserve being discussed or even banning oil exports in favour of meeting domestic demand.
Oil surged to a seven-year high last month as global activity levels are normalizing and demands continue to grow post the pandemic slow down. Despite the continued strong prices, OPEC has held back boosting supply, arguing prudence is still required as risks to global consumption remain.
Goldman Sachs' commodities team views the market as cyclically tight with risks to their year-end Brent target of $90/barrel skewed to the upside, as the run-up in global gas and coal prices is encouraging a switch in consumption from natural gas to oil.
From an Australian export perspective, the upswing in energy prices has cushioned the collapse in iron ore prices. The below chart from the Australian Government's latest Resources and Energy Quarterly shows the overall picture and the benefits the upswing in coal and gas prices has provided for our economy.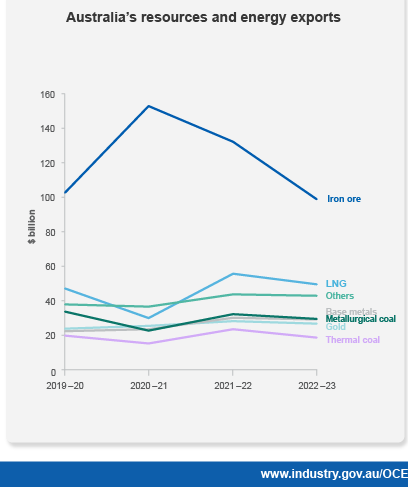 In FY2020-21, domestic export earnings reached a record $310 billion. Earnings are forecast to rise a further 13% in FY2021-22 to $349 bln, before falling back to around $300 bln in 2022-23 according to the Office of the Chief Economist.
Looking more closely at gas given the importance to the Australian economy, LNG exports earnings are forecast to increase from $30 billion in 2020–21 to $56 billion in 2021–22, as oil-linked contract prices rise sharply. So, what's driving the gas price squeeze?
Step on the Gas
A recent report on the Natural Gas Super Cycle by BTIG's research team cites the following contributing factors:
Demand continues to push higher – Global LNG imports in 2021 are up 5% vs. 2020, and the summer months alone are up 10% YoY. This is driven almost entirely by Asia, which has grown 15% this year, while Europe is down 10-15%, albeit a much smaller proportion of total imports. Asia represents 75% of global LNG imports, of which China is the largest representing 40%. The Asian growth is driven by the continued shift away from polluting fuels, with natural gas playing an important role in the energy transition theme in China.
Supply has been constrained – we saw lower LNG supplies from Qatar, Australia, and Russia largely due to maintenance closures, while Russia has also reduced gas exports to Europe. From an Australian perspective, technical issues have been resolved at the Prelude and Gorgon LNG plants. Export volumes are forecast to be slightly higher in 2022–23.
For Europe, summer temperatures have been below normal, resulting in lower demand for cooling. However, gas exports from Russia have been lower since March, resulting in a drop in European gas storage.
Gazprom has completed construction of the Nord Stream 2 natural gas pipeline from Russia to Germany and is negotiating its terms of service. It runs under the Baltic Sea and bypasses the Ukraine whose economy is reliant on gas transit fees from existing pipes. Nord Stream 2 has been a difficult political issue – it will ease the flow of Russian gas into Europe and their reliance, something the US Government has had concerns over. From an environmental standpoint, switching coal generation to gas power would allow these countries to decarbonise faster, rather than waiting on the construction of renewable energy infrastructure.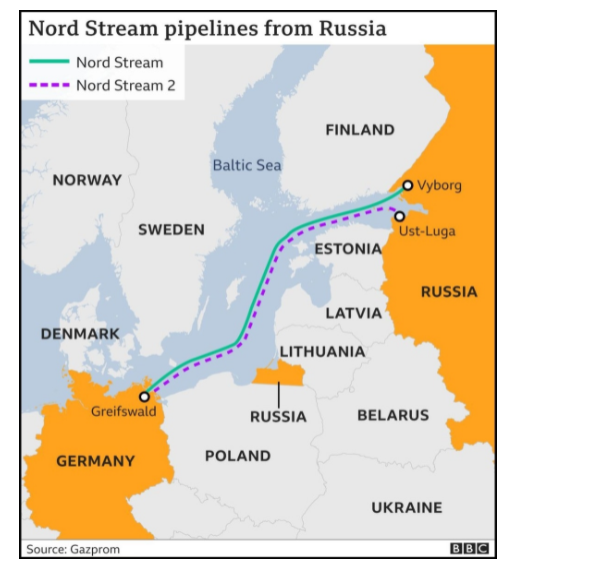 Undersupplied LNG Market – the strong growth in LNG demand for the coming years has been coupled with insufficient FIDs (Final Investment Decisions) seen in recent years on capacity build outs. It takes time to build new LNG facilities, so this should result in a supply gap with no new capacity coming online in 2023, before a solid pickup in 2025.
Great Gas
If the underlying commodity prices look supported, where are the equities priced?
A look at sector performance for ASX year to date shows the Energy index has underperformed and is virtually unchanged for the year.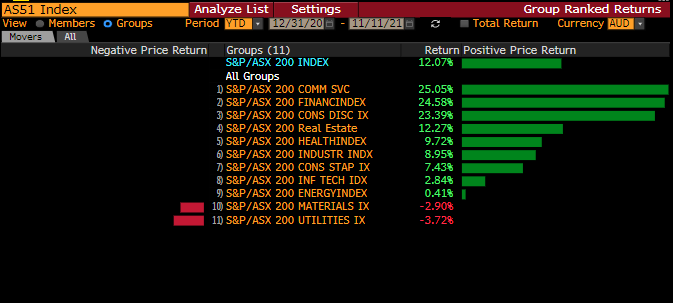 As we head into year end and the chilly Northern winter, there's capacity for some catch up in the gas suppliers. November and December are seasonally better months for energy names, so as we reach for air conditioner remote and your energy bill increases, there's room for your equity exposure to the sector to increase with it.
The views expressed in this article are the views of the stated author as at the date published and are subject to change based on markets and other conditions. Past performance is not a reliable indicator of future performance. Mason Stevens is only providing general advice in providing this information. You should consider this information, along with all your other investments and strategies when assessing the appropriateness of the information to your individual circumstances. Mason Stevens and its associates and their respective directors and other staff each declare that they may hold interests in securities and/or earn fees or other benefits from transactions arising as a result of information contained in this article.