The equity market is the subject of a lot of polarization at the moment.
In the minds of many vocal commentators, everything is either the next "big bull run", or another sign of a bubble. Valuations are either stretched beyond any reconcilable logic, or they are cheap if you see the market as pricing in 2025 earnings. Consequentially, most new development which gains the attention of the investing world is likely to cause controversy as both sides of the fence line up to give their observations.
It may be therefore unsurprising to see the conversations born out of NBA star Shaquille O'Neill creating a company from nothing but a pile of cash, listing it on the New York Stock Exchange and raising over USD $250 million. This story might seem exaggerated or implausible, but is the power of the "SPAC", the latest maypole of the equity market discourse.
Blank cheques back in fashion
A Special Purpose Acquisition Vehicle (SPAC), also known as a "blank cheque company", is a company that starts with no existing operations but rather is a cash vehicle that is listed via IPO and searches for opportunities to merge or acquire an existing unlisted company.
This is not a new structure. In fact, SPACs have been around since 1993, pioneered by investment banker David Nussbaum. What is new is the magnitude of volume and popularity they have attracted over the last twelve months.
What was once an asset class attracting ~$10-15 billion USD per year, these vehicles have broken record after record since Q2 2020 – in January 2021 alone, SPACs raised over $26 billion USD.
SPAC funds raised per month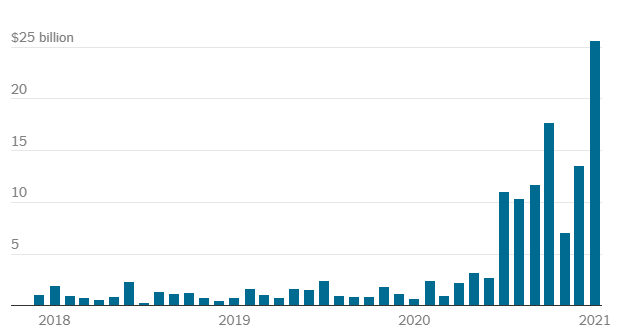 How does a SPAC work?
Picture a SPAC as a 'reverse IPO' of sorts. A group of initial investors pool funds, with the aim of pursuing a deal in a particular industry sector (depending on their expertise), approaching underwriters and institutions much the same way that a company filing for listing would do.
The SPAC lists on an exchange, then goes and finds unlisted companies which it intends to acquire, and upon a successful deal the two entities merge together; resulting in the unlisted company suddenly taking up the SPACs ticker and taking its place on the exchange.
The main advantage of this process over an IPO is that listing a company with no operations is far less cumbersome; there is very little reporting to be done, investor roadshows are virtually non-existent and there are little-to-no fees paid to investment banks to raise capital (because the capital is already raised).
To summarize the benefits over IPOs in a few points:
Timing is quicker: with IPOs sometimes taking 2-3 years to get from start to listing, whereas SPACs generally take 3 months at most.
Lower cost process: SPACs pay for most of the costs of listing (so the private company they acquire benefits) and do not need to go through the expensive process of raising capital from institutional investors during the listing process.
Control: SPAC structure allows business owners being acquired to maintain a controlling/significant stake in their company most of the time, so there is less 'key man risk' or risk of the minds behind the operation being forced out.
A few risks should also be mentioned:
Lower average share value: New York University published findings that the median SPAC share value starts at USD$10 at the IPO stage, but the median share holds at only USD$6.67 by the time of the merger with a private company – this is caused by a dilution as the shares are given to sponsors as a reward for finding the company.
Shorter time horizon: SPACs are less likely to draw long-term holders than an IPO, which may hurt company performance in the long term.
Hidden rewards: what investors may not see is the reward structure behind a SPAC, as not only proceeds from the capital raise can benefit the sponsors, but also 20% of the units to a discount of offering prices, warrants and put options. This can extract value from the deal which the new investor does not get to benefit in.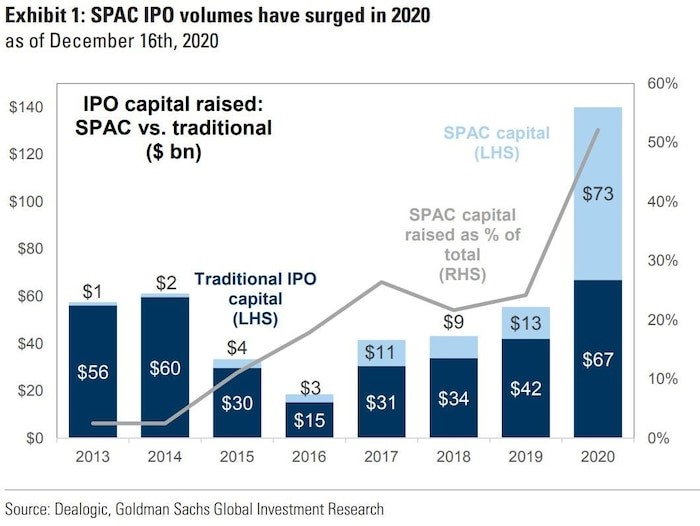 The purpose of a SPAC is very different to that of something of say, Berkshire Hathaway (BRK.A:NASDAQ), although both are known for acquisitions.
For reference, Berkshire makes acquisitions and has previously bought out entire entities, they focus on listed securities and form a large portfolio with a long-term outlook. SPACs have a distinct private equity focus for most of the time, looking to target and acquire high-quality companies at below value – this has resulted in most SPACs outperforming the market over the first two quarters of operation (Goldman Sachs, data from 2019-2020) but then falling behind the index.
What are you investing in?
To continue with the Berkshire comparison, when you buy their stock you are not just investing in the acquisition-capabilities of Mr Buffett, though that may certainly have informed investors in the past. There is an existing business with management, cash flows, obligations and a portfolio of assets.
A SPAC only has one of those factors: management.
The real asset of a SPAC (prior to announcing key acquisitions) is the capability of its management team – key figures of the management represent the SPACs value. By investing into a SPAC you place your trust in a team to find the best opportunities and value possible with your funds. This is why high-profile investors and public figures – such as Bill Ackman, Shaquille O'Neal and Alex Rodriguez – may be gaining so much traction, the average investor places faith in names they know to be successful (be it on the trading floor or on the court, apparently).
Some recent SPAC deals have gained massive public profile from both big-name management and their equally big name deals.
Bill Ackman's SPAC, Pershing Square Tontine Holdings, raised USD $4 billion in its July 22 offering – and although Ackman has famously described SPACs as "not paying for performance, its paying before performance", his own SPAC has restrictions that he's paid only if their acquisitions hit performance benchmarks.
Chamath Palihaptiya, former Facebook executive and self-proclaimed "King of SPACs", used his vehicle Social Capital Hedosphia Holdings to purchase a 49% stake in Virgin Galactic for USD$800 million, which they then listed in 2019. That stock (SPCE:NYSE) is up over 500% since listing.
Should you cut a blank cheque?
SPACs are at the epicentre of some complimentary market factors.
Private Equity investments are seeing huge flows (in 2019 global PE firms had around $2.5 trillion USD to deploy) but are struggling to find exits through traditional means. There is more demand in capital markets than has been seen a decade.
Add to this a growing trend of 'marginal investments' becoming mainstream – looking at you, crypto – and SPACs seem to have a compelling short-term case for success.
As with many aspects of today's market, SPACs have a good intention and principle behind them, namely a cost-effective and fast alternative to raising capital in an IPO. But this does not mean that they are not subject to a market reversal, nor does it mean that investors are no less at risk to losses because SPACs have done well the last few months.
With healthy scepticism and due diligence, SPACs may represent a new way for investors to access quality companies at reasonable valuations. In the meantime, apply an appropriate level of caution relative to the market's euphoria.
The views expressed in this article are the views of the stated author as at the date published and are subject to change based on markets and other conditions. Past performance is not a reliable indicator of future performance. Mason Stevens is only providing general advice in providing this information. You should consider this information, along with all your other investments and strategies when assessing the appropriateness of the information to your individual circumstances. Mason Stevens and its associates and their respective directors and other staff each declare that they may hold interests in securities and/or earn fees or other benefits from transactions arising as a result of information contained in this article.