As we close out earnings season, we have time to look back on one final area of the market: property.
This will be the last instalment of our reporting season series, which has to date covered:
A national past-time, residential property in particular captures our attention and desire arguably more than any other physical asset – monthly visits to realestate.com.au sit comfortably around 59 million, and since that's 95% driven by our domestic visitors (source: similarweb), our interest in the space is clear.
Property is a multi-faceted sector, whose performance has been historically linked to the economic health of the country.

As our economy (for example, our level of GDP) declined during COVID, so too did the health of our property sector – not withstanding the "working from home permanently" fears of mid-2020.
Moreover, as we saw signs of economic reopening throughout the last six months, domestic property rebounded strongly.
However, whilst industrial property activity is currently buoyant, residential developments are mixed – particularly within NSW, where restrictions have halted many site starts for greenfield developers.
There are many structural tailwinds which are supporting the domestic property sector, not the least of which being low interest rates supporting increased borrowing and thereby providing demand-side support for residential property.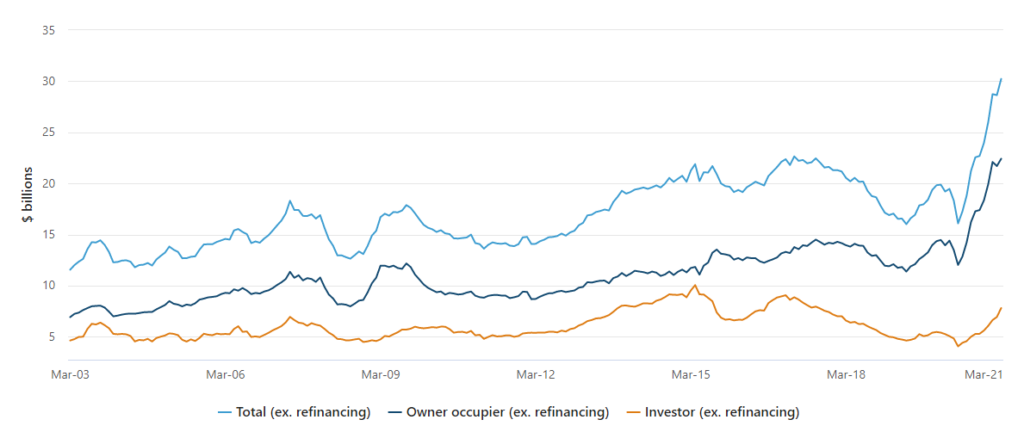 Source: Australian Bureau of Statistics
To now turn our attention towards reporting season, the recent print of 2.7% GDP lined up nicely with a largely positive outlook across the sector – with the ASX 200 A-REIT index rallying to outperform the broader ASX 200 index mid-August as large property companies reported.

Source: Bloomberg, white = ASX 200 A-REIT, blue = ASX 200
Let's look at the overall picture of the sector through three of its largest players, across different segments of this broad industry.
Dexus (DXS:ASX)
Dexus provides us good insight into both the office and industrial space, with their behemoth ~$17 billion office portfolio now coupled with a growing funds management arm (also focussed on office and industrials).
Dexus was one of the few property players to beat market expectations this reporting season, owing to some very strong occupancy rates and favourable lease terms across their portfolios.
The company reported a slight beat to consensus with their Funds from Operations (FFO), the metric by which many property companies measure income from their holdings. Their dividend of 51.8c per share was up 3% from last year, also exceeding market consensus which sat at around 2.5% growth.
One of the key metrics to note was the occupancy rate, with came in at 95.2% for the Dexus office portfolio and 97.7% for the industrial portfolio. This shows underlying strength in the demand for these tenancies, particularly when you couple this with their 98.1% rent collection rate for FY21.
As a comparison, the occupancy rates across the portfolio only dropped 1.3% between FY20 and FY21, a material number but relatively minor against the backdrop of "offices are dead" which was the prevailing narrative throughout much of Q3-Q4 CY2020.
Overall, this result indicates prevailing strength in office and industrial tenancies under the Dexus umbrella, and potentially the broader market as well, if we take DXS as a representation of broad market conditions
Goodman Group (GMG:ASX)
Goodman Group is another commercial/industrial player, focussed more on logistical holding and heavy industrial tenancies. For this reason, they are more impacted by issues involving drivers, supply chains and levels of consumption within the economy – as these impact the demand for those tenancies within their overall portfolio.
Goodman's guidance missed consensus by around 3% this reporting season, despite reporting an operating profit of $1.22 billion (up 15% YoY), and whilst the company has been a strong performer relative to the overall market, expectations seem to have been set slightly too high.
The company have played their forecasts very conservatively, anticipating a FY22 operating EPS of 72.2c, which despite being up 10% on this financial year is also below market consensus. This is likely due to their ongoing concerns around COVID distributions to logistical operations.
With a 98.1% occupancy rate across its portfolio, and the portfolio revaluation conducted during FY21 produced gains of $5.8 billion as the valuations for quality industrial holdings continues to rise domestically and globally, GMG acts as a perfect example of the strength and demand this sector.
I think it is wise of them to maintain a conservative outlook however – with valuations becoming high, but the threat of COVID and lockdowns far from over, promising too much for FY22 may be a risky move for a company like GMG.

Stockland (SGP:ASX)
Although a diversified developer, Stockland develops, sells and maintains some of the largest housing estates in the country – from a previous life in the industry, I can tell you that entire suburb planning proposals can live or die on the merit that a Stockland community will (or won't) be built there.
Stockland also provide a valuable insight into how residential property has been affected by COVID. Lockdowns can prevent site starts, stop tradespeople finishing projects, close down on-site sales offices (one of the biggest drivers of sales for large community developments) and more.
FY21 FFO was down 4.6% from FY20, down to 33.1c per security which matched market consensus; likewise, the distribution per security was 24.6c which almost matched 24.8c market consensus [sidebar: SGP refers to a distribution, not dividend, in their financial reporting]. So, it appears that this small loss has already been anticipated by the market.
An impressive metric has been retail sales volumes, for a total volume of 7,700 lots – up 54.2% versus FY20, driven by a strong development pipeline and of course the tailwind of low interest rates supporting demand-side mechanics.

However, the forecast FY22 financials are all below what the market anticipated, citing again ongoing concerns around COVID lockdowns – harping on site starts again, even for a large developer like SGP, a typical single storey home can take 6-9 months to construct. So the recent NSW lockdowns will have a lagged impact into this current financial year.
In summary, a slight downbeat to consensus, with sales supported by cheap capital for both owner occupiers and investors, but headwinds from COVID still anticipated.
Location, Location, Location
If you take a look at those parts of the news cycle which aren't covering COVID or celebrity scandals, you'll see the familiar question circulating of "how high can housing go?".
We are definitely in a roaring market for all sectors of property, but we are also balancing the fine line between the economic risk of COVID versus the structural support of monetary policy.

The story some of our largest property companies tell us is that there is far more strength in the market than many have thought last year, but market consensus has now priced these stock prices to perfection.
The validity of property stock valuations may be tested over the next year; there's a potential upside surprise of COVID lockdowns being brought under control and subsequent headwinds into logistics and construction being eased, but there is also downside risk of cooling buyer demand or risk-off sentiment trickling from capital markets through to real assets.
A particularly middle-of-the-road sentiment for the sector… perhaps Madness were prophetic in their lyrics, "our house, in the middle of our street".
The views expressed in this article are the views of the stated author as at the date published and are subject to change based on markets and other conditions. Past performance is not a reliable indicator of future performance. Mason Stevens is only providing general advice in providing this information. You should consider this information, along with all your other investments and strategies when assessing the appropriateness of the information to your individual circumstances. Mason Stevens and its associates and their respective directors and other staff each declare that they may hold interests in securities and/or earn fees or other benefits from transactions arising as a result of information contained in this article.