Every Australian is in the fortunate position of being a heavy energy user.
You would think that if this is the case, investment exposure to the sector would make sense. You'd be wrong: indecision faced on the personal level on whether or not paying the heavy upfront costs to install solar panels, have a battery on the wall and maybe a plug in electric car in the driveway is the similar to the indecision the industry faces.
As the cost of renewables has plunged, that state of change is reflected in the sector stock performance. Despite your power bill going up, the stocks are not.
The Bloomberg chart below shows the performance of the energy index against the ASX200 with crude oil and natural gas generic futures prices overlayed.
Year to date it's a 22% underperformance, despite a solid performance from the underlying commodities. Pull this same chart back five years and the trend is the same, in fact that underperformance blows out to nearly 50%.
The above underperformance though this year is limited to Australia. A similar chart for S&P 500 energy index shows a seven percent outperformance, so is this finally the opportunity for a rotation?
There seems agreeance that iron ore prices may have peaked and financials have enjoyed a solid rebound (CBA (CBA:ASX) only recently made a record high). Is the energy index (which is still nearly 40percent below its pre-COVID levels) offering value, or does it remain the value trap?
The earnings season that has passed has largely been positive, but it was overshadowed by the recent corporate restructuring reflecting the state of the industry.
Energy sector CEOs are stuck in a tough situation where investors, motivated by ESG commitments and climate concerns want change, but are wary. Major equity raisings may be needed to fund projects which by nature of their size will have lengthy payback periods. Despite the relative value on offer compared to other sectors, they will be associated with significant execution risk and the COVID environment has parked the political conversation on energy transition and mix for now.
The below chart, from a deep dive on the Energy outlook by Goldman Sachs earlier in the year, shows while they do not forecast peak oil demand this decade, they do expect oil demand growth beyond 2025 to be anaemic due to electrification, little motivation for a longer term commitment for an investor.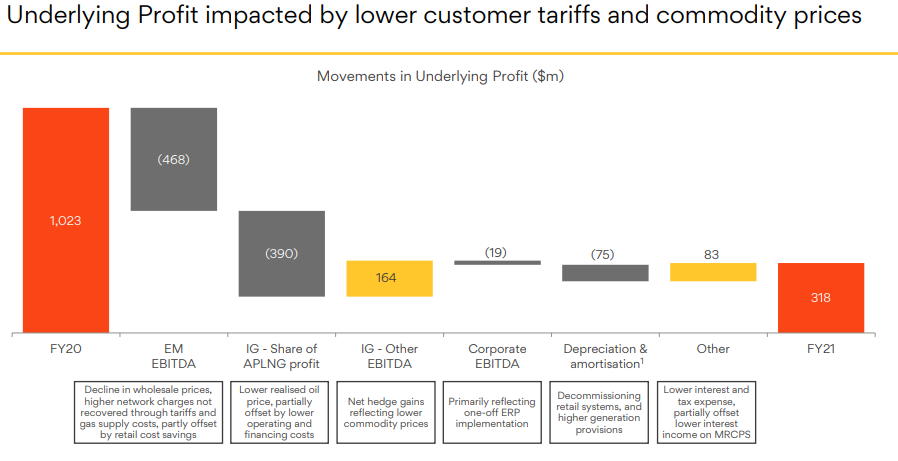 An eight year high in spot Liquid natural gas prices in July means the cash flows for Woodside (WPL:ASX), Santos (STO:ASX) and Oil Search (OSH:ASX) should remain strong. But investing now may still be too early, given the big announcement of a pending merger between Woodside and BHP's petroleum arm.
This follows the Santos and Oil Search aggregation. Oil Search agreed to an all-stock takeover after Santos raised its offer slightly to give Oil Search shareholders a 38.5% stake in a merged group, up from an earlier offer of 37%. Santos shareholders will own the remaining 61.5%.
These consolidations are evidence the industry believes increasing balance sheet size and scale with the associated cost synergies is the only way to go in the face of the oncoming ESG pressures as we price carbon emission against environmental changes.
Almost three quarters of carbon dioxide emissions come from energy use and in Australia AGL's coal fired power stations means it has the largest emissions.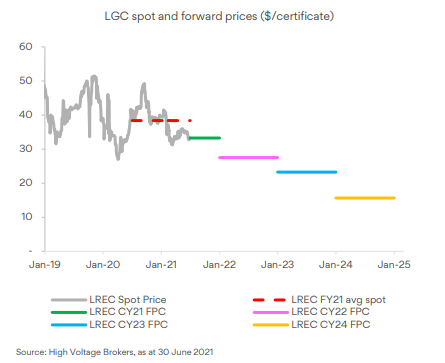 Source: Climate Watch, the World Resources Institute (2020) and Sector by sector: where do global greenhouse gas emissions come from? by H. Ritchie, 18 September 2020 via ourworldindata.org. Note: This chart shows the breakdown of global greenhouse gas emissions in 2016. This is the latest breakdown of global emissions by sector, published by Climate Watch and the World Resources Institute.
The restructure of AGL into two different companies is its response to ongoing transition to clean energy. Falling wholesale electricity prices have forced it to split into two companies – AGL Australia housing the retail distribution and Accel Energy housing the coal fired power generators. If the CEO of Accel recently quoted is surprised at the speed of transition of the energy sector over the last year then it's no wonder the market is as well and wary of its equity exposure.
Looking at the largest names post earnings announcements broker estimates are overall positive. Woodside currently shows a blended forward price target of $26.76 with Morning Star in the unusual position of being the most bullish updating with a $40.00 price target, closer to 2019 levels over $35 and along way above current levels. Santos shows analysts expecting 30% upside from current levels with $8.02 blended forward price on analyst estimates I see. Once again Morningstar sees Santos at $9.70 one year from now, note no analyst has a sell rating.
Overall energy by its nature changes shape and its composition is changing for the better. Fossil fuels aren't going away and will remain a part of the equation for the foreseeable future. Perhaps with the major consolidation news out in the open and the discount to other sectors as wide as it appears, rotation maybe imminent.
The views expressed in this article are the views of the stated author as at the date published and are subject to change based on markets and other conditions. Past performance is not a reliable indicator of future performance. Mason Stevens is only providing general advice in providing this information. You should consider this information, along with all your other investments and strategies when assessing the appropriateness of the information to your individual circumstances. Mason Stevens and its associates and their respective directors and other staff each declare that they may hold interests in securities and/or earn fees or other benefits from transactions arising as a result of information contained in this article.