Primary markets are a key component of the investment landscape, both as a glimpse into the corporate health of a particular region or sector, as well as providing a valuable mix of opportunities for investors to participate in.
At Mason Stevens, this is a service we are particularly proud of being able to provide, offering across to domestic and global primary markets, across multiple asset classes.
We see these new issuance opportunities as a key investment avenue, regardless of broad market conditions (so much so that we launched an entire strategy around capturing these opportunities).
Given that primary market deals are fast-moving and generally a different mix of companies/deals from one month to the next, we are setting out to regularly update our readers on levels of issuance and outline some key deals which occurred during the month.
We hope that this will provide a window into the health of this market and the size of opportunity that exists. Without further ado…
All figures are quoted in AUD unless otherwise noted.

Equity Markets
Over 2021 equity market deal value and volume has either remained consistent or trended up. We'll flag that there is a historical trend of both of these metrics dropping off in January given October saw global equity deals roughly in line with this trend, falling slightly from September but still remaining above the average for 2021 so far.
To the end of October, we have seen $1.54 trillion of new equity deals on the global stage for CY21.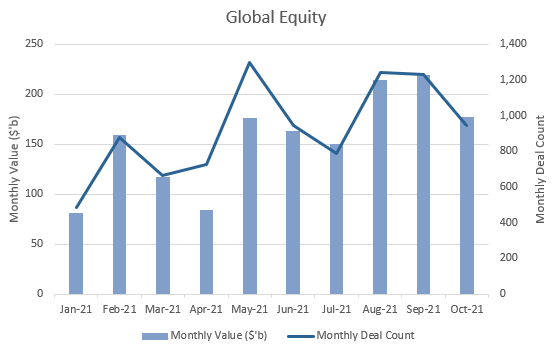 Source: Mason Stevens, Bloomberg
Domestic markets had a phenomenal month based on total value of deals; however it is worth noting that this number was skewed by a few major deals, most notably the $1.5 billion Macquarie (MQG:ASX) raise and lodgement of the $1.15 billion IPO for Ventia Services.
To the end of October, there has been $29.9 billion of new equity deals in the Aussie market for CY21.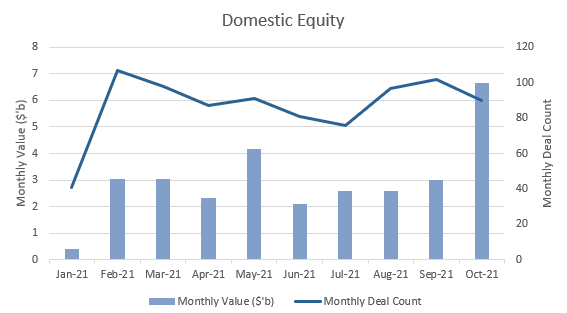 Source: Mason Stevens, Bloomberg
Given that many of our investors take a domestic (home) bias, it's worth digging a little deeper on the dispersion of deal sizes – particularly given the relative size of our market and companies compared to the US, Europe or Asia.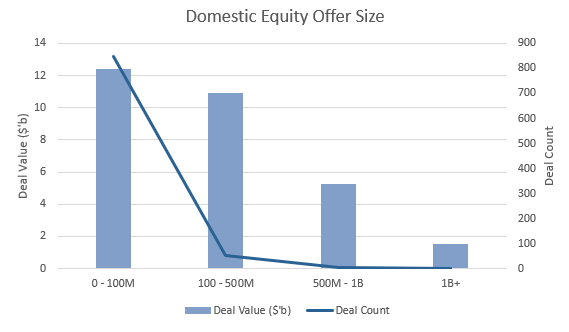 Source: Mason Stevens, Bloomberg
Given the size of our listed companies, it's no surprise that our deal count is overwhelmingly towards the $0 – 100M category (849 deals out of 887 this year).
This is useful for investors to know, given that smaller deals have unique market dynamics around their availability and liquidity – we might see more $30m raises for a junior miner than a $1 billion placement for a major bank, but the risk of an illiquid secondary market or subdued primary market participation is much greater.
Some notable domestic deals during October were:

Source: Mason Stevens, Bloomberg
Fixed Income Markets
For sake of investing relevancy, we've kept this update focussed on the corporate bond market, as government volumes will often skew the data much higher for sake of including deals that would never see the light of day in a client portfolio.
Furthermore, we'll restrict this update to AUD-denominated paper.
Domestic fixed income markets saw reduced issuance over October, down to nearly half of September's numbers, as we continue to see bond market volatility which has likely frightened issuers away from primary markets.
Up till the end of October, we have seen $18.9 trillion of global fixed income issuance.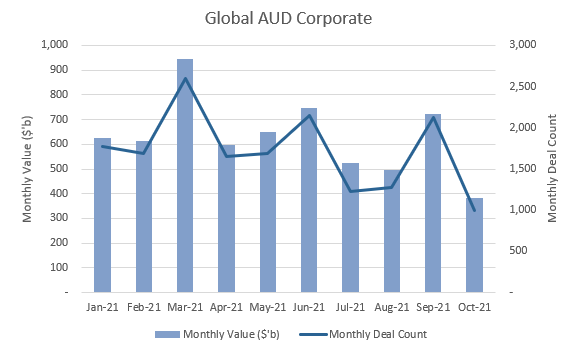 Source: Mason Stevens, Bloomberg
Domestically, we also saw a reduced total deal value for the month of October, albeit we did see an increased number of deals overall.
An anecdote from those in our investment team who are responsible for the Mason Stevens Credit Fund noted that despite the increased issuance, we saw lower quality issuers coming to market amongst the volatility.
Year-to-date we have seen $62.49 billion of domestic fixed income issuance.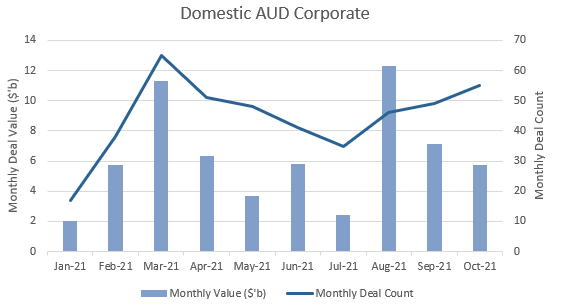 Source: Mason Stevens, Bloomberg
Some notable domestic fixed income issuances over October were:

Source: Mason Stevens, Bloomberg
Primary Market Issues
There is a historical trend for issuance to start to taper out going into December and January, though November has tended to be an odd outlier where sometimes we might see a sharp spike upwards as companies get their deals in before the end of the calendar year.
A volatile market does not always impact issuance – albeit a volatile interest rate environment can influence new debt issuance particularly – so it's unclear if we will see sustained levels of issuance to close out the year.
As a final point, we're always open to feedback on our notes, but in particular we'd appreciate hearing your thoughts on what you would find useful in this update.
It's our intention for this to be a regular update to keep readers informed of what is sometimes an opaque, institutional part of capital markets.
The views expressed in this article are the views of the stated author as at the date published and are subject to change based on markets and other conditions. Past performance is not a reliable indicator of future performance. Mason Stevens is only providing general advice in providing this information. You should consider this information, along with all your other investments and strategies when assessing the appropriateness of the information to your individual circumstances. Mason Stevens and its associates and their respective directors and other staff each declare that they may hold interests in securities and/or earn fees or other benefits from transactions arising as a result of information contained in this article.