The start of 2021 had many market analysts talking about the beginning of a new commodity super-cycle. Impending splurges on infrastructure spending and economies reopening underpinned the favourable outlook. Fortunately, our economy has been cushioned during the pandemic by these surging commodity prices; first by the iron ore boom which blew past even the boldest of predictions, and now coal and natural gas. This has put our terms of trade in a position we've not enjoyed since 2011, easing the pressure the government faces with the increased welfare payments lockdowns have imposed.
The timing of a recent conference call with Citi Research, covering Resources, could not have been more appropriate given the eventful quarter. It's been a reminder to equity investors that commodity trends can reverse at a pace that is sometimes incomprehensible. Only in early May iron ore peaked at $238.64 USD per tonne after a three-year rally that had taken Australia's most important export from around $60 USD per tonne. In the five months since the price has more than halved taking the stock of its producers with it despite the record dividend payments made.
While China's ability to restrict steel manufacturing can curtail the price of iron ore, as they seek to ensure its steel output this year matches output in 2020. It has less ability to control the skyrocketing price of natural gas, thermal, or coking coal which are being driven by more global pressures as shifting weather patterns have caught out economies who have become increasingly reliant on renewables like wind.
Given the size of the moves of late, it's worth reviewing the principal changes highlighted in last week's call, these assumptions apart from providing sector outlooks feed into Citi's stock valuation models:
Iron ore for CY22 has been revised down from US$125 to $106. CY23 remains unchanged at $80/t. Looking at the market their base case is for iron ore prices to drop to $90/t in 4Q'21 before bouncing to $120/t in mid-2022, leaving 2022 prices at an average of $106/t. This scenario assumes strict Chinese steel production cuts until the February 2022 Winter Olympic Games and a gradual loosening of cuts afterwards. They also expect high-level comments on incremental loosening of Chinese property restrictions from the 4Q'21 politburo meeting onwards to support.
Thermal coal (NEWC6000) for CY22 was raised 51% to US$120/t. CY23 unchanged at $75/t. Coal has made a return with NEWC6000 thermal coal and Australian hard coking coal prices rising to all-time highs of $180/t and $392/t as of late September. Reduced capex investments in coal mining over multiple years, alongside COVID and weather events, have resulted in seaborne supply shortages.
Chinese domestic coal supply has struggled to grow due to a host of regulatory constraints and a lack of resources in the case of coking coal. Demand for imported coal surged, particularly during the summer and winter peak season amid spiking gas prices. Chinese import restrictions on Australian coal disrupted trade flows and prompted Australian miners to curtail output until recently. Spot prices should touch $200/t over the next three months with stress buying continuing into a projected cold winter in the northern hemisphere.
Nickel in CY22/23 raised 30%/21% to US$18,875/$17,000 per tonne. Stainless steel demand has surged amidst the shortfall in the 30x larger carbon steel market, and Citi expects this to continue.
Lithium carbonate in CY22/23 raised 49%/31% to US$18,270/$12,600 per tonne and spodumene raised 5%/9% to US$800/$700 per tonne. Citi while recognising market tightness will support prices near term, expect prices will come down from mid-2022 despite the surging demand from Electric vehicle manufacturers as more supply comes to market.
Copper – Citi have trimmed short-term copper price assumptions with the recent pullback but remain longer term bullish by increasing their CY23 forecasts by 10% to US$9000 per tonne.
The miner's earnings changes reflect these changes in the underlying. The largest FY22 upgrades in EBITDA are for nickel, lithium, and coal. S32's discounted cash flow increased 11% to $4.20 per share reflecting the met coal and nickel price forecasts. Whitehaven and New Hope Corp have seen their DCFs pushed up 24% and 19% respectively.
Conversely, the largest downgrades are for the iron ore exposures. DCF valuations for the pure-play are most impacted, Fortescue's has been revised down 10% to $16.20 per share.
The table below provides the complete picture on the recent changes to Citi's coverage within the sector :

As a concluding point last week China's manufacturing PMI for September was released at 49.6. A print below 50 implies a monthly contraction in industrial output. Dips in economic activity like this in recent history have only occurred during the GFC and the initial Covid lockdown as can be seen by chart below.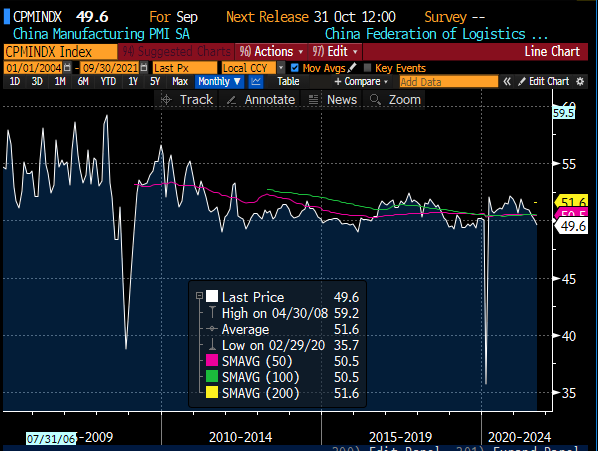 Source : Bloomberg
Currently the China's GDP is forecast to grow at 5.3% annualised, last week's PMI data suggests the world needs to prepare for a number below 5% and the implications that holds for everybody going forward.
The views expressed in this article are the views of the stated author as at the date published and are subject to change based on markets and other conditions. Past performance is not a reliable indicator of future performance. Mason Stevens is only providing general advice in providing this information. You should consider this information, along with all your other investments and strategies when assessing the appropriateness of the information to your individual circumstances. Mason Stevens and its associates and their respective directors and other staff each declare that they may hold interests in securities and/or earn fees or other benefits from transactions arising as a result of information contained in this article.