I saw her today, I saw her face, it was a face I loved, and I knew
I had to run away.

The Searchers (1977)
In our note titled Doctor, Doctor, Give Me The News, we looked at the process and likelihood of a coronavirus vaccine being developed. The note referred to an interview between Ken Frazier, CEO of the pharmaceutical giant Merck, and Professor Tsedal Neeley from Howard Business School. Mr Frazier provided a dose of Epsom salts to the world – an overly optimistic view on the speed of which a safe and effective vaccine will be developed. To remind readers, I will grab a couple of those bullet points and add to this note as a way of introduction to this update, which is sourced from McKinsey & Co.
Developing a vaccine takes time – a lot of time. The fastest vaccine ever brought to market was for the epidemic parotitis ("mumps"). It took Merck four years to produce this vaccine.
The most recent vaccine created for a large viral outbreak was for the Ebola virus and took 5.5 years.
In the last 25 years, there has been only seven truly new vaccines introduced globally. By new that means that they were effective against a pathogen for which there had previously been no vaccine. Merck has developed four of those seven and the rest of the world three. There has been an enormous amount of work done in the field of prevention. Despite all this work, the world has been trying to develop a vaccine for AIDS since the early 1980's, and so far, has had no success.
When politicians suggest there will be a vaccine available by the end of 2020, I think they are doing the public a "grave disservice."
The McKinsey & Co article released late last week is an in-depth review of the COVID-19 vaccine pipeline publicly available and the barriers that could stand in the way of the most likely candidates.
Vaccine developers and government officials are publicly reporting timelines for potential emergency use of vaccine candidates between the fourth quarter of 2020 and the first quarter of 2021.
The early data on vaccine safety and immunogenicity in phase 1 and 2 trials are promising.
More than 50 candidates are expected to enter human trials in 2020 out of 250 candidates being pursued.
Hurdles remain, including validating unproven platform technologies, demonstrating vaccine candidates' safety and protection against COVID-19, and delivering the highest impact vaccine profiles.
Recent guidance from the US FDA suggests that there is a need for more data prior to granting "Emergency Use Authorisations."
Vaccine manufacturers have announced a cumulative capacity that could produce 1 billion doses by the end of 2020 and 9 billion by the end of 2021.
When looking at timing – specifically, "Will we have a vaccine?" and, if so, "When?" –  it seems likely that one will be available in the United States between the 4th quarter of 2020 and the 1st quarter 2021, most likely granted under the FDA's Emergency Use Authorisation guidelines.
The following abbreviated chart is from the McKinsey & Co report and is sourced from BioCentury, Clinical Trial.Gov and the Milken Institute COVID-19 Treatment & Vaccine Tracker. The top six candidate have EUA from the FDA with the AstraZeneca/University of Oxford candidate gaining its authorisation in September.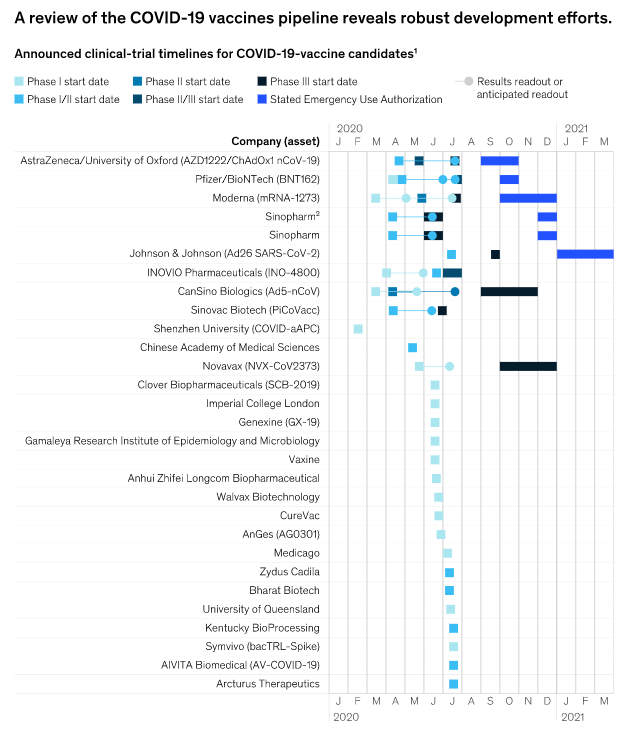 Source: BioCentury, Clinical Trial.Gov and the Milken Institute COVID-19 Treatment & Vaccine Tracker
There are four reasons in the report that gives a degree of optimism in the accelerated development of a COVID-19 vaccine:
The novel underlying characteristics of the corona virus
The unprecedented number of potential vaccines in the pipeline
The number of different technology platforms being used
And the enormous amount of funding to find a COVID-19 vaccine
The unique characteristic of coronavirus that assists vaccine developers is that it mutates at a speed four times slower than the typical influenza virus. This stability alleviates the complexities associated with a faster moving target.
The first vaccine candidate was developed 42 days after the genetic sequencing was determined. There are now 250 global candidates of which 50 begin human trials in 2020.
Global candidates have incorporated a broad range of technologies from proven vaccine platforms (such as protein subunit and viral vectors) to novel ones such as messenger RNA and DNA.
Global investment in COVID-19 vaccines to date is estimated to be $6.7billion in first six months as compared to Ebola vaccine which received $1.5billion in 6 months.
Looking at the chances of success
Validating unproven platform technologies hold some advantages in that they can accelerate development time. However, given to date, no licensed vaccines for humans exist, the question regarding the long-term safety and the degree to which they induce a strong and long-lasting immune response, remain. Developers must demonstrate protection against the disease, such as the candidate provokes a certain level of antibody response in immunised individuals. Developers must also consider the degree to which the virus can mutate around the spike protein. If mutations occur candidates would need to be revised creating delays in the potential launch of a vaccine.
Capacity considerations are very important as is getting the vaccine to those most in need. As ken Frazier noted, developing a vaccine for 7 billion people has never been done before. This is a global pandemic. Unless all of us are safe, none of us are safe. In this regard several manufacturers have announced capacity plans that total 1 billion vaccine doses by end of 2020 and 8 to 9 billion by 2021.
The ideal vaccine candidate is one that can be administered once, have 100% effectiveness and provide immunity for many years. If one of the 250 candidates proves to meet that description it will truly be a miracle. The reality is that there will be several vaccines providing a range of treatment variations, providing regulators the need to carefully consider the juxtaposition of multiple vaccines and how they compliment each other. A vaccine that is safe, has moderately high efficacy and conveys several months of immunity could play an important role in allowing people to get back to work, which will be critical in restarting the global economy.
Let's hope the time fame of last quarter 2020 or first quarter 2021 proves accurate, so life can begin to progress back to normal.
The views expressed in this article are the views of the stated author as at the date published and are subject to change based on markets and other conditions. Past performance is not a reliable indicator of future performance. Mason Stevens is only providing general advice in providing this information. You should consider this information, along with all your other investments and strategies when assessing the appropriateness of the information to your individual circumstances. Mason Stevens and its associates and their respective directors and other staff each declare that they may hold interests in securities and/or earn fees or other benefits from transactions arising as a result of information contained in this article.