"And how the people gave
The attention that you crave
Tonight, the stage is yours
But the world has watched you rise
And fall a thousand times before
Polka never dies."
– The Dreadnoughts, "Polka Never Dies"
For those who regularly read my notes (thank you, I really appreciate it), you may have noticed that my taste in music is time-locked somewhere between the Vietnam and Cold Wars.
But music, like all things, is not immune to change.
Whilst no-one can ever tamper with the immortalized solo of Lynyrd Skynyrd's 'Free Bird', you'd be hard pressed to find anybody listening to the original vinyl today.
Even the era of CD's seems a distant memory, amongst the rapid growth and uptake of music streaming services.
And where we see the words "rapid growth", we take a closer look for investment opportunities.
Growth of the streaming industry
Between 2016 and 2020, the number of active users of major streaming services (in the United States alone) climbed from 143 million to 218 million, meaning that 2 in 3 Americans currently use a streaming service.
This is projected to grow to over 240 million by the end of 2023 (source: Statista).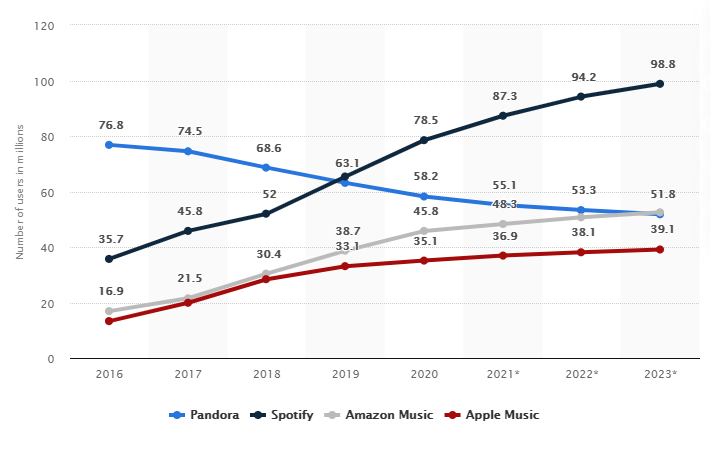 Source: Statista
According to consulting firm Grand View Research, the global music streaming market will be worth USD 76.9 billion by 2027, expanding at a compounding annualised growth rate (CAGR) of 17.8%.
In the US alone, streaming/subscription services are projected to be worth USD 11.6 billion by 2026 (Digital Media Association).
At the end of 2019, total revenue (for the United States) from streaming services had grown 20% YoY to $8.8 billion USD (RIAA).
What does that look like in comparison to the music industry as a whole?
In a report by the Recording Industry Association of America (RIAA), streaming services accounted for 79.5% of all United States recorded music revenues in 2019.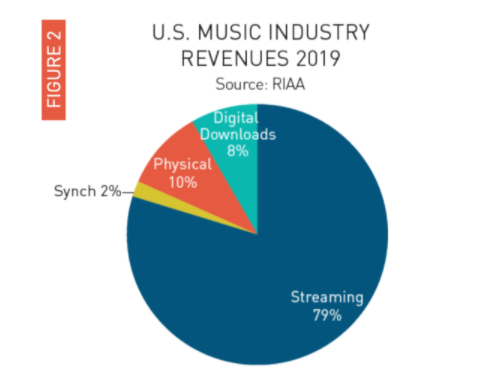 Source: TechCrunch
We cannot mention a streaming service in 2020 without mentioning the impact of COVID-19 upon the industry.
Live shows, music festivals and in-person podcasts were all victims of the pandemic, driving people towards the only alternative in a time of isolation and lockdown. According to advisory publication WARC, user traffic to streaming services increased by over 20% in Q2 2020.
The malaise in live shows and podcasts also enabled large players like Spotify to snap up exclusive talent, buying the rights to the Joe Rogan Podcast for USD 100 million in May, the stock rallied almost 8% after the announcement – in a sense, the streaming players are reanimating the live music and entertainment industry off the back of their existing userbase.
Spotify shares are up over 130% since announcing major podcast and music show acquisitions in May:

Source: Bloomberg
Who are the rock stars?
If you run down a list of the largest streaming services globally, you'll find yourself with a 'who's who' of the megacap tech stocks – unsurprising considering the infrastructure and capital required to acquire music rights alone.
During Q2 2020, Spotify led the way for global market share, which coincidentally is the best 'pure play' investment into the music streaming space. Global tech titans Apple and Amazon took up second and third, with other household names Tencent and Google edging in to the top 5 list as well.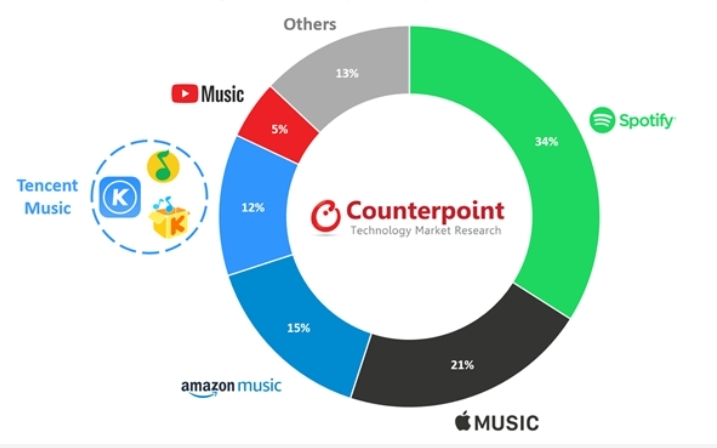 Source: The Music Network
Spotify (SPOT:NYSE) leads the pack over most international markets, at least in terms of paid subscriptions.
As mentioned, Spotify is one of the best and only pure-play listed stocks for getting exposure to digital music streaming.
Their edge does not necessarily come from the most comprehensive music library, trailing behind Apple and Tidal with only 60 million tracks. The strong brand awareness and loyalty, exclusive content from well known creators, innovative interface and a focus on sharing and social networking.
Spotify's position in the market is analogous to Netflix; they got the first-mover advantage by being one of the first major players in the market, have built a strong following by continuously adding new services and exclusive content for its users, and can leverage its scale and dominant position to be competitive on pricing. Perhaps most importantly, the Spotify brand is synonymous with music streaming – chances are, if you ask any investor a way to get long streaming, they would say "buy Spotify". If that's not an indicator of market momentum, I don't know what is.
My personal platform of choice, Apple Music (AAPL:NASDAQ) set a new quarterly revenue record in September, generating USD 14.5 billion for month ending September 2020. It is difficult to quantify an isolated impact on Apple from its music division, since the network of products is so tightly integrated.
Apple Music took out 24% of the total revenue of the global music streaming industry, with it's subscription base growing 36% YoY (Counterpoint Research).
Nipping on the heels of the two market leaders is plucky underdog, Amazon Music (AMZN:NASDAQ), with an estimated userbase of 55 million listeners. Once again, getting exposure to streaming through this stock means you are investing into one small segment of a larger beast – perhaps a diversified trade, but not as targeted as some may like.
Tidal, the Jay-Z backed streaming platform, is not yet listed amongst ongoing questions of financial stability and auditing accuracy. Despite this, it continues to expand to different regions and attract users; as of October 2020, Tidal operates in 55 countries and has over 3 million subscribers.
The last track
Although we often don't consider the means in which we consume music, as opposed to other entertainment like TV and movies, there is still a growing consumer sector for streaming services.
Playing into the thematic of instant-access digital entertainment, some key names within the big tech stocks are leading the charge in carving out a market share and building revenue with their subscription services.
Although there is not currently a plethora of 'pure play' exposures to this industry, there are players to watch with the influence and capital to dominate yet another sector of the technology space. If an investor wanted to add a little rock and roll to their portfolio, some of the biggest household names in the world are the place to start.
The views expressed in this article are the views of the stated author as at the date published and are subject to change based on markets and other conditions. Past performance is not a reliable indicator of future performance. Mason Stevens is only providing general advice in providing this information. You should consider this information, along with all your other investments and strategies when assessing the appropriateness of the information to your individual circumstances. Mason Stevens and its associates and their respective directors and other staff each declare that they may hold interests in securities and/or earn fees or other benefits from transactions arising as a result of information contained in this article.