Have you ever asked yourself why a certain company does not pay dividends, even when they are extremely cashflow positive?
Generally, the reason is that the company believes that profits generated would be better spent re-investing into the company, be it through share buy-backs, investing into expansion or into R&D.

If you look at it from the view of Warren Buffet, a manager should only give $1 back to shareholders if they believe they cannot create at least $1 more of shareholder value keeping it within the company.
But what if there's another reason, related to the above but far more subtle?
If a company whose success, share price growth and stratospheric valuation is based on accelerating earnings growth, what does it indicate to the market if this company suddenly pays a dividend?
That the company has matured, that its growth is slowing, that it is becoming the dreaded 'value'?
And if they are becoming value, is that such a bad thing?
As we continue to see market noise around tech volatility around the shift from growth to value, let's assess some of the largest technology companies and their potential to become more 'value-oriented' as an investment exposure.
The Main Contenders of "Mega cap tech to value"
As a quick bit of clarification, "mega cap" refers to some of the largest companies in the world where their market capitalisation is in excess of $200 billion USD.
For the numbers mentioned below these are as of 31 May 2021.
Microsoft (MSFT:NASDAQ)
With a market cap of $1.88 trillion USD and first trading in 1986, Microsoft is the 'old money' of the tech world aristocracy which still remember when Dell was a serious contender in the market.
On average, the share price for Microsoft has increased by 32.9% per year since 2016, not the triple digit race you might expect from the FAANGs but steady growth none-the-less.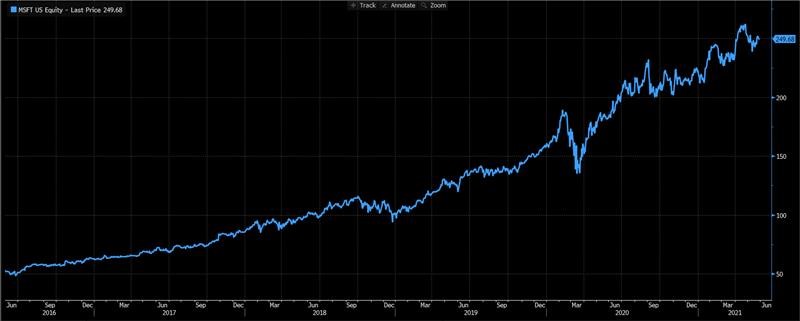 Something else that has been growing is its dividend yield.
MSFT pays a quarterly dividend with a current indicated yield of 0.90% p.a. – over five years this figure has grown at a rate of 9.52%, not bad for a company that continues to increase its earnings per share (EPS) by 31.2% over that same five year period.
This fits the traditional narrative of a 'value stock', a company that makes money and pays out income – we just need the final piece of buying it below value.
At time of writing MSFT is trading at $249.68 USD, whilst the current FactSet target price (an average of all broker prices) is sitting at $295.19, a 17.8% premium to current levels.
By all traditional measures, MSFT is currently trading as you would expect a value holding to be.
Microsoft may be the poster child for this "megacap to value" thesis, having had enough time and innovation for the business to establish a core user base and mature its financial position. This is not to say that Microsoft has become a stagnant business – from their focus on the development of AI to their rapidly growing cloud business, MSFT still has growth without being entirely "blue sky".
The investment thesis here is that with such a large market cap, and with valuations pricing in actual growth as opposed to theoretical earnings and income, MSFT is more likely to weather volatility in the event of a 'risk-off' tech sell-off.
Apple (AAPL:NASDAQ)
With a market cap of $2.08 trillion USD, Apple needs no introduction as the largest company in the world.
Like Microsoft, Apple sits amongst the aristocracy of the megacap tech stocks, first trading in 1980 and continuing to grab headlines with nearly triple digit growth as late as last year.
Across the last five years AAPL has grown at a rate of 43.3% per annum, growing over 80% in both 2019 and 2020.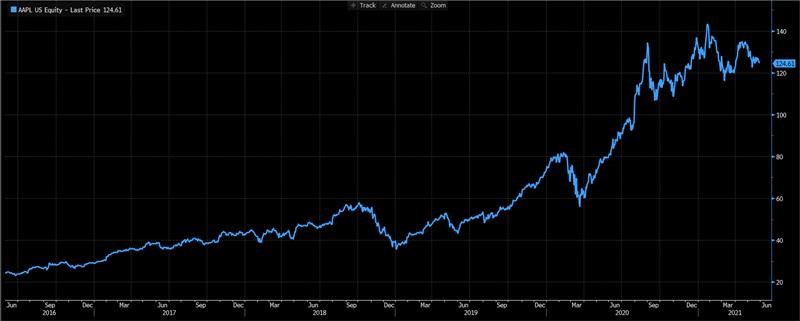 As with MSFT, Apple does pay a dividend – with a current indicated yield of 0.71% p.a., a rate which has grown at 9.41% over the last five years. Once again, we have a case of growing dividend rates with growing EPS, which have increased at a rate of 7.3% over the last five years.
Final piece of the puzzle: is it trading at a discount?
After trading at a premium throughout most of 2020, Apple currently trades at $124.61 USD, a 25.7% discount to the market consensus of $157.10 USD per share.
What is similar between these two companies?
Both are mature in both operations and their market penetration, having established brand loyalty, product lines and consumer bases.
Apple is also working on additional means of future earnings growth; their wearable product line (Apple Watches, Airpods) carried the company to the $2 trillion USD market cap over the last few years, their new video streaming services are looking to compete with the likes of Netflix and Amazon, and they command the attention and brand loyalty of over one billion iPhone users.
Although these product lines do not sound as exciting as cloud and AI, what may set AAPL and MSFT apart as "megacap to value" potential is their large user base and ability to leverage existing products into new initiatives and revenue streams. Apple too falls into the thesis that with continued growth of earnings and a titanic market cap, volatility may be more muted should it appear in the future.
The Growth Purists
Facebook, Amazon, Netflix, Google.
The "dividend holdouts", the "growth purists".
Rather than immediately take a dive into why each of these companies are less likely to be a value-tilt yet, let's first examine the numbers:
| | | | | | | |
| --- | --- | --- | --- | --- | --- | --- |
| Stock | Market Cap | IPO Year | 5y Price Growth | 5y EPS Growth | Current Price | Market Concensus |
| Facebook | $932bn | 2012 | 25.5% | 50.9% | $328.73 | $387.19 |
| Amazon | $1.62tn | 1997 | 38.9% | 101.8% | $3,223.07 | $4,268.04 |
| Netflix | $229bn | 2002 | 38.1% | 85.1% | $502.81 | $615.97 |
| Google | $1.59tn | 2004 | 18.6% | 20.7% | $2,356.85 | $2,786.27 |
Source: Mason Stevens, FactSet
The numbers do not necessarily look all that different to Microsoft and Apple, between solid earnings growth and trading below market consensus. Therefore, numbers cannot be the secret to shifting to value.
What is the differentiator then?
I believe it can be summarised in two words; "time" and "stability".
At one point both Microsoft and Apple were the biggest disruptors in the entire world, let alone just technology. Without barely scratching the surface of their track-records, Microsoft was the driving force behind the 'personal computer' becoming an accessible product to every household, Apple changed the world by digitising music and bringing it to every level of consumer.
Over time, the world has grown used to their changes and now disruption has become the norm. Consumer habits do not change rapidly (most of the time), so this process takes time and patience for a company to become established and dominant, as MSFT and AAPL now are.
But Facebook, Amazon, Netflix and Google have not necessarily had that time – they are all current disruptors, and though these companies are now as much a part of our lives as almost any other product in existence, they are continuing to spend big to push ahead with further disruptive to drive the world towards their 'new norm'.
Let's not forget that in the late 1990s, Apple stopped paying dividends so they could focus on competing with both established players and contenders for their own title – this focus on winning market share and innovating takes capital, which cannot be paid out to investors.
It may be only a matter of time and maturity before these companies become the next MSFT or AAPL, aged titans of industry who still have a runway ahead but can offer some stable income and hopefully stable prices as a bonus.
Valuable Knowledge
This note may be a simple refresher to those who understand business cycles – businesses grow, they mature, and then their either grow again or eventually taper off and fade away.
What is important is to question market classifications and look within each sector for opportunities, regardless of prevailing market fears.
Although Microsoft and Apple are still called 'growth', they have strong value characteristics which may let investors get the best of both worlds – capital growth, coupled with income and hopefully some protection against a 'growth sell-off'.
If you feared tech in general, particularly U.S megacap, you might never see these opportunities. If you constantly write off the remaining megacap as only high-growth, "blue sky" stories, you might miss the turning point where these companies become the next mature titans and begin to offer a new dynamic for your portfolio.
The views expressed in this article are the views of the stated author as at the date published and are subject to change based on markets and other conditions. Past performance is not a reliable indicator of future performance. Mason Stevens is only providing general advice in providing this information. You should consider this information, along with all your other investments and strategies when assessing the appropriateness of the information to your individual circumstances. Mason Stevens and its associates and their respective directors and other staff each declare that they may hold interests in securities and/or earn fees or other benefits from transactions arising as a result of information contained in this article.