Petroleum is the most versatile fuel source ever discovered, it's the lifeblood of the modern global economy.
We use petroleum products to travel in vehicles, heat buildings and produce electricity in the industrial sector.
The petrochemical industry uses petroleum as a raw material to make plastics, polyurethane, solvents and hundreds of intermediate and end-user goods.
We currently can't live without it and the world uses just under 100 mio barrels per day.
The table below from the IEA shows the current addiction and the future outlook.

What you'll notice is demand for oil won't push above 2019 levels until 2023.
So why is the current price so high?
The surging price of oil is a key indicator of firming economic demand, last year when global lockdowns were imposed and demand expectations plunged, we got an idea of how derivatives can drive the price to extremes.
Most didn't appreciate the benchmark futures contract is not cash settled and is deliverable – if you hold a long contract at expiry you have pay for it and you have to find a place to store it!
When nobody wanted petroleum to be delivered (and stored) yet the pipes kept pumping, the price fell so quickly (that like the concept of negative interest rates for printed money) we had a day where there was a negative price for oil futures at expiry.
Negative fuel prices, literally paying people to take it away.
Look back 15 years ago when the zeitgeist was dominated by a term called "peak oil" a fear that the world would run out of oil, prices were trending and surged to a peak of USD$147.27/barrel on July 11th 2008.
Compare that sentiment to last year and you start to think how crazy outlooks can get when driven by leverage rather than fundamentals.
This year crude rallied strongly in the opening months of 2021; confidence grew that the vaccine-aided recovery from the pandemic would fire up the demand side. More importantly on the supply side the decision by the Organization of Petroleum Exporting Countries (OPEC) to keep a tight rein on output coincided with an uptick in attacks on Saudi oil infrastructure by Houthi rebels – the net result London's Brent crude pushed above $71 a barrel last week and WTI Crude futures hit levels not seen since 2018.
However, trends break and a fear that the vaccine rollout would stall as the AstraZenaca product was doubted, coupled with a proposed German lockdown for Easter has seen oil volatility spike and the rally give back over half the years gains in a very short time period.
The move lower was likely further exacerbated by the unwind of recently added speculative length, including from Commodity Trading Advisor (CTAs) – managed trading accounts that often utilize computer algorithms, and prices falling through option strikes of large open interest which typically creates amplifying effects as counter parties need to hedge their exposure (a dynamic called "negative gamma").
New Tech in Oil Markets
But these are short term trading concerns, what's changed is technology and supply.
Thanks to years of investment and advancing technology, the U.S. has evolved into a net crude oil exporter and the accelerating pace of electrification and decarbonization adds price pressure with reduced global movement.
While the investment banks are revising forecasts higher post the OPEC decision and there will be a positive flow through on equity valuations, a quick glance at the futures pricing on crude oil gives you enough of an idea on demand outlook.
A year ago (the line in green below) showed an outlook of rising oil prices as the view on lockdown was a temporary situation and demand would normalize. Today that curve shape has flipped (orange dots), as the forward option curve appears more concerned about supply than demand.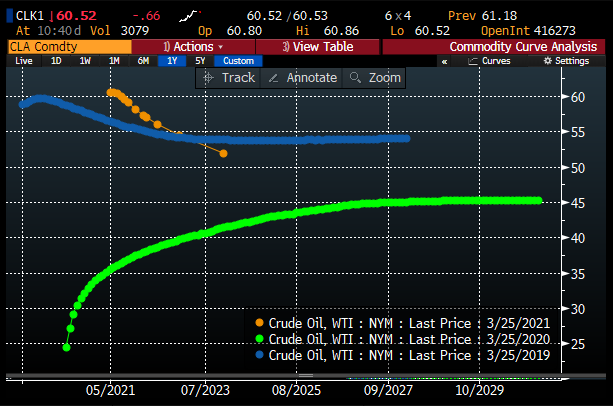 Goldman Sachs, however, view the recent sell-off as a transient pullback in an otherwise large oil price rally and a buying opportunity, with demand indicators in areas of high vaccination driving their above consensus expectations.
Their year-end targets are bullish at USD$77/barrel, forecasting a rapid oil market rebalancing in coming months.
The main focus for the market remains on OPEC led policy initiatives, ahead of the next meeting on April 1st.
Consensus had thought the chances of OPEC rolling over its production restraint into May was about 50:50, but the sell-off in oil the last week has shifted expectations to another roll over.
If another rollover is delivered, oil price sentiment will improve again, and potentially drive crude prices to new highs by summer as Goldman expect.
For the Australian energy sector and equity names, the correlation to oil is not as most expect.
The chart below shows that while we see headlines on the price of oil, your superannuation is probably more concerned with price of natural gas which hasn't seen any of the positive price movement that oil has enjoyed.
Year to date normalized performance of Australian energy stocks relative to the ASX listed Crude Oil ETF and Natural Gas Futures year to date.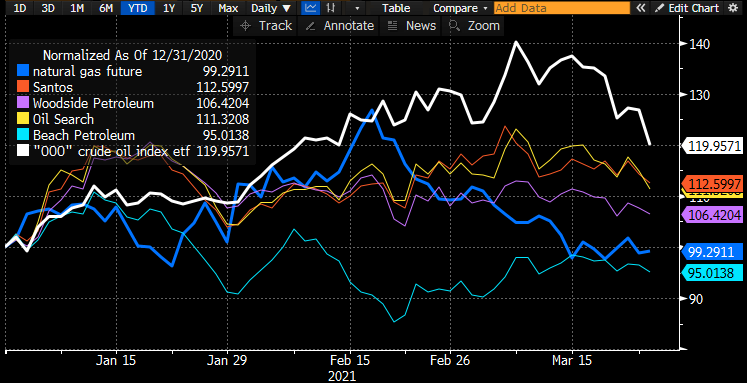 If you're wondering why the US shale market hasn't reacted with higher output and further investment, it's because the focus has shifted to renewables now that domestic oil supply is guaranteed through prior investments.
Of the 174 announced M&A projects in the U.S. power and utilities industry slated for 2021, 83% involve renewables.
Combined with increasing pressure from shareholders of public companies (and especially energy producers) for climate-related resolutions, 2021 is expected to be the first-time renewable energy surpasses oil & gas as the energy industry's largest area of spending.
As for that mega-ship that has run aground and created a monumental shipping backlog in one of the world's key trade routes and simultaneously stopping the oil price selloff abruptly, anytime I've run a boat aground a sandbar on Pittwater my judgement was impaired by beer!
The views expressed in this article are the views of the stated author as at the date published and are subject to change based on markets and other conditions. Past performance is not a reliable indicator of future performance. Mason Stevens is only providing general advice in providing this information. You should consider this information, along with all your other investments and strategies when assessing the appropriateness of the information to your individual circumstances. Mason Stevens and its associates and their respective directors and other staff each declare that they may hold interests in securities and/or earn fees or other benefits from transactions arising as a result of information contained in this article.