"Sell in May and go away " is a market saying that is easily recalled at this time of year but is usually repeated and used when hindsight suits. Like any cliché it must be based on some truth but the relevance to the modern market of algorithmic twenty-four hour trading is questionable.
An Australia focused investor maybe be unaware how difficult this year has been for those invested offshore. At the time of writing the ASX200 is only less than two percent lower for the year and you may have already received fully franked dividends payments that has covered that small drawdown. In comparison the SP500 (the benchmark index for the US economy) has fallen nearly thirteen percent year to date, those losses approach twenty percent if your exposure has been to the technology heavy Nasdaq index.
The caution associated with the month of May seems unfounded when you look at the monthly performance of the SP500 below over the last ten years: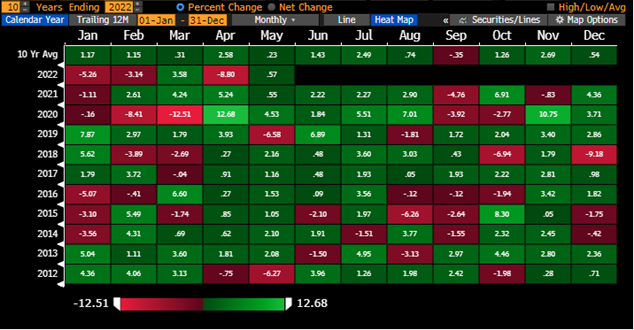 Source: Bloomberg
What is evident from the data above is how poor this year has been and the size of the drawdown in April. The macro environment is challenging and has not improved. Inflation concerns are locked in a battle on two fronts and both have outlooks that remain extremely unclear.
The global supply chain concerns which were anticipated to ease as the year progressed continue to have a timeline stretched by the Chinese Government's adherence to a zero Covid policy. Large scale population lockdowns on major international trading cities not only make future investment and growth plans difficult, servicing and fulfillment of current manufacturing contractual obligations remain delayed.
Apple – the largest company in the world by market capitalisation, at its recent results announcement saw its shares slump four percent in after market trading after their CFO warned supply constraints could hurt sales by up to $8 billion USD this quarter. Against the projected $395 bln in revenue Apple is projected to generate this year that may seem insignificant but it quantifies a structural problem that has not gone away.
The other primary input driving inflation higher is the cost of oil. It's holding above $100 usd per barrel despite lockdowns in China's cities that have prompted significant downgrades to China's GDP growth this year. The Russian invasion of the Ukraine in February saw oil spike initially to over $120 usd per barrel. Production is hedged using a monthly futures contract, those latter months initially did not see the prices jump like the spot contract with prices tapering but the market is still pricing oil in December this year above $90 usd per barrel well above most investment bank assumptions.
If the macro outlook is difficult then how are earnings holding up?
US earnings season appears solid with seventy percent of companies in SP500 having reported. According to Factset's latest earnings insight the year over year earnings growth rate for Q1 is 7.1% which is below the ten year average of 8.8%. If this is the actual growth rate for the quarter it will be the lowest since Q4 2020. The caveat though is Amazon.com has been the largest detractor to earnings growth for the SP500.
Amazon reported revenue of $116.4bn for quarter in line with expectations but the earnings per share disappointed with a loss of -$7.56 instead of the $8.35 the street was expecting for the quarter. The cause of the large and unexpected discrepancy was the company booked a pre-tax loss (valuation) of $7.6 bln on its investment in electric truck manufacturer Rivian Automotive. Rivian's share price despite a social media hyped IPO priced at $78.00 usd, peaked shortly after at $179.47 late last year but currently trades below $32.00 per share. If Amazon and its investment loss were excluded, the blended earnings growth for the S&P 500 would improve to 10.1% from 7.1%.
In this environment of heavy market losses there will be disparity in views pitched by the major investment banks. JP Morgan continue to view the current market sell off as an opportunity. In their recent Global Markets Strategy piece their focus remains on their high conviction Overweight on the energy sector. Their belief is energy demand is expected to exceed supply by twenty percent and will require $1.3 trillion of incremental capital to close that gap by 2030. Energy stocks are currently still discounting a long term oil prices of $100 usd per barrel and their earnings multiple of 9.5x according to Bloomberg looks conservative in this uncertain environment.
Citibank in contrast has highlighted the short term risk facing the market after an extended period of losses. Elevated inflation, weakening growth and tightening financial conditions have not been supportive in the past and the risk of bad month cluster following the 5% fall in April should not be ignored. Their quantitative analysis shows the risk of another 5% or worse month increasing to 1 in 4 elevated from the 8.6% risk they normally attribute. On the longer time horizon (6mth – 12mth) they remain broadly overweight equities with a US, China, UK focus against an underweight on Europe.
Looking closer to home the focus this week will be on the Australian banks reporting. Financials make up thirty percent of our index and as can be seen from the performance chart below an investment in NAB or Westpac has been beneficial this year. Their high dividends are attractive in a low interest rate environment and attract buying seasonally heading into dividend payments in May.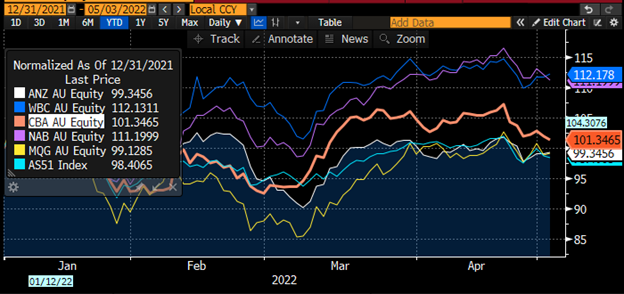 ANZ announces 1st half results on the 4th May, Macquarie follows on the 6th and then Westpac on the 9th. The announcement of 25bp rate hike from the Reserve Bank of Australia lifting rates for the first time since 2010 will bring with it increased financial coverage on the leverage of the Australian mortgage holder and therefore greater scrutiny on this week's banking results.
The views expressed in this article are the views of the stated author as at the date published and are subject to change based on markets and other conditions. Past performance is not a reliable indicator of future performance. Mason Stevens is only providing general advice in providing this information. You should consider this information, along with all your other investments and strategies when assessing the appropriateness of the information to your individual circumstances. Mason Stevens and its associates and their respective directors and other staff each declare that they may hold interests in securities and/or earn fees or other benefits from transactions arising as a result of information contained in this article.