As inflation bites investors bet consumers will change their spending patterns. Consumer discretionary is the sector that represents these companies and its been a tough year.
Something happened last week that hadn't happened since the end of March, a positive weekly close on the major US equity indices. In contrast, the ASX200 has been eking out gains over the last three weeks driven by the far larger sector weightings Materials and Energy companies have in our index.
The SP500 added 3% and the best performing sector were the Consumer Discretionary names who rebounded 6.6%. The first casualty of any personal budget is that discretionary fashion purchase or replacing an aging electric appliance when the bills to heat the house are jumping, the market has punished the sector as recession fears escalated.
A look at the best-performing stocks in the US last week shows over 10% gains in the athletic apparel maker – Under Armour (ticker UA), Amazon (ticker AMZN) and Estee Lauder (ticker EL) to name a few.
The year to date performance chart below for the respective Sectors in SP500 shows the spread and those selling non-essential items have performed the worst this year.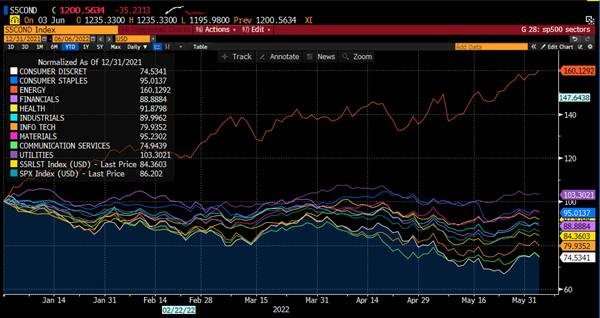 Source: Bloomberg
The importance of the US consumer to their economy cannot be overstated, that appetite to buy is responsible for nearly 70% of GDP and if they stop spending and China's population is dealing with a government pursuing a zero covid policy then the likelihood of global recession steepens.
The chart below shows how retail trade in the US has grown over the last twenty years. It tracks the resale of new and used goods to the general public monthly in USD and its only fallen during the US housing crisis around 2008-9, the sharp drop during the Covid panic and then this year.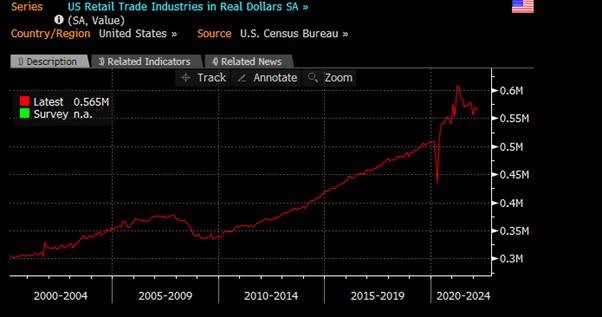 Source: Bloomberg
From an economic perspective, the data that drove the rebound in consumer stocks last week was solid. The ISM Manufacturing Index rose to 56.1 (from 55.4) in contrast with consensus expectations for a deceleration to 54.5. The US labour report showed non-farm job gains of 390K (vs. consensus forecast of 318K). Wage inflation on a month/month basis was steady at 0.3%, below consensus of 0.4%. However, ISM Services Index dropped to 55.9 (from 57.1), the lowest reading since early 2021 but it's still well above the 50 mark that indicates growth.
The equity market has already priced an economic slowdown, but not a full recession. The performance of Cyclicals (ex-commodities) vs. Defensives has closely tracked the path of economic growth. Defensives have outperformed Cyclicals year to date and currently trade at a level more consistent with an ISM around 51 rather than this week's reading of 56 according to an analysis by Goldman's quant team.
The reason for the focus on the consumer in today's note is a stock split in the largest retailer in the world – Amazon. A 20 for 1 split from Friday's close of $2447 will see the shares trading at around $122 each. While stock splits don't mean much to existing shareholders other than more shares, they do allow a large retail market that may have baulked at the previous price from buying shares. Amazon has split its stock four times since its initial public offering in 1997. It split 2-for-1 in 1998, 3-for-1 in January 1999, and 2-for-1 in September 1999.
Announcements by other large-cap tech companies have resulted in the following type of post-announcement stock performance vs. the S&P 500.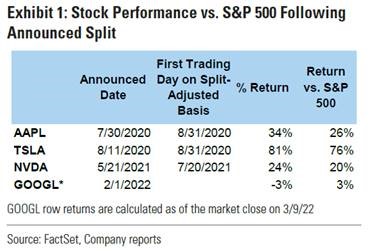 Amazon is down over 26% year to date. The sharp fall over earnings last quarter was sparked by the unexpected write-down of its investment in electric truck maker Rivian whose shares have halved from IPO and a time shift in revenue with Prime Day moving into Q3 calculations.
The advent of online shopping has brought about the ability of the online marketplace to create enormous sale events to drive revenue. Amazon's is called PRIME DAY and it will be in July this year. Prime Day is Amazon's huge annual shopping event with thousands of deals across a two-day span for members of its Prime subscription service. Nearly all of Amazon's own hardware is on sale, along with all its bestsellers from other retailers but the focus is on its products. Prime Day 2021 was Amazon's most successful so far, with consumers spending over $11.2 billion up 7.7% from 2020. Odds are retail giant is going to try and beat its 2021 performance in the weaker sales environment with more advertising and steeper discounts as inventory.
Amazon is the third-largest company in the US by market capitalisation projecting to grow revenue by 16.8% next year it's not surprising of the 59 analyst ratings on Bloomberg I can see 56 have a buy rating. The stock split amended blended twelve-month target price is now $175.33 across all analysts.
As the fictional New York character Carrie Bradshaw once said " I like my money right where I can see it: hanging in my closet," maybe those US sales will pick up again.
The views expressed in this article are the views of the stated author as at the date published and are subject to change based on markets and other conditions. Past performance is not a reliable indicator of future performance. Mason Stevens is only providing general advice in providing this information. You should consider this information, along with all your other investments and strategies when assessing the appropriateness of the information to your individual circumstances. Mason Stevens and its associates and their respective directors and other staff each declare that they may hold interests in securities and/or earn fees or other benefits from transactions arising as a result of information contained in this article.