No matter what financial instrument – be it equity, bonds, foreign exchange, derivatives or even crypto – common market sayings have a way of being thrown around by investors beyond their statistical accuracy.
You've all heard them at some point when looking at the market – "the trend is your friend", "don't catch a falling knife", "markets stay irrational longer than you can stay solvent" to name a few.
The one most relevant at this time of year is "sell in May and go away".
This broker adage is based on a belief the stock market underperforms in the six-month period between May and October, with most growth occurring if you are invested each year only between November and April.
The saying is centuries old, originating in London's financial district when bankers and their wealthy clients escaped the heat of the city for the northern summer only to return for the oldest flat course horse race at Doncaster – the St Leger Stakes, in September.
There are seasonal factors that uphold the saying, the largest shopping days happen between October and April, yearend bonuses on investment banks are paid and even tax refunds would have been paid by April.
Contemporary Seasonality
While there may have been statistical support in the past for the saying, a brief look at recent history (since smart phone ownership became ubiquitous) shows things have changed.
Last year is the most obvious mistake, if you felt uncomfortable with outlooks for economies in the face of COVID lockdowns you missed a 12.3% rally in the S&P 500 and this is not unusual.
In fact, looking back a further eight years it was only 2015 when the adage held any truth and that was only for 0.3%. In 2013 you missed a 10% gain, 2014 S&P 500 added 7.1% and in 2017 it added 8%.
As for 2021, April has been kind again.
Heading into month end earnings have been going well and the indices have been reflecting it.
At the start of the week, FactSet reported the blended earnings growth rate for the S&P 500 is 33.8%.
If 33.8% is the actual growth rate for the quarter, it will mark the highest year-over-year earnings growth rate reported by the index since Q3 2010 (34.0%).
A comparison of equity returns since the trough in 2020 with other bear market troughs since the 1970s shows how much better than normal it's been.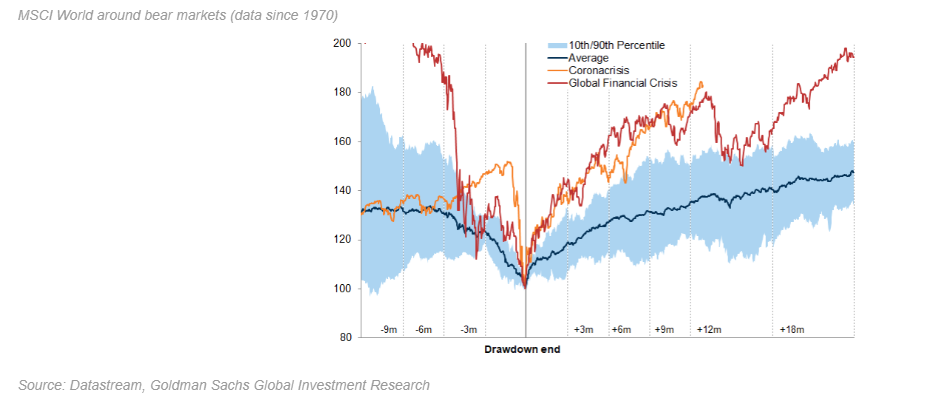 But this should not be surprising price action given the unprecedented combination of monetary and fiscal support.
The below chart measured in billions of USD shows how accommodative central banks have been to ride out the pandemic and create the environment where the economy can snap back.
That being the case it's fair to say maybe the hectic gains we've seen running into earnings in the US will slow. The economic numbers will continue to show strong growth and company earnings growth will still be present, but returns can moderate, and valuations fall.
It may just be a simple case of us all being invested.
This chart from JP Morgan shows how global cash levels have been falling the market has pushed higher.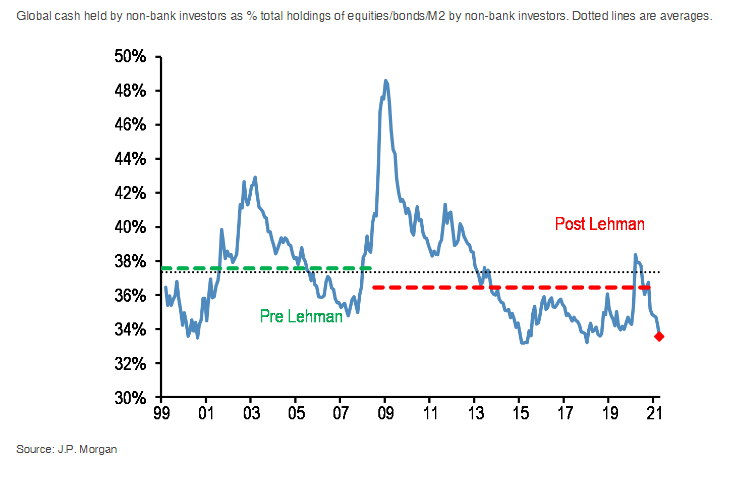 Closer to home, cash levels at Australian fund managers are also low.
A typical long only equity fund is mandated to stay invested; their variation is not as extreme as hedge funds and rarely go above 5% or below 2.5% cash weighting.
You always need to run some cash balances to manage the lack of clarity on allocations associated with placements and IPOs, whilst also funding redemptions.
Currently, JP Morgan sales team report domestic accounts have had balances below 2.5% for longest period since Feb 2017.
Looking Forward
We have markets at record highs, low cash levels and a policy overhang from the Biden administration that will get more attention once earnings outcomes are updated in equity valuation models.
The market has been resilient in the face of potential capital gains tax increases.
Long-term capital gains and qualified dividends are currently taxed at a maximum rate of 20%, along with a separate 3.8% tax on investment income.
Press reports reveal that Biden will propose taxing both of these as ordinary income for filers with more than $1 million USD in annual income.
This would roughly double the tax rate on capital gains and dividend income from 23.8% to 43.4%.
Goldman economists expect a more modest increase, potentially around 28% will be the reality.
Past capital gains tax hikes have been associated with declines in equity prices and in household equity allocations.
Unsurprisingly, the wealthiest 1% were the biggest net sellers of equities across US households around the last capital gains rate hike in 2013.
Using Federal Reserve data, Goldman estimate the wealthiest households now hold $1 to $1.5 trillion USD in unrealized equity capital gains.
This equates to 3% of total US equity market cap and roughly 30% of average monthly S&P 500 trading volume.
"Let it ride" is another saying associated with equity investment and has been a mentality that has helped ride out the bumps of the last twelve months and Goldman is quick to point out the falling stock prices around capital gains rate changes has usually been short-lived and reversed during subsequent quarters.
Looking at this backdrop it seems understandable markets 'may' start to slow and volatility pick up. And yes the pun is intended!
The views expressed in this article are the views of the stated author as at the date published and are subject to change based on markets and other conditions. Past performance is not a reliable indicator of future performance. Mason Stevens is only providing general advice in providing this information. You should consider this information, along with all your other investments and strategies when assessing the appropriateness of the information to your individual circumstances. Mason Stevens and its associates and their respective directors and other staff each declare that they may hold interests in securities and/or earn fees or other benefits from transactions arising as a result of information contained in this article.