The European region can never be accused of being a stable presence – a melting pot of culture with a history dating back to some of the earliest of civilisations.
I'm reminded of a joke my grandfather was fond of:
"In Heaven; the police are English, the cars are German, the food is French, the lovers are Italian and it's all managed by the Swiss. In Hell; the food is English, the cars are French, the police are German, the lovers are Swiss and it's all run by the Italians".
And in recent history, European equity markets have been a mixed bag, which isn't much of a positive starting point for financial markets which loathe uncertainty and an unclear investment thesis.
Particularly since initial talks began of Brexit back in 2016, European equities have been out of favour and trailing other global markets.
To discount Europe, however, is to discount a $15 trillion USD economic region and one which has been heralded as one of the leading opportunities for "value investment" in recent years.
Today, we'll review some of the structural elements behind European equity markets, current valuations and various means of investment into the region.
House of Lagardes
To review the current structural trends of European equity markets, we need to first establish some context on the fundamentals.
The Brexit referendum in the United Kingdom was on the 23rd of June 2016, where readers will doubtlessly remember that 51.9% of voters were in favour of leaving the European Union (EU) – many of whom then seemed to rush to Google to figure out what the EU actually was…

Source: Mason Stevens, Google Trends
The day after the referendum, the FTSE 250 index dipped nearly 7.2%, accompanied by currency fluctuations to match (GBPUSD fell over 8%, EURGBP appreciated over 6%).
This set a grim sentiment backdrop, removing a ~3 trillion USD economy from the region and causing trade disruptions to regional economies throughout the continent. This is not discounting the fact that Brexit dragged on over four years, and with it dragged the collective confidence of capital markets in the region through the gravel.
Couple this with the president of the European Central Bank (ECB) at the time, Mario Draghi, promising accommodative liquidity provisions to overcome a mounting debt crisis in the "peripheral" economies (Greece, Italy, Portugal, Spain to name some key members), and there was not inconsiderable concern that levels of debt-to-GDP across the region would accelerate out of control.
With this unsightly backdrop, the underperformance of European equities (blue line), relative to global equities (white line) or the US Nasdaq (green line) has been on display for all to see:

Source: Bloomberg
Compared to the rest of the world, you would say this index is technically undersold, and that mean reversion should bring the value of European equities higher in line with other developed markets.
Fast-forward to today, and Brexit fears have largely been set aside, no other countries are seeking to enact an Italeave or a Frexit.
In addition, the current ECB president, Christine Lagarde, has been hailed as a nimble central banker with a clear message of patience and stability laid out for the region.
This is particularly timely, given that late last week the ECB opted to maintain most of its accommodative monetary policy, but has actioned the tapering of future quantitative easing purchases (bond buying).

Whilst this did hurt European equities on the day, it does also indicate that Europe has confidence in economic (particularly inflation) conditions as they continue to recover from the impact of COVID-19.
That recovery is coming off a low base, given that Europe's GDP fell by nearly 7% in 2020, double the 3.5% contraction that the US experienced during the same period.
In a market such as Europe, financial stability and recovering economic conditions are two key drivers of market sentiment; a clearly sign-posted improvement in both should see investor sentiment around this market improve as more data is released to the market.
This all paints the picture of a value investor's playground, seeking out cheap opportunities from an economy that is finding a path towards recovery, with a much longer "runway" than something than a region like the US.


Current Capital Markets
An important factor to consider when looking at European equity indexes is that they do not have the same inherent growth bias as the NASDAQ (or S&P 500 to a lesser extent).
In the Euro Stoxx 50 index, technology is less than 15% of the index. Across the channel in the U.K. an even greater contrast in the FTSE 250 index, less than 6% is technology and less than 5% is healthcare, albeit not strictly a picture of European equities as a whole.
Instead, you see a balance largely towards more cyclically-sensitive sectors; the Euro STOXX 50 has a 16.8% exposure to consumer non-cyclicals, 15.5% exposure to consumer cyclicals and 15% to financials.
Consider the below comparison in sector breakdowns between the Euro STOXX 50 and NASDAQ 100 index: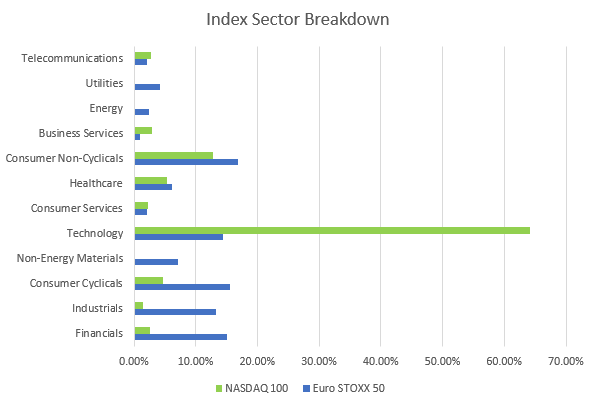 Source: Mason Stevens, FactSet
By its nature to invest into the European index is to bet on economic recovery and a recovery in cyclical services, as opposed to chasing aggressive growth business models or technology development.
Since we're talking about valuations, how does Europe stack up on valuation metrics versus some other major equity indexes?
| | | | |
| --- | --- | --- | --- |
| Index | Price-to-Earnings (Last 12 months) | Price-to-Earnings (Next 12 months) | Dividend Yield |
| FTSE 100 | 15.2 | 12.4 | 3.9% |
| Euro STOXX 50 | 19.9 | 16.9 | 2.5% |
| ASX 200 | 17.8 | 17.9 | 2.5% |
| NASDAQ 100 | 32.6 | 29.2 | 0.6% |
| S&P 500 | 25.0 | 21.0 | 1.3% |
Source: Mason Stevens, FactSet
European equities currently boasted one of the highest overall dividend yields in the world, and some of the lowest P/E ratios over the next 12 months.
Valuations are obviously cheap and the index as a whole is lagging other developed markets as on percentage appreciation basis. As mentioned previously, a recovery in key macroeconomic and corporate metrics should be the key to improving investor sentiment.
And if we see improving sentiment as a catalyst for improving performance out of Europe, the question an investor now has to ask is, how long will the market let that index remain cheap?

Investment Opportunities
The value investing landscape makes Europe ripe for stock-picking opportunities, identifying those companies which either have robust business models which survived COVID-19 better than the market anticipated or those which look to benefit as the economy re-opens and the spending habits of market participants return to pre-pandemic levels.
Equity markets as a whole, however, should enjoy the benefit of a recovering region, as slumped capital inflows begin to pick up (according to Bank of America, Morgan Stanley and Credit Suisse) and low interest rates make fixed income holdings in the region unappealing.
For those looking to take that approach, there are many ETFs which cover Europe as a whole all the way down to region-specific factor tilts (today I learned there was an Austria-specific index ETF):


Vanguard FTSE Europe ETF (VGK:NYSE)
With $26.7 billion USD under management, across 1,338 stocks, this is the largest broad market European ETF available to investors. This is also a relatively cheap ETF, with only a 0.08% management fee per annum.
iShares MSCI Europe Small-Cap ETF (IEUS:NASDAQ)
For a more growth-oriented exposure, the iShares Europe Small-Cap ETF tracks 1,028 holdings across developed European markets – even tackling the smaller end of the company spectrum, the ETF only has a P/E ratio of 20.57, placing it as relatively cheap compared to other global indexes.
There are also several region-specific ETFs for investors looking to take a more defined exposure to a particular area of the Eurozone, including the iShares MSCI Switzerland ETF (EWL:NYSE), iShares MSCI France ETF (EWQ:NYSE) and iShares MSCI Germany ETF (EWG:NYSE).
Euro(P/E)
In summary, Europe presents a compelling value investment opportunity for investors looking to either do the work and find individual stocks, or go long more broadly on the economic recovery/cyclical play across the index as a whole.
In the great game of mean reversion, you would expect to see the value of European equities increase in the coming years as the macroeconomic conditions improve and investors gain more confidence in the region after years of being the underdog.
Plus, doing research on German stocks may be the closest we get to a "European holiday" for some years.
The views expressed in this article are the views of the stated author as at the date published and are subject to change based on markets and other conditions. Past performance is not a reliable indicator of future performance. Mason Stevens is only providing general advice in providing this information. You should consider this information, along with all your other investments and strategies when assessing the appropriateness of the information to your individual circumstances. Mason Stevens and its associates and their respective directors and other staff each declare that they may hold interests in securities and/or earn fees or other benefits from transactions arising as a result of information contained in this article.