If you distil the primary purpose of each corporate spending decision down to one fundamental principal, it should be to deliver at least one dollar of value (be it intrinsic or market value) for each dollar of business capital deployed.
The decision-making logic is not particularly complex, although accounting structures or operational changes can sometimes work to make it more opaque.
There are two key questions which a manager (or observant investor) needs to answer:
1) Will spending $1 return greater or equal to $1?
2) Will that return come in a reasonable timeframe?
Which brings us to the topic of Mergers and Acquisitions (M&A), a practice which has been running at full throttle as business confidence has continued to recover, capital remains cheap to source and equity markets continue to grind higher globally.

M&A Acquiring Momentum
The term M&A gets banded around in several contexts, in this discussion we are referring to acquisitions and consolidations conducted by companies, either to acquire/merge with another company or purchase a key asset from another company.
An increase in M&A volume and deal size is generally considered to be a positive indication of business sentiment and strength within the market, as companies are willing to take on debt or lower their cash reserves in order to "buy growth".
Increases in M&A volume generally coincide when cost of borrowing is low, or the opportunities that stem from purchasing another company or merging with it are too goo to pass up.
This sort of environment is usually the result of a recent recession where companies may be valued at discounts to their intrinsic worth, or when borrowing costs are low and perceived to move higher in the short to medium term.
2021 has provided BOTH these conditions to be present.
In PWC's 24th Annual Global CEO Survey conducted in March, over 76% of CEOs expressed positive sentiment around improvement in economic growth and in a robust business sector.
You do not have to look far from home to see these CEOs putting their balance sheet where their mouth is.

At Mason Stevens we've seen in excess of 70 domestic public equity deals on the back of M&A activity, primary in placements and capital raises – we're at a point in the business cycle where domestic companies can access capital cheaply to purchase growth assets, and find it easier to tap capital markets than it is to secure bank finance.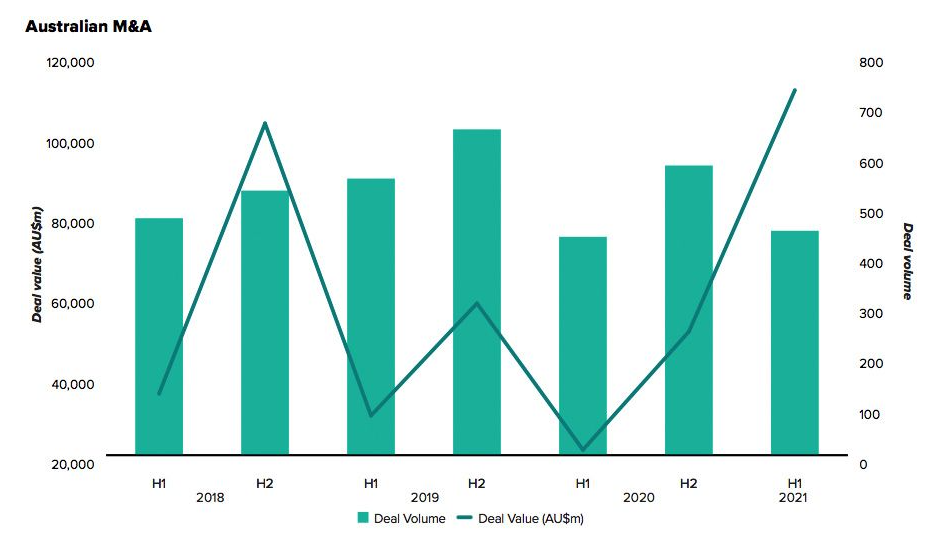 Source: Pitcher Partners, Consultancy.com.au
According to Gilbert & Tobin, the first Monday of this month saw the announcement of over $60 billion AUD worth of public deals – the graphic above shows that whilst volumes are slightly down from H2 2020, the deal values have increased dramatically and are sitting at three year highs.
An Investment Thesis
M&A can bring a lot of advantages to companies, if the transaction is in line with those key principles we discussed at the start.

A company can benefit from economies of scale, develop synergies with its existing assets/operations, grow its market share, become more competitive in its field, the list goes on.
As investors, this offers opportunity to find value in a newly strengthened company – and no, this is not just referring to investing in arbitrage opportunities, though we will touch on an example of how that has played out recently.
In late July, Evolution Mining (EVN:ASX) announced to the market that it was raising $400 million AUD to purchase the Kundana gold mine from Northern Star (NST:ASX). We saw this as a logical and opportunistic deal, given the proximity to existing Evolution gold assets and the robust balance sheet of the company.
This is the sort of deal that may create an investment opportunity – or what we have referred to as a 'catalyst' in our notes on investment rationales – for those who were already looking for an "in", a key acquisition which looks likely to deliver value in excess of what was originally paid. This is more of a fundamental thesis towards M&A, looking for a company strengthening its existing operations for the long term.
Then there is the other side to M&A, what is often called "trading the arbitrage".
There are many ways to invest in arbitrage, and as many different investment managers attempting to generate returns out of M&A activity.
Let's touch on "merger arbitrage" for this example: this is when a merger between two businesses is announced, and there is a brief delay between the offer price and the actual trading price of the company (or companies). The more mergers in the market, the more opportunities for arbitrage.
We saw one example of merger arbitrage recently, when Jack Dorsey's Square (SQ:NASDAQ) announced plans to purchase ASX darling, Afterpay (APT:ASX), for an eye watering $39 billion (an approximate offer price of ~$126 per share).




Source: Bloomberg, Mason Stevens
Compared to the previous close of ~$99 AUD, this offered a significant premium, and the market reacted instantly. The price soared up to the proposed offer price and then some, with buyers looking as the Square offer as a form of "guarantee" around what the shares would be worth.
Buying potential arbitrage like this is more "trading" than it is "investing", but the sentiment remains the same: the position of the business is strengthened from this deal, and improves the likelihood that the price of the asset will increase over time.
An Outlook for M&A
M&A activity offers substantial opportunity for many different types of investors, from short-term traders to long-term holders. So, can we expect that activity to stay?
This question is intrinsically linked to the broader economic backdrop, be it domestically or globally.
Economic growth across Asia-Pacific, Europe and North America was looking in a relatively comfortable position earlier in 2021, with vaccine rollouts and economic re-openings delivering greater confidence to businesses which have long suffered the effects of reduced mobility, supply chain disruptions and more.
Whilst the delta variant does to the world what a service station sausage roll does to a digestive system, this growth may be called into question – will we go backwards, will we go sideways or just slow down?
These kinds of questions are not accretive for business confidence.
However, many large companies are still sitting on untapped reserves of "dry powder", either in holding cash or with further potential to leverage their balance sheets with cheap capital sourced from equity and debt markets.
This may see a trend towards M&A activity continuing but only in larger companies which can opportunistically purchase distressed assets or entire businesses.
As for where we are in the business cycle, we have written frequently about the breakdown of business cycles in favour of credit and liquidity cycles (as recently as last week), so it is likely more important to keep an eye on the support governments and central banks provide markets to keep money cheaper for longer.
For those companies which can "buy growth cheap", this represents a key opportunity to create value for their shareholders, so if you are (or can become) a shareholder, then keep cheering for cheap money to buy that growth!
The views expressed in this article are the views of the stated author as at the date published and are subject to change based on markets and other conditions. Past performance is not a reliable indicator of future performance. Mason Stevens is only providing general advice in providing this information. You should consider this information, along with all your other investments and strategies when assessing the appropriateness of the information to your individual circumstances. Mason Stevens and its associates and their respective directors and other staff each declare that they may hold interests in securities and/or earn fees or other benefits from transactions arising as a result of information contained in this article.