It is undeniable that COVID-19's impact upon our society and economy will be felt for decades to come.
We are living amongst at an inflexion point in history, in which certain priorities have been brought into focus as the pandemic challenges us as a species.
One such priority, championed by vaccines but certainly not restricted to, has been the importance of healthcare.
Despite having defensive characteristics, healthcare stocks have played into growth thematics over the past few decades as the Western world tackles an ageing population demographic; while a growing middle class in the East has fed a rising demand for higher-quality medical treatment.
Furthermore, we are increasingly subject to chronic diseases and ailments which require ongoing treatment – in this same vein, we can include the increasing numbers of elderly in palliative care.
This sets the scene as a compelling investment narrative and since many investors are underweight the sector – may offer a dose of diversification with a side effect of capital growth.
Current Market Diagnosis
Over the last 12 months, the Australian healthcare sector had a mostly positive track record, outperforming the ASX 200 until December 2020.

Source: ETF Trend https://www.etftrends.com/retirement-income-channel/semantic-density-algos-gamestop-this-time-its-different/
Over the entire quarter, healthcare underperformed the ASX 200 by 17%, a result of an unwinding trades, selling out of COVID-19 beneficiaries, which was driven by positive sentiment about global vaccine rollouts.
The market has a great sense of irony, selling healthcare stocks as a result of healthcare outcomes improving.
What is notable about this sell-off is that it was non-discriminate, both companies benefitting and suffering due to COVID-19 fell, regardless of actual company fundamentals.
So where is the sentiment around our healthcare stocks driven from?
As Jesse noted on Tuesday, the vaccine rollout plan is well underway in Australia. However, many of our listed securities derive their income from overseas sources – so despite our domestic strength, the sentiment and performance of our big health companies will largely depend on the success of the Biden administration to implement a vaccine program in the United States, and for Prime Minister Johnson to bring the pandemic under control in the U.K.
A Syringe in a Haystack
As an investor, we are presented with a situation where indiscriminate selling has brought this sector below the broader index.
This represents a chance to find oversold stocks priced below a fair value.
Citi Group's latest piece of research makes the point that although some companies may have acquired temporary revenue boosts, the impact to their balance sheet is permanent.
Let's examine some of the broker favourites, as well as some passive exposure to ETFs, as some ideas to add some extra weighting to well-being.
In advance, and as at 31 December 2020, the Price-to-Earnings ratio (P/E) of the ASX 200 was 43.26 (Bloomberg).
CSL (CSL:ASX) – P/E of 45.59 (29/01/2021)
CSL has underperformed throughout this pandemic due to material declines in plasma collection globally. The plasma division represents around 90% of CSL's earnings, with the immunoglobulin products from that division accounting for 40% of revenue.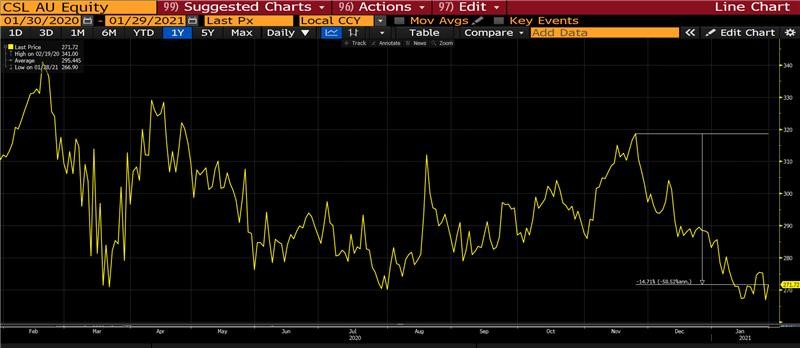 Source: ETF Trend https://www.etftrends.com/retirement-income-channel/semantic-density-algos-gamestop-this-time-its-different/
It will come as no surprise that since March, donors are less willing to donate plasma, particularly in North America.
The recovery of collection numbers can be directly linked to the sentiment and vaccine availability in the US, so market consensus is that numbers will stabilise towards Q3 CY2021, likely returning to growth sometime in 2022.
What's important to note about this particular stock is that there is a 6-month lead time from collecting plasma to a finished product, so buyer beware that FY2022 earnings are almost certain to be impacted by the decline that we are experiencing today. This represents probably the biggest risk to the performance of this stock, a negative financial forecast as they account for future supply lines of immunoglobin products suffering.
With all of this being said, CSL is the biggest player in its market, with a strong corporate structure and infrastructure pipeline behind it to handle the recovery well once it does come.
Ramsay Healthcare (RHC:ASX) – P/E of 48.24 (29/01/2021)
Ramsay also suffered due to the pandemic, since elective surgeries throughout the globe (particularly Europe) were reduced or put off entirely – although there's a lack of hospital beds, there's very little money in treating COVID patients…
The good news for RHC is that 80% of its earnings come from Australia, where we have been far less impacted in respect to elective surgeries, particularly in the private hospital space where Ramsay holds a ~30% market share.
In this sense, you could see the company as business as usual for the most part, with a slight recovery play once Europe gains control of the pandemic and the backlog of surgeries rush into a Ramsay facility.
Sonic Healthcare (SHL:ASX) – P/E of 31.08 (29/01/2021)
Sonic Healthcare was one of the lucky ones who saw gains from the pandemic, largely due to their production of COVID-19 tests.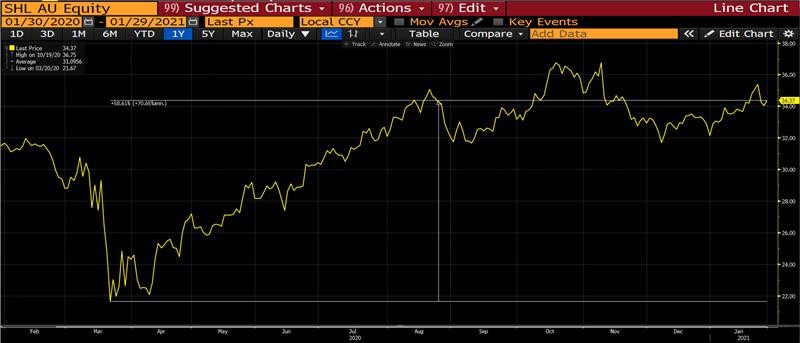 Source: ETF Trend https://www.etftrends.com/retirement-income-channel/semantic-density-algos-gamestop-this-time-its-different/
During the back half of 2020, the average testing rate in the US was around 1.25 million per day, and forecasters during that period expected that number to drop. However, given the second wave experienced throughout the United States, this number is now around 2 million per day – a boon for SHC to be sure.
Testing will not necessarily drop off a cliff as the vaccine is rolled out, particularly since tests will be given to elderly and frontline workers as a priority, whereas a large portion of the population will still be 'left wondering' (so to speak) until at least June 2021, all things going as planned. However, if 2020 proved anything, it was the validity of Murphy's Law.
Whilst this revenue influx is temporary, Sonic entered into the pandemic period with around AUD 4.6 billion in debt (Factset), which research by Citi suggests will be cleared from their balance sheet this calendar year. This means the company will come out with a clean slate and able to leverage its good health into other activities throughout the next few years.
Finally, we can talk passive exposure. The iShares Global Healthcare ETF (IXJ:ASX) tracks the S&P Global Healthcare index and has exposure to some of Australia's larger healthcare companies [including CSL, Sonic and Cochlear], as well as the added benefit of global healthcare holdings (a topic we will come back to in a later note).
Ripping off the bandaid
Healthcare is a worthwhile narrative to get exposure to in a diversified portfolio.
For now, we have touched on companies closer to home, but this is a global thematic which has lasting staying power as we continue to deal with a health crisis.
In a later note, we will return to the topic to examine healthcare around the world and the highly varied sub-sectors in which an investor can play.
The views expressed in this article are the views of the stated author as at the date published and are subject to change based on markets and other conditions. Past performance is not a reliable indicator of future performance. Mason Stevens is only providing general advice in providing this information. You should consider this information, along with all your other investments and strategies when assessing the appropriateness of the information to your individual circumstances. Mason Stevens and its associates and their respective directors and other staff each declare that they may hold interests in securities and/or earn fees or other benefits from transactions arising as a result of information contained in this article.