The half-yearly earnings reports for most ASX200 companies are released in February, and while investor attention is dominated by a deteriorating macro-environment, it is important to look back at what was reported and not just trade out of investments based on macro headlines.
Overall, it has been a strong first half for the financial year.
Revenue generated continues to climb and just under 50% of companies beat analyst expectations, matching last February's strong results.
Despite the lockdowns and supply chain breakdowns, ASX200 companies grew revenues by 9% in 1H22.
Rising input costs are being passed onto consumers with margins only contracting by 20bps on average, which is in line with previous 1st half reports.
The chart below from Goldman's highlights those revenue beats, but that percentage was not maintained when you looked at earnings per share.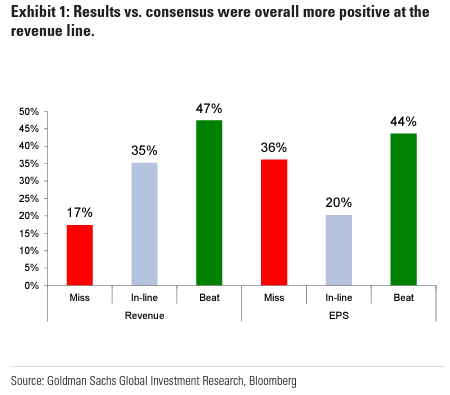 Given the deteriorating macro-environment, it is not surprising to find out companies had to beat market analyst expectations to get positive price action on the day.
On average, an in-line result has not supported a companies' share price in the post-announcement market as can be seen in the chart compiled by Goldman's portfolio strategy team.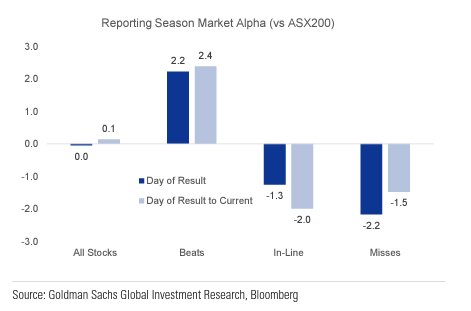 A feature of February has also been the valuation collapse that the domestic growth stocks have suffered as interest rates have pushed higher.
Seven stocks fell more than 15% post reporting and they all featured large negative cost surprises – demonstrating that market concern surrounding cost inflation (Domino Pizza, Tyro Payments, Mineral Resources, Blackmores, Bravura Solutions & Nitro Software).
The magnitude of those falls reflects the valuation they've been able to maintain more than the extent of the miss and highlights the risk owning the ASX high P/E stocks over the earnings period.
Using the sector chart of the ASX200 below showing performance year to date as the backdrop I will run through some of the earnings season highlights: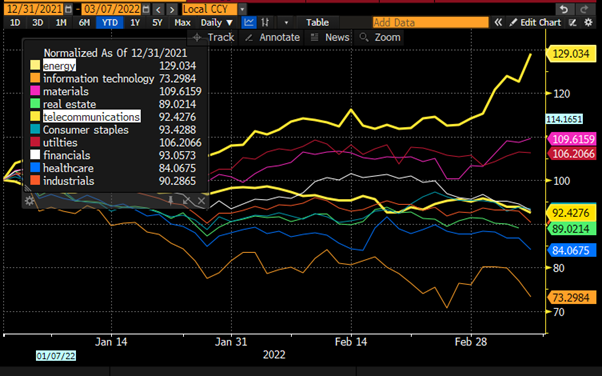 Energy
Surging oil prices in response to the escalating war in the Ukraine coupled with its under ownership continues to drive the outperformance. Santos remains focussed on completing its merger with Oil Search and Woodside declared its second-biggest final dividend ever at $1.05 per share.
Financials
Most banks show improved profits, CBA increased its dividend, while Bendigo and Adelaide Bank paid its first dividend since 2019, but margins are tighter as competition increases for home loans.
Materials
Commodity prices are running, the iron ore price swung back above $100 USD / tonne late last year and that momentum has continued into 2022. Impacting mining output both BHP and Rio highlighted earnings slowdowns due wet weather and staff shortages. BHP paid its highest ever interim dividend at $1.50 per share and Rio its largest final dividend at $5.77. Gold names were the noticeable underperformer as the gold price rally hasn't been as significant and was not able to mask higher costs of production and lower output.
Consumer Staples
Both Woolworths and Coles reported modest rise in same-store sales, but costs associated with the pandemic have been significant, maintaining safety for employees and customers.
Information Technology
From a market capitalisation perspective, its dominated by Block (the US company that acquired Afterpay). The stock price jumped over 30% following reporting after an extended period of underperformance. The result showed that over half its revenue now can be associated with Bitcoin as its "Cash App" allows Bitcoin purchase as well as peer to peer transference of money. An investor day on May 18th will give a fuller picture on how the AfterPay integration is going.
Healthcare
CSL benefitted from its flu vaccine sales which continue to support the COVID impacted blood plasma collection volumes. Sonic Healthcare reported a 20% lift in half year profit driven by the strong demand for PCR tests. Cochlear reported a strong first half as European and emerging market implant volumes recovered.
Closing Remarks
As a final note, the earnings recovery still has plenty of room to run.
According to Goldman's analysis, 10% of companies reported a loss in the first half which is more than double the pre-pandemic level.
Adding to this consensus earnings still imply more than half of the sectors will earn less in FY22 than they were expected pre-pandemic.
The Australian market has been a safer place to invest this year outperforming the other developed markets with exception to Canada.
The ASX200 index has over 50% representation by materials and financial companies and that should continue to attract international money flows from global macro funds if the challenging geopolitical situation does not improve.
The views expressed in this article are the views of the stated author as at the date published and are subject to change based on markets and other conditions. Past performance is not a reliable indicator of future performance. Mason Stevens is only providing general advice in providing this information. You should consider this information, along with all your other investments and strategies when assessing the appropriateness of the information to your individual circumstances. Mason Stevens and its associates and their respective directors and other staff each declare that they may hold interests in securities and/or earn fees or other benefits from transactions arising as a result of information contained in this article.