HYBRIT: Hydrogen Breakthrough Ironmaking Technology
In this new world of COVID-induced change, the rapid change in focus by society and mainstream media away from environmental reform and greenhouse gas emissions to health care and job security has been remarkable. It does not change the fact though that these issues still exist. With a lot of attention building on Government-driven initiatives to stimulate the economy, the opportunity for a fresh look at existing industries warrants both industry, government and scientific communities to collaborate and present a fresh path forward.
Two significant contributors to GHG (green house gas) emissions is carbon dioxide (CO2) coming from the manufacturing of cement for concrete and steel for large building projects. Despite many scientific advances, the world has yet to develop a substitute for either cement or steel, and given global government stimulus is likely to come in the form of large scale infrastructure builds, the use of both cement to make steel reinforced concrete and steel will result in the continued emission of CO2. The production of steel is responsible for circa 7% of global GHG emissions.
The problem of how to produce steel without generating carbon dioxide was a challenge taken up by three Swedish based companies:
LKAB — an magnetite iron ore pellet producer
SSAB — Swedish steel producer
Vattenfall — a fossil free energy & electricity producer
These three companies have joined forces to build the first pilot plant to make steel that is fossil fuel and carbon dioxide free. This plant was formally started by the Swedish Prime Minister on the 31st August 2020 and is now operational.
So, what is the secret to HYBRIT process? HYBRIT replaces coking coal, traditionally used for ore-based steel making with green hydrogen. Hydrogen is made through electrolysis and consumes large amount of electricity, but if the electricity is generated from 100% renewable sources there is no CO2 emissions. The result is the first fossil-fuel free steel making technology with no carbon footprint. Instead of CO2 emissions, the by product is water.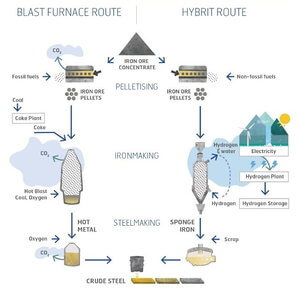 Source: HYBRIT
Looking at how Australia can benefit from this new world is exciting. According to Dr Alan Finkel, Australia's Chief Scientist, Australia has all the resources available to it to become a significant global player in the manufacture and export of green hydrogen.
 "When it comes to capturing and exporting solar and wind electricity by first splitting water into hydrogen and oxygen, clean hydrogen and its derivatives have no equal. Energy importing countries are hungry for hydrogen as part of their emissions reduction agenda and Australia has the potential to supply much of their needs. We can be the leader in the new industry I call Shipping Sunshine."
— Dr Finkel's presentation to the Council of Australian Governments Energy Council. Perth November 2019.
Australia is a carbon-based economy, with coal & gas for electricity, oil and petroleum products for transport & agriculture being just some of the ways we as a nation contribute to GHG emissions. The number of jobs that rely on the carbon economy continuing makes the political decision to move to a greener outcome fraught with risk. Shifting to hydrogen could well be the win-win that Australia is after.
In May this year, the Grattan Institute published a report that highlighted the opportunity before Australia. The manufacture of Green Hydrogen using our plentiful wind and solar resources could generate tens of thousands of jobs in regions that currently employ coal workers. Using hydrogen to make "Green Steel" could mean Australia becomes a global steel powerhouse again being able to manufacture Green Steel significantly cheaper than Japan, Korea or Indonesia. To do this will require large industrial workforces, such as those that already exist in the coal mining regions of central Queensland and the Hunter Valley, as well as the existing steel hubs of Port Kembla and Whyalla in South Australia.
COVID-19 has delivered an enormous setback for the world economy, but from Australia's perspective, we need to ensure we take this opportunity of mass dislocation to start something that can build on our existing resources and build a sustainable manufacturing and export industries going forward. Asia does not have what we have. Investment to create such global scale business's will rely on Governments and the private sector to work together. Governments, both Federal, State and Local, will need to work together to coordinate land use and regional planning and regional development.
The role of hydrogen in not only for making steel, but also in the fuel for our cars, both of which have the potential to be of enormous benefit to Australia. However, it is not an immediate silver bullet to fix our environmental and manufacturing woes. Much research is still to be done on things like the quality of steel produced from green hydrogen to ensure it matches existing steel. The hydrogen fuel cell car, despite having some key advantages over lithium battery powered cars like distance between refills, still has logistical issues on delivery compressed hydrogen into our cars. And of course, there is the issue of cost. As much as a carbon economy maybe harmful to the environment, the cost of switching to a hydrogen-based economy has not been fully evaluated.
This goal of a hydrogen-integrated economy is clearly long term, as it has significant attributes and it will not happen overnight. However, it has the potential to have bipartisan support from a political perspective and, importantly, improve Australia's position on the whole climate and GHG emissions debate.
The views expressed in this article are the views of the stated author as at the date published and are subject to change based on markets and other conditions. Past performance is not a reliable indicator of future performance. Mason Stevens is only providing general advice in providing this information. You should consider this information, along with all your other investments and strategies when assessing the appropriateness of the information to your individual circumstances. Mason Stevens and its associates and their respective directors and other staff each declare that they may hold interests in securities and/or earn fees or other benefits from transactions arising as a result of information contained in this article.