There's a lady who's sure
All that glitters is gold
And she's buying a stairway to Heaven

Led Zeppelin (1970)
Yesterday's announcement on the proposed merger of Northern Star Resources Ltd (NST.ASX) and Saracen Minerals Holdings Ltd (SAR.ASX) has focused attention again on Australia's gold sector. The so-described "merger of equals" will see Saracen shareholders receive 0.3763 NST shares for each SAR share held and upon completion, and a special dividend of $0.038 per share.
The merger deal not only attracts attention from a direct investment perspective in terms of the details and respective company valuations, but also from a macro perspective on where the new merged company would sit from a global perspective. We will also examine the upside and downside risks to gold as a commodity in this age of fiscal stimulus, and the creation of massive government deficits and continued monetary stimulus via the lowering of rates and quantitative easing methods of central banks around the world.
The deal announced by Northern Star and Saracens has been well received by investors and analysts alike. Analysts are in agreement that the merger makes sense and both companies are better off together. In a deal struck with no premium, Saracen shareholders will need to decide if receiving 0.3673 NST shares plus a fully franked $0.038 dividend is enough.
In the eyes of certain analysts, the answer to this is yes. The merged company has the ability to unlock circa $1.75bln in pre-tax synergies over the next ten years. Operationally, it makes sense, especially in Western Australia where both company's own 50% of the famous Kalgoorlie "super pit".
According to Citi, the merged company would be 6% EPS accretive and cash EPS accretive of 10-11% in FY21/22, while on a valuation/NAV basis, SAR shareholders could see an estimated 15% uplift.
The merged company would become the 9th largest gold producer globally and the second largest gold stock on the ASX to Newcrest. All of these factors combine to present an attractive investment proposition for international gold investors as the increased scale attracts generalists, and with that comes higher implied trading multiples.
Bigger is certainly better, but it does not mean a loss of agility from a strategic perspective, nor does it mean it becomes more cumbersome operationally.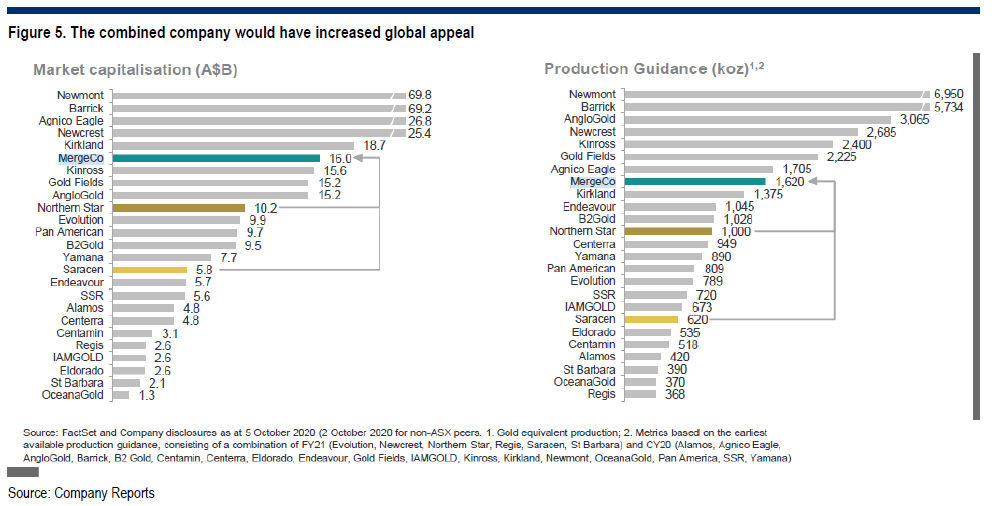 Source: Citi
According to JPMorgan, the merger of equals is compelling, with production forecast to hit over 2million oz by 2027 from the three tier 1 production centres: Kalgoorlie Operations (1.1Mn oz), Yandal Operations (600k oz) and North American Operations (targeting 300k oz). JPMorgan believe the merged company will "be hard to go past as your Aussie gold pick."
The constant investor demand for gold ETF's continues unabated, and the merged entity of NST/SAR should take a more elevated position than if the two companies remained separate entities. In the current unstable environment, investors are awaiting the outcome of two critical events:
The development and distribution of an effective COVID vaccine
The outcome of the November 2020 US presidential election
The risk on/risk off mood of investors has been the critical driver in the price of gold. A decisive US election outcome should give the market confidence, which may result in a risk on move and a decline in the gold price. On the vaccine front, any delay by regulators assessing the most likely vaccine candidates results in investors being risk-averse, and invariably, the gold price rallies, whereas a clear runway to prompt delivery of a vaccine (say by 1st Quarter 21) should restore investor confidence and gold may decline.
Of course, these are just the short-term drivers of the risk on/risk off sentiment. The debasement of currencies, inflation, uncertainty around the pace of economic recovery, US-China trade tensions all combine to drive investors to gold and invariably to ETF's. In addition, the potential for higher inflation as the burgeoning debt levels of governments creates weakness in currencies and the potential for higher inflation in the medium term. The decline in real interest rates against nominal rates has caused inflation breakevens to rise in an environment that would normally be viewed as deflationary.
According to Goldman Sachs, the irony is, the greater the deflationary concerns policymakers like reserve bank governors fight today, the greater the build up of debt and the higher the inflation risks are in the future. Although gold is not a great hedge against inflation like oil or base metals, it is the most appropriate in the current environment, as currency debasement will be the likely driver of inflation.
While interest rates are at zero % or lower, and central banks are printing trillions of dollars to mitigate the impact of the coronavirus, gold will remain a very attractive asset class. As real interest rates decline, gold prices tend to rise as investors see the opportunity cost of holding gold (a non-yielding asset) as lower. Investors are not forgoing interest that would otherwise be earned when holding other traditional assets like bonds, in times past.
The views expressed in this article are the views of the stated author as at the date published and are subject to change based on markets and other conditions. Past performance is not a reliable indicator of future performance. Mason Stevens is only providing general advice in providing this information. You should consider this information, along with all your other investments and strategies when assessing the appropriateness of the information to your individual circumstances. Mason Stevens and its associates and their respective directors and other staff each declare that they may hold interests in securities and/or earn fees or other benefits from transactions arising as a result of information contained in this article.