As a daily commuter, I have noticed how social distancing has changed the overall travel experience.
The commuting public that shares the same routes as I have, prioritised health through face mask wearing, and there's less music, tablet watching and entertainment use during the commute.
However, as we are noticing across a large part of Australia, health concerns are slowly abating and other wants and needs resurfacing.
If health is no longer the driving priority or concern, then entertainment can be more of a priority.
Spotify is the world's largest music streaming subscription service; its share price has soared this year after the unconventional IPO in April 2018.
The Swedish company went public on the NYSE opting for a direct listing.
Rather than issue new shares, the company started trading by letting the existing shareholders sell directly to a public that was already familiar and loved the product.
It also meant they didn't raise a cent of new money and haven't since, selling shareholders were early investors or employees.
The benefit is the lack of dilution for existing equity owners and lower listing costs.
Uber paid over 3x to underwriters what Spotify gave to their financial advisers.
As a comparison, the workplace messaging service Slack (ticker WORK) was another "unicorn" tech stock that sold its shares direct to the public a year later, encouraged by the Spotify experience at listing.
Slack started trading on the NYSE at $38.50 well above what was a $26 guided price, closing that day $38.62, valuing the company at over $24bln USD, Spotify's market cap closed just over $27bln USD that same day.
Slack started life as a messaging application within a game that didn't take-off, but the owner chased funding from top tier Silicon Valley investors and a communication platform that allows easier file sharing, archiving and searching for teams of users was born.
Slack's selling point by its CEO was that it was going to end the use of email in companies within seven years.
Over the more than twelve months since listing the relative performance of the two can be seen on chart below; two unrelated tech companies that shared a similarly unconventional listing process in what has been the most unusual year to invest.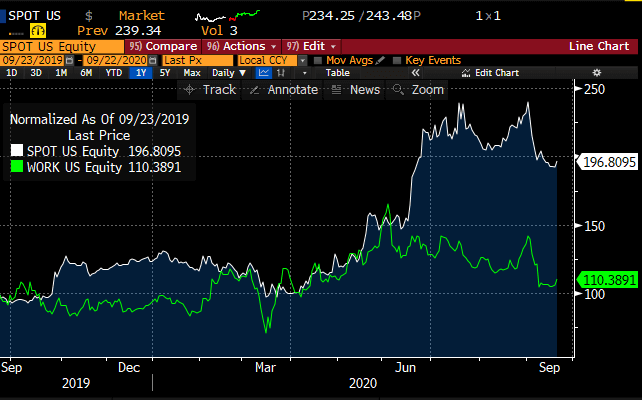 Source: Bloomberg
While you've made money owning both, the outperformance of Spotify (white line) of late is noticeable.
At current market cap it's nearly 3x that of Slack, something that wasn't always the case.
Other than their listing process, what they have in common is they both are unprofitable and they both rely on upselling subscriptions.
Slack advertises that it's completely free to use with a limited number of features – but if you need more – you pay for those subscriptions.
Similarly, Spotify is free to use if you're happy with advertising and restrictions on the usage of the platform. Spotify's premium service accounts for approximately 90% of revenue while the ad supported service accounts for the rest.
Spotify targets the individual and cheapens the subscription for families.
Slack on the other hand has a business model, where subscription costs are based only on the organisation's active users and for what they use not "per seat" like most enterprise software has in the past.
Slack is an agnostic, cloud-based communication platform that allows its applications to integrate with other cloud vendors. This enables it to integrate faster with any advances in features others may offer, an advantage to smaller organisations not integrated into a Microsoft ecosystem which has since built out its "Teams" offering.
If both companies are not profitable, then growth and perceived future growth is what is driving share price performance.
Spotify's revenue growth over the last three years has been over 25% blended, but it is slowing.
Spotify premium subscribers in the 2Q reached 138mln and COVID knocked their advertising dollar component.
A look at recent analyst report highlights the importance the company places on its shift to podcasts to drive subscription growth and their journey to profitability.
Credit Suisse in a recent report have shifted from a 'neutral' rating and $215 price target to an 'outperform' and now have a $315 price target. Their estimates have changed following a reassessment of the success exclusive podcasts only available on Spotify in particular the "Joe Rogan Experience" are having on driving subscriptions. They attribute a figure of 5mln new paying subscriptions by the end of next year alone from this podcast.
A more recent key event is the partnership with mobile carrier MTS in Russia who agreed to offer its 60mio subscribers free Spotify for six months.
Credit Suisse believe at least 1mln of these will become paying subs for Spotify in 2021.
Another key driver that Credit Suisse cites is the expansion of Spotify's "Marketplace" agreement with the labels.
They believe the major labels are now starting to use the tools Spotify had spent money on without seeing returns to promote their artists in their ecosystem. A recent partnership with Universal Music Group sets a precedent that they hope other labels will follow.
If Spotify attracts 5% of major music company marketing budgets gross margins will expand by 150bps all else being equal.
Looking at Slack, the revenue line is significantly lower but with blended growth numbers for the last three years of just below 50% you start to understand why the company name is a verb for its users in a similar way other company names have made it into the lexicon.
As a software company and not a platform it doesn't have to pay away the majority of its income to its content providers, but it still needs to reach further into its existing customers and chase more subscribers to drive valuations higher. The recent quarterly results showed its paid customers were 130k now up 30% yoy ; those over $100k in annual recurring revenue increased 37% and they boasted 87 clients generating recurring revenue of $1mln or more up from 49 similar customers last year. This suggests the work from home mandates are propelling larger deployments among its enterprise customers.
Operating margins are also improving with larger order sizes, having allowed a slower hiring pace related to sales and marketing.
The market didn't react positively to the result and Slack as tech stock has underperformed the rebound rally.
Like its name, the performance has been slack, but if a company is able to IPO without underwriters, it's worth keeping an eye on going forward.
As for Spotify, life without music is dull ,but it faces a new challenge with Apple's price bundling making a play for its subscriber's price point.
Apple's natural advantage over the app makers will challenge the pace of future take up.
The views expressed in this article are the views of the stated author as at the date published and are subject to change based on markets and other conditions. Past performance is not a reliable indicator of future performance. Mason Stevens is only providing general advice in providing this information. You should consider this information, along with all your other investments and strategies when assessing the appropriateness of the information to your individual circumstances. Mason Stevens and its associates and their respective directors and other staff each declare that they may hold interests in securities and/or earn fees or other benefits from transactions arising as a result of information contained in this article.