Nearly everybody plays games to varying degrees – the structure of making forced choices within defined rules is a form of underappreciated freedom.
It's the play within the rules that defines personality and character, it's where friendship and trust bonds are made or lost.
The games you play though can define or segregate you.
A conversation won't progress if the other person doesn't have a level of understanding adequate for it to be interesting going ahead, where connection's fade without participation.
Golf, AFL, Rugby and Tennis are all traditional outdoor recreational games but their popularity still ebbs and flows.
The success of its national heroes whose singular commitment is idolised creates the momentum for the sport, but without participation at grass roots level though their relevance fades.
A COVID environment where most in-person or communal activity has stopped has meant that energy shifted to the virtual playing field and while traditional media cover it as extensively – the dollars and eyeballs at play virtually should tell you where the future lies.
From an entertainment perspective, online gaming is larger than the music and movie industries combined according to data compiled by data research firm GWI in its recent report on the gaming audience.
If it wasn't apparent before Covid few would deny what a juggernaut the industry is with revenue forecasts set to pass the $200bln usd mark by 2023.
The industry uses traditional PCs, consoles, mobile phones and extended reality hardware.
The rise of cloud computing and the upcoming shift to 5G will blur the lines of where games start and traditional economic transactions end.
In app purchases in freemium games, cross-platform games not limited to one platform blurred with constant advertising and use of digital currencies will only accelerate and create new revenue making opportunities.
The breakdown of the audience has changed.
Traditional clichés of young antisocial men are outdated, walk into any kid's bedroom during lockdown and you will see a virtual party going on every night.
Data compiled by GWI shows 86% of internet users play games on any kind of device and that those new to the pastime in COVID lockdowns are still doing so – 70% of those surveyed in the UK/US by GWI have continued post lockdown.
The more competitive offshoot – eSports is big business.
Total viewership globally will surprise most, to put the chart below in context basketball currently has 825mio viewers globally – soccer retains the number 1 spot at 4bln views.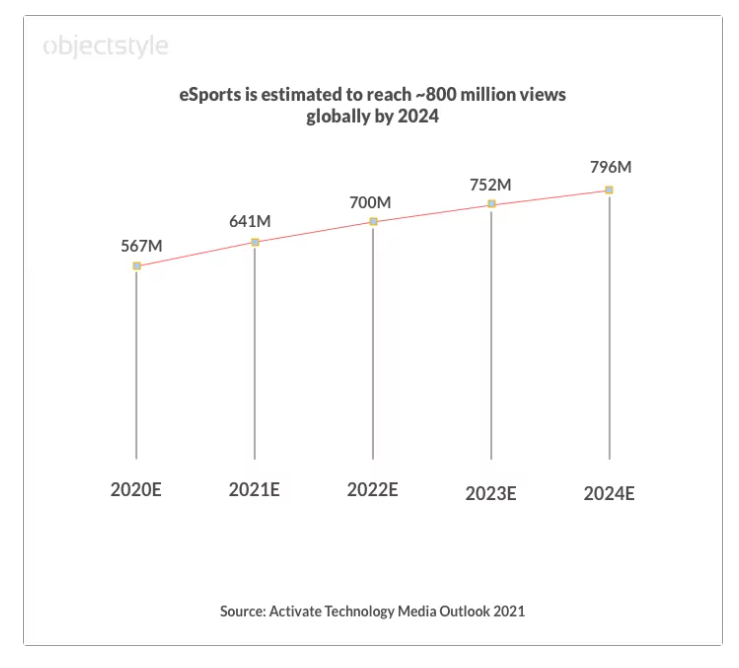 Sports Illustrated (SI) the influential leader in the US sporting culture featured for the first time in June this year the FAZE CLAN on its cover.
The organization that started as a loose group in 2010 is now an eSports and entertainment behemoth with teams competing all over the world across multiple games and events boasting a hyper-engaged global fanbase of 351mio people across all social platforms.
Professional sportsmen like Australian Ben Simmons are members, quick to realize marketing opportunities and synergies of sport and gaming.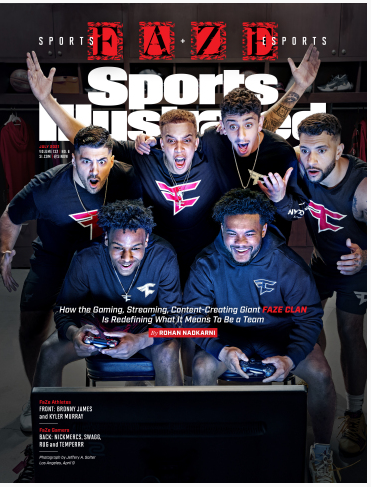 Source: Sports Illustrated Magazine cover page
With all this pointing to a positive backdrop: why has an investment in the sector not paid this year?
The below chart shows the underperformance of the Van Eck Video Gaming and eSports ETF in white (ASX: ESPO).
It has lagged the ASX200 (green), S&P 500 (blue) and MSCI World (orange) by a significant margin.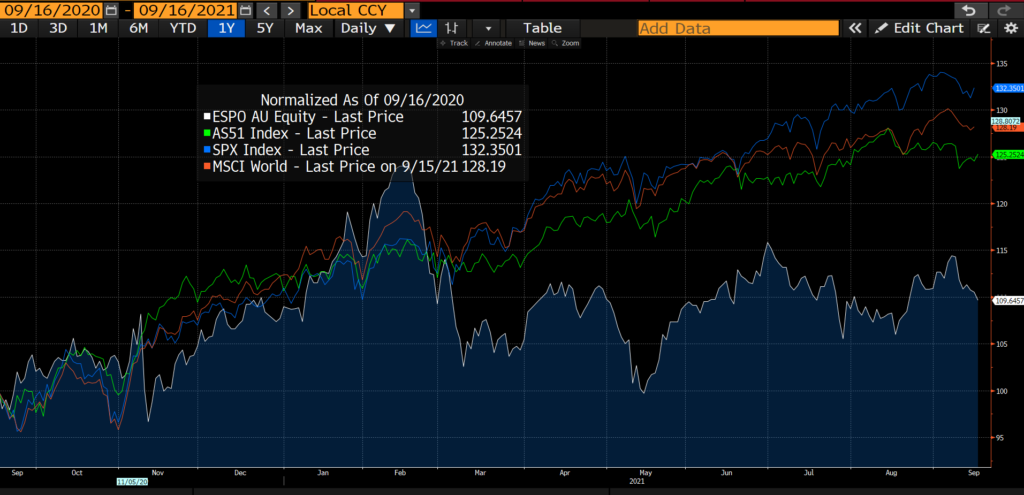 Source: Bloomberg
While Australians have been in a seemingly endless lockdown the rest of the world has been coming out.
The COVID induced boost of 2020 has been unwound and the switch from growth stocks to value this year has compounded with other factors.
Hardware supply shortages remain, many factories were forced to shut across the world dampening the success of Sony's Playstation 5 and Microsoft's Xbox series X consoles this year.
Company specific news such as allegations of female harassment and underpayment at Activision Blizzard (NASDAQ:ATVI) meant the company faces a lawsuit filed by the Californian Department of Fair Employment.
Last but not least, some of the main underperformers, Tencent (HK: 700) and Netease (NASDAQ: NTES) have been caught up in the flight from China based earnings.
China's entertainment industry has been a focus of cultural control of late.
Authorities followed on from earlier restructuring of tech, education and housing are now targeting videogame producers again.
The gaming regulator concerned about "addiction" of minors to popular games now restricts playing time for under 18's.
Chinese kids are now forbidden from playing Monday to Thursday and limited to one hour on each of Friday, Saturday, Sunday and public holidays.
Ultimately, the question is whether the underperformance is going to continue as the industry growth outlook is solid.
Analyst's view the setback on Chinese gaming stocks as temporary, like any restriction it can produce an adverse initial reaction but attraction often only increases.
Revenue for these companies comes from adults and that audience is growing.
Seasonality is something to watch as well in these names, heading into northern hemisphere winter, the game playing hours increase.
The Van Eck ESPO ETF since inception has seen its best months in November and December as holiday hardware purchases add to increased screen time.
So, if you've been watching kids home school and seeing how much time they're spending on the sector perhaps the recent underperformance is an opportunity for an equity weighting in a portfolio if it has been absent.
The views expressed in this article are the views of the stated author as at the date published and are subject to change based on markets and other conditions. Past performance is not a reliable indicator of future performance. Mason Stevens is only providing general advice in providing this information. You should consider this information, along with all your other investments and strategies when assessing the appropriateness of the information to your individual circumstances. Mason Stevens and its associates and their respective directors and other staff each declare that they may hold interests in securities and/or earn fees or other benefits from transactions arising as a result of information contained in this article.