Apple, Microsoft, Alphabet, Amazon are currently in order the biggest companies in the SP500, with Meta Platforms (formerly Facebook) just inside the top ten and Netflix in mid-'40s in terms of market cap weighting. SP500 stocks represent just over 80% of the total US-listed stock valuation.
The acronym "FANG" was coined by the charismatic host of CNBC's Mad Money Jim Cramer in 2013 when he described the companies represented as being "totally dominant in their markets". Originally the term was neat, but in 2017 the second " A" for Apple was added. As time passed and the ETF industry grew in importance the term shifted to include Microsoft. How that sounded or was written became cumbersome and the term generalised in nature to represent the major technology companies.
The relative performance chart below for the last twelve months shows how, as a group, the divergence in performance is making the relevance for the acronym decline. We had already seen a dramatic distinction between unprofitable and profitable growth stocks, that divergence is also happening within mega tech.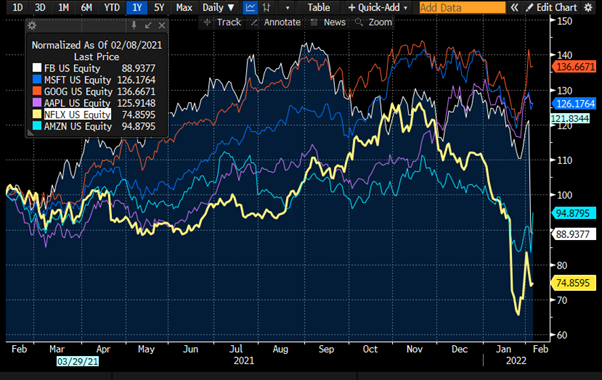 Source : Bloomberg
Alphabet, Microsoft and Apple have offered the best returns. Given their recent quarterly announcements its worth reviewing what's happening in depth.
APPLE
Source: Citibank on Apple – Exceptional Results 28th Jan 2022
Sales were $123.95bln (+11%y/y) vs. Street at $118.90bln or a $5 billion beat or +4% during a severely supply chain constrained environment
EPS was $2.10 vs. Street at $1.89 or a +11% beat
Product revenues were $104.4bln (+9% y/y) vs. Street at $99.7bln. IPhone revenues were up 9% y/y, Wearables up 13% y/y, Macs up 25% y/y and only iPads slipping at $7.2bln (-14% y/y)
Services revenues was $19.5bln (+24% y/y) vs. Street at $18.71bln
Total company gross margin is 43.8% (Street at 41.8%), reflecting Services gross margin of 72.4% and Product gross margin of 38.4%. Even Greater China region grew 21% y/y
In the December quarter, Apple returned approx. $24bn to shareholders. They repurchased 124mn shares for $20.4bn through open market transactions and accelerated share repurchases and paid $3.7bn in dividends and equivalents. The expectation is another share repurchase authorization during the F2Q earnings call in April ($70bn+) and expect Apple to increase its dividend (+5%). The full product + software + service package is what makes Apple unique and remains its moat. Post earnings most of the major houses are buy-rated on Apple with Goldman the least upbeat. The blended twelve-month forward target price is $172.39 just under ten percent higher than current levels.
MICROSOFT
Source: Microsoft Press Release and Webcast Jan 25, 2022
Microsoft reported revenue of $51.7 bln with growth of 20% y/y, 2.5 points above consensus
Operating income was $22.2 bln an increase of 24%. Diluted earnings per share was$2.48 bln and it increased 22%
Microsoft's balance sheet carries $125.4B in cash and equivalents and $53.2B in debt ($72.1B in net cash) with operating margin was 43.0% vs 41.5% a year ago.
Microsoft returned $10.9B to shareholders via share repurchases and dividends vs $10.9B last quarter. "Solid commercial execution, represented by strong bookings growth driven by long-term Azure commitments, increased Microsoft Cloud revenue to $22.1 billion, up 32% year over year" said Amy Hood, executive vice president and chief financial officer of Microsoft. Post the earnings announcement all the major houses are buy rated on the stock and the blended twelve month target price is $374.42 over twenty percent higher than current levels.

AMAZON
Amazon Q4 21 earnings report produced a solid set of results and the share price reacted accordingly.
Source: Citi research flash Amazon 4Q21 results 3rd Feb 2022
Positives:
Amazon Web Services (AWS) revenue growth of 40% to $17.8bn was Street estimates of $17.3bn, with plans to continue expanding AWS infrastructure with 24 additional Availability Zones in the next few years
They have successfully passed on inflationary cost headwinds associated with the pandemic to consumers with Prime membership price increases in the US from $12.99 to $14.99 for monthly subscriptions and $119 to $139 for annual subscriptions
Increased disclosure around Advertising revenues as a separate segment, which provides better visibility into growth and seasonality
Q4'21 EBIT came in at $3.5bn ahead of Street estimates of $2.5bn, with some headwinds expected to moderate into Q1'22.
Negatives:
International sales of $37.3bn came in below Street estimates of $39.8bn
Expectations to increase Capex meaningfully YoY into 2022 (including finance leases), primarily driven by infrastructure and transportation expansion plans. Post the earnings announcement all analysts on Bloomberg I see are buy rated and the blended twelve-month target price is $4135, thirty percent higher from current levels.
ALPHABET
Source: Citibank Research Flash Alphabet 4Q21 Results 1st Feb 2022
Alphabet reported 4Q21 revenue of $75.3 billion, 4% above the Street. The top-line beat was predominantly driven by Search and Network
Alphabet also announced a 20-for-1 stock split, subject to shareholder approval
Google Search revenue of $43.3 billion was up 36% y/y, above the Street at $41.0 billion
YouTube Ad revenue of $8.6 billion was up 25% y/y, below the Street at $8.8 billion.
Google Cloud revenue of $5.5 billion was in line with the Street
Network revenue of $9.3 billion was ahead of the Street at $8.8 billion.
Google Other revenue of $8.2 billion was up 22% y/y, GAAP operating margin of 29.1% was also in line with expectations.
Post earnings all analysts that I see that cover the stock are buy-rated and the twelve-month target price is $3482 over twenty percent higher than current levels.

META PLATFORMS
Meta, the parent company of Facebook suffered the worst ever share market hit by value and index points last week, equivalent to $US230bln in lost value following it's rerate. To put that fall in magnitude in perspective – that is equivalent to the 30th largest company in the MSCI World index disappearing.
Source: Bloomberg Meta Platform result wrap 3rd Feb 2022
Meta reported user growth stagnated for the first time ever and it also lowered revenues for the current period. Facebook reported 2.91 billion monthly users in the fourth quarter, flat compared with the prior period
The main app's daily active users in North America — the company's most lucrative market — declined slightly from 196 million to 195 million users
Meta's rival to TikTok, Reels, is growing quickly, but monetization has been slow
Changes to Apple's mobile software that require user permission to gather data for ad tracking are significantly crimping revenue by limiting targeted advertising. The move by Apple, may translate to a loss of $10 billion in revenue this year
Meta's Reality Labs division, which includes the company's investments in the metaverse and virtual reality, reported an operating loss of $3.3 billion for the fourth quarter, as the company disclosed its contribution for the first time.
Despite the earnings release the majority of analysts remain buy-rated on the stock with the twelve-month blended target price $334.38 offering a 41% return potential.

NETFLIX
Netflix high earnings multiple relies on extraordinary growth in subscription numbers.
Source: Citibank research flash – Netflix net add guide below expectations 20th Jan 2022.
The twelve-month forward target price is $520.92 over 25% higher than current levels.
DeFAANG'ing
As Jim Cramer is credited with creating the acronym it makes sense to finish with his word on how the acronym evolves. Towards the close of last year, he shifted to using the catchy term "MAMAA". The five companies being META, Alphabet, Microsoft, Amazon and Apple. It made sense as digital streaming pioneer's market capitalization was not keeping up with the others and the company name changes. Few could have predicted how right he would be given Netflix's stock performance this year.
The question going forward will be whether the money being spent on the Metaverse will keep it at the forefront of catchy acronyms for " basket " stock trading going forward.
The views expressed in this article are the views of the stated author as at the date published and are subject to change based on markets and other conditions. Past performance is not a reliable indicator of future performance. Mason Stevens is only providing general advice in providing this information. You should consider this information, along with all your other investments and strategies when assessing the appropriateness of the information to your individual circumstances. Mason Stevens and its associates and their respective directors and other staff each declare that they may hold interests in securities and/or earn fees or other benefits from transactions arising as a result of information contained in this article.