Much like any other designated 'financial services guy' in a circle of friends, if I had a dollar for every time I have been asked about buying "cryptos", I could probably afford one whole Bitcoin.
Cryptocurrency has become the investors' Rorschach Test, everybody sees something different, from the 'true value' of a coin to the possibility of taking market share off global money exchanges.

My personal stance on cryptocurrency has been largely one of the bystander, lacking the knowledge to confidently buy a currency directly but understanding the premise behind their success to date.
This stance is shared with many clients and friends; coming from an understanding of equity markets it's difficult to comprehend the value of something that is, at least in the current economy, worthless in terms of producing a product or service.
So, it is with characteristic wisdom that our friend and co-manager of our Global Technology Portfolio, Beeneet Kothari, revealed a solution to this problem.
If you do not understand cryptos, don't buy the coins, buy the companies that mine them and process their payments.
The Listed Miners
The last time Bitcoin (BTC) hogged all the attention was back in 2017, a tremendous bull run in the BTC spot price was taking place and grabbing the attention of investors globally.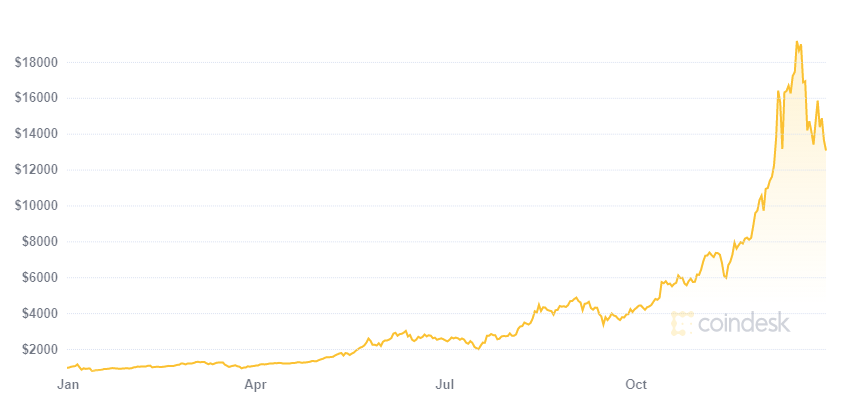 Source: Coindesk
At the time, there were no listed cryptocurrency miners to be found, so the only real exposure that most found was in purchasing the coin directly or through aggregated trusts.
In this current rally, that is no longer the case. What we have instead is companies operating in a newly created asset class, and companies who can mine the coins have their balance sheets and margins directly benefit from rising crypto prices.
Riot Blockchain (RIOT:NASDAQ) is a North American miner focussed on proof-of-work mining (part of Bitcoin's blockchain consensus system), with an aim to be a low-cost Bitcoin producer.
Over the course of 2020, Riot's shares saw over a 1,300% increase in price off the back of a rising BTC price and aggressive expansion/acquisition into the mining space.

Source: Bloomberg
The trick with mining operations is having access to the lowest power costs possible – mining cryptocurrencies is a furiously power-hungry affair, and the fixed costs of power consumption is the main drag on company margins.
The other fixed cost factor to consider is the hardware used for mining, which leads us to Canaan (CAN:NASDAQ), a Chinese manufacturer specialising in producing equipment used by large mining operations.
Though a less-direct play, Canaan will directly benefit from the expansion of mining operations through sales of hardware. This revenue is less dependent on the day-to-day fluctuations of cryptocurrency prices, but more by the long-term demand and viability of the asset class as a whole.
Own the Money Supply
As Nathan Rothschild famously said, "The man that controls the British money supply controls the British Empire, and I control the British money supply".
The same goes for cryptos – what's the worth of a currency, if nobody is around to handle the payments for you?
This is an emerging play, one which investors will need to watch for IPOs or find exposure through larger vehicles.
Firstly, the larger vehicles;
Shopify (SHOP:NYSE) is a multinational e-commerce company, as well as a proprietary point-of-sale system and payment gateway.
Shopify's size and reputation has made it one of the most trusted processors of cryptocurrency is the marketplace today, easily integrating into its existing payment infrastructure.
An investment here is banking more on the increased payment volume resulting from the uptake of cryptocurrencies, rather than directly benefitting from the appreciating value of any one coin.
Visa, Mastercard and Square all also fall into a similar boat, each developing their own methods to securely process payments made by cryptocurrencies to various merchants. The test of this will be the ability to convert from coins to fiat currencies, since most small retailers do not want to be holding BTC rather than a crisp $100 note.
Then there is passive exposure, such as Amplify Transformational Data Sharing ETF (BLOK:NYSE), a blockchain tracking ETF which has returned over 102% in 2020, whilst not concentrating the investment on any singular bet so to speak.
Finally, there is the patient play.
Some of the most used cryptocurrency payment gateways are not yet listed, but are definitely looking to dip their toe into the open market.
Coinbase, one of the most popular payment handlers and largest cryptocurrency exchange in the US, announced last week that it plans to go public through a direct listing.
The current speculation of price is around USD $200, which would put Coinbase at a $50 billion valuation upon listing.
If Coinbase is successful, it seems likely that many of its competitors globally will follow suit.
Buy what you know
With the variety of products and securities we have access to, it often seems a missed opportunity to not jump in on the latest trend or an emerging idea.
But conventional investing wisdom encourages us to buy what we know, to not purchase a novel idea but rather invest into something we have an understanding of.
To gain exposure to cryptocurrency, buying into a company with a visible balance sheet, a definable operation and a board of directors may lend the understanding and confidence that some investors require to dip their toe into this new asset class.
The views expressed in this article are the views of the stated author as at the date published and are subject to change based on markets and other conditions. Past performance is not a reliable indicator of future performance. Mason Stevens is only providing general advice in providing this information. You should consider this information, along with all your other investments and strategies when assessing the appropriateness of the information to your individual circumstances. Mason Stevens and its associates and their respective directors and other staff each declare that they may hold interests in securities and/or earn fees or other benefits from transactions arising as a result of information contained in this article.