The ETF industry enjoyed a record year globally in 2021 with US$1 trillion in net new inflows taking assets under management close to $10 trillion. Equity markets were surging and the shift to passive investing that accelerated during Covid continued. While equity markets globally have remained under pressure in 2022 and those flows have slowed, we still have seen US$246Bln of inflows according to Bloomberg data.
The perception that ETFs are a low-cost vehicle for individual investors is outdated, they are heavily used by institutional fund managers. Approximately 40% of US-listed ETFs are held by investment advisors eclipsing retail trade last year making them now the largest owners according to Citigroup surveys. Professional investment managers use ETFs as a cost-efficient tool for managing risk and making quick portfolio shifts and that's why trading as a percentage of the overall market continues to rise.
Blackrock is the largest provider under its IShares platform as can be seen from the chart below, but it is losing market share.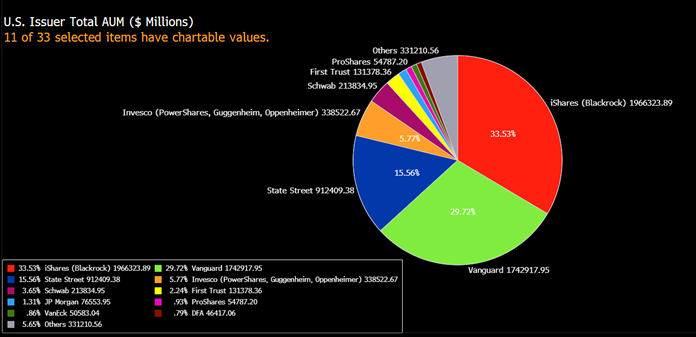 Source: Bloomberg
Vanguard, the second largest provider is attracting funds by slashing charges on its largest exchange-traded funds. The market is falling and those looking to invest in a passive product are choosing the lowest-cost provider. The average cost across Vanguard's 82-fund lineup – which spans both actively and passively managed funds across stocks and fixed income — is only 9 basis points, meaning an investor would pay just $9 to invest $10,000 for a year.
Their biggest product, the $278 billion Vanguard Total Stock Market ETF (ticker VTI), charges just 3 basis points. That compares to 9.5bps for the largest ETF in the world the State Street SP500 tracker (ticker SPDR) or the average 53 basis points across all U.S. ETFs.
The table below shows the top ten funds attracting flows year to date on US exchanges.

Source: Bloomberg
These money flows raise some few themes worth discussing. The first thing you notice is Vanguard's name on the top three, the reason we have already discussed. Not surprisingly Vanguards Value Etf, ticker VTV, is second on the list – it tracks the CRSP US Large Cap Value Index. Holdings are those large cap US stocks well known to investors – Berkshire Hathaway, United Health Group, Johnson and Johnson, Proctor and Gamble, Exxon and JPM to name a few. The theme of money switching to Value from Growth has been well covered in previous notes and the fund flow is showing the money going to lowest cost provider who is managing it for 4bps.
The next theme I see from flows reinforces what Jacqui discussed in yesterday's note – the money flow into dividend funds. This screen shows the Schwab US Dividend fund (ticker SCHD) which tracks the Dow Jones Dividend 100 index, an index of high dividend-yielding stocks with a record of consistently paying has attracted $6bln year to date. The fund we recommended in yesterday's note – the Vanguard High Dividend Yield ETF (VYM) offers a similar yield, the same expense ratio and has offered better performance year to date.
The final theme worth touching on from that table above is the Health Care Select Sector Fund (ticker XLV). Year to date, while still down on the year, it has outperformed in the falling market by nearly 9%. Demand for healthcare is relatively inelastic and aging populations in an inflationary environment will postpone discretionary purchases over health costs – so this sector should continue to outperform.
From an Australian perspective, the falls in global share markets has halted the growth in FUM. The industry had been a compounding 45% growth rate over the last twenty years according to data compiled by Betashares.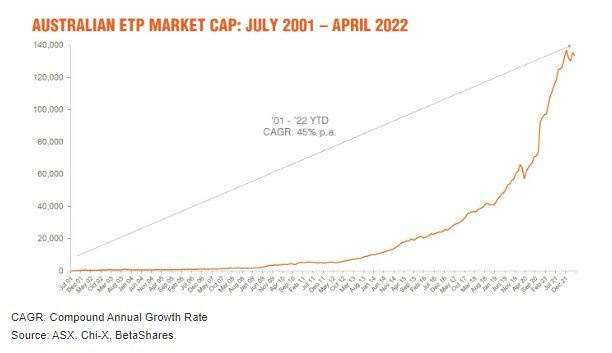 Investing in ETFs listed on the ASX over internationally listed ETFs does offer one important advantage and that is some offer hedged currency risk. In 2022 the USD has outperformed as higher interest rates and greater uncertainty has driven money back to the US markets, the Aussie dollar is trading well below its 200 day moving average at 0.7260 so looking at a hedged ETF seems appropriate if you're bullish growth.

Source: Bloomberg
Hedged ETFs reflect that performance through their dividend payment, so consistency of a dividend payment will depend on that performance. The list above shows the top 5 fund flows year to date on ASX listed hedged ETFs, those seeing flows in appear in green and those seeing withdrawals in red.
The Vanguard MSCI World ex Australia Etf (ticker VGAD) is attracting the most flow and that's a standard asset allocation for an Australian advisor looking for offshore exposure. Infrastructure, Quality, Agriculture and Property are all defensive allocations in an inflationary environment despite their returns this year. On the outflows side I was surprised to see the Betashares Global Energy ETF top that list but it's up 35% year to date. Exchange-traded volume shows there was a significant redemption last week and that has pushed it up the list.
ETFs are approximately thirty-five percent of daily volumes traded in US markets. That percentage does receive a boost in down days when volatility is also higher. Hedge funds have a tendency of shorting sectors against their individual stock positions and ETFs allow them to move away from higher transaction costs associated with sector swaps offered by investment banks. The growth of the sector will only continue as costs are low and education and market knowledge increases globally.
The views expressed in this article are the views of the stated author as at the date published and are subject to change based on markets and other conditions. Past performance is not a reliable indicator of future performance. Mason Stevens is only providing general advice in providing this information. You should consider this information, along with all your other investments and strategies when assessing the appropriateness of the information to your individual circumstances. Mason Stevens and its associates and their respective directors and other staff each declare that they may hold interests in securities and/or earn fees or other benefits from transactions arising as a result of information contained in this article.