Earlier this month, we saw one of the key mergers and acquisitions (M&A) in Australia fall over, as Iress (IRE:ASX) ended talks with Swedish private equity firm, EQT.
Terminating a process started in June this year, the Australian financial software developer finally concluded that the offers put forward by EQT were not of suitable value to shareholders, following a 10-day extended exclusivity period.
Though not a successful outcome, the scale of the bid (one which grew over time) is testament to the appeal of quality domestic technology companies and to the vitality of corporate activity throughout the post-pandemic recovery.
As we touched on back in August, M&A activity has been gaining momentum in domestic markets, so analysing the dynamics and life-cycle of a ~$3 billion AUD takeover bid seems appropriate now more than ever, to put a finger on the pulse of our corporate landscape.
Meet the Players
Iress is the developer of some of the main software services for financial services in Australia, rivalled primarily by the global behemoth that is Bloomberg.
Iress' suite includes Xplan, an advice software that allows financial services providers to create their own reporting ecosystem, and of course their market data functionality which can either complement Xplan or sit entirely separate.
We utilise Iress' software here at Mason Stevens for a variety of applications – for me, this primarily revolves around their market data service.
For many of us in the asset management team, we'll see something that looks like this every moment of the working day, across multiple monitors: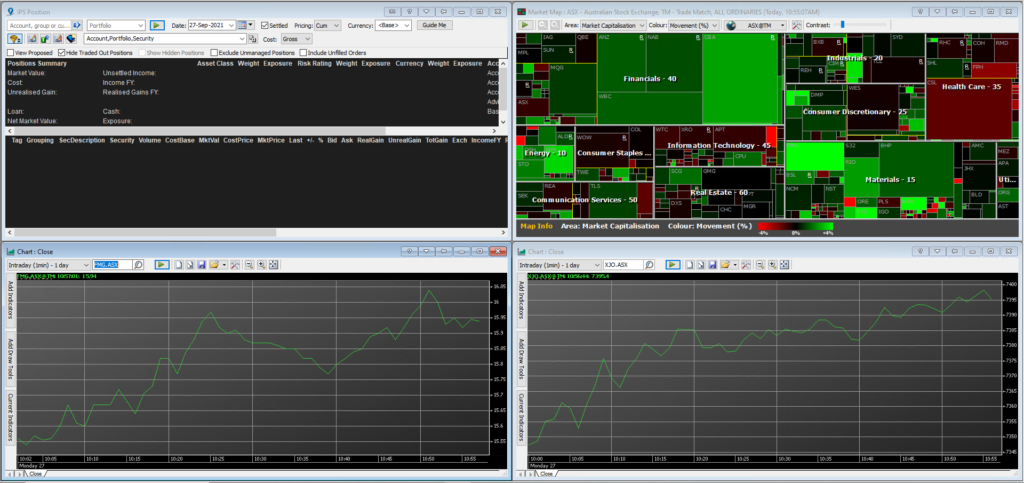 Source: IRESS, Mason Stevens
EQT is a global private investment firm operating off multiple business lines, best known for private equity but still actively pursuing public investments/takeovers up to a size of 5 billion EUR (approximately $8 billion AUD at yesterday's exchange rate).
Their model is simple: build meaningful and influential positions in listed companies, and either take the company over or collaborate with existing management to create growth for all shareholders.
Given Iress' ambitions to double net profit after tax (NPAT), coupled with diversified business assets with its recent acquisition of investment platform OneVue and its UK mortgage technology firm, the company seemed a fitting target for EQT's strategy.
The Rationale and the Bid
On the 29th of July this year, Iress announced to the market that they had received a non-binding indicative offer (NBIO) from EQT, offering to purchase all of Iress' shares for a range of between $15.30 and $15.50 per share.
This was off the back of a previous bid by EQT in June, at the lower offer of $14.80 per share – which was rejected by the Board.
The IRE:ASX share price moved in response, as valuations around the company quickly became based on M&A activity as "blue sky upside":

Source: Bloomberg

The July offer too was considered to not represent compelling value for shareholders, but the Iress Board did grant EQT access to limited non-public information, to assist EQT in developing a more compelling proposal for recommendation.
Very much a "I'll show you mine if you show me yours" scenario, not uncommon in M&A negotiations.
To close out the saga, we then move to the NBIO from the 10th of August, at an implied value of $15.91 per share before franking credits.
Given this price was at 45.3% premium to the 9 June undistributed share price, the Board did indeed consider this to be in the best interest of its shareholders and further talks with EQT commenced subject to a 30-day exclusive due diligence period.
The takeover that could have been
As we now know, after that exclusivity period (plus another 10-day extension), the two parties agreed to terminate further proceedings – with EQT nothing that there were "no red flags" in its due diligence and the outlook for the company remained positive.
Why did the deal not proceed, then?
EQT are not new to this game, and their choice in bidding for Iress is based in what has become a growing market around the world for affordable and scalable financial advice.
Obviously, this is not news to many of our readers and clients, but financial advice is still in budding years of its growth.
Clients without the level of assets which might earn one a private banker or wealth manager, have historically found themselves underserved due to the financials of trying to build volume with lower balance clients. With developments in investment platforms such as Mason Stevens, coupled with Iress' adviser-facing technology, this barrier becomes far more manageable.
According to Business Wire, global financial service markets are set to reach $22,515.17 billion USD this year, up 9.9% from 2020, and expected to grow to $28,529.29 billion USD by 2025.
Iress is already well-positioned in Asia-Pacific and is only just making footholds in markets across Europe and North America.
Advice technology and accessible market data systems like Iress' hold the keys to unlocking that predicted global advice growth, and EQT could see that runway.
The likely outcome was that EQT was not able to affirm a more global investment hypothesis, being focussed primarily on Europe and North America, where Iress' current and most likely prospects for growth remain scattered throughout Asia-Pacific and selectively in the UK.

How does this impact on our market?
For Iress, the drop in share price was evident that the market was placing a tremendous amount of value in the prospect of a takeover, as is to be expected.
Reading between the lines of the Iress/EQT bid, there are some encouraging elements for the state of corporate activity within Australia.
Obviously, the size of the transaction is encouraging, but what is also interesting is the willingness of Iress' board to reject three offers all at a premium to the market price of the stock.
This implies not only a great deal of confidence in the future growth prospects of the company, but also in the surety of the market and the prospect of another buyer entering the scene – many market observers have already hypothesised that the EQT rejection leaves the door open for another player to make an offer.
The attention paid to a largely Australia-focused company by a global private equity firm continues a growing trend this year of key acquisitions/offers being made for Australian assets, lending more credence to our market strength.
And of course, for shareholders, the potential realisation of capital value from ongoing corporate activity adds a compelling dimension to the investment thesis of owning Australian equities.
We'd note that this doesn't just apply to owning the company outright; now is a booming time for those invested in private equity strategies, activist managers, or have access to the staggering volume of primary market deals resulting from this increased corporate activity – as those investors on Mason Stevens indeed have.
As we continue to see more M&A activity throughout the remainder of 2021, each high-profile bid lends another drop of positive sentiment to the market – investors should keep an eye on this activity as a sign of collective confidence (or fear) of domestic equities, as yet another risk-management tool.
The views expressed in this article are the views of the stated author as at the date published and are subject to change based on markets and other conditions. Past performance is not a reliable indicator of future performance. Mason Stevens is only providing general advice in providing this information. You should consider this information, along with all your other investments and strategies when assessing the appropriateness of the information to your individual circumstances. Mason Stevens and its associates and their respective directors and other staff each declare that they may hold interests in securities and/or earn fees or other benefits from transactions arising as a result of information contained in this article.