"Oh Superman where are you now?
When everything's gone wrong somehow,
The men of steel, the men of power
Are losing control by the hour."

Genesis, "Land of Confusion"
"So, what happens to Company X if China and the U.S. go to war?"
In the past few weeks I have been asked the above question about three different companies, although I imagine this scenario will be abated for now given the latest election results.
With the ever-growing increase in global tensions, not the least between ourselves and China, it is a valid question for any investor to have at the back of their mind.
My reply has been generally the same; if tensions escalated between any major country, let alone two superpowers, we would likely see a period of digital warfare and cyber operations than actual 'boots on the ground'.


The rise of the cyber threats
The sophistication and effectiveness of cyber-attacks, be it to destroy or infiltrate, has been exponentially increasing since the early 2000s – you need only look at articles describing one of the first digital weapons, 'Stuxnet', amongst other viruses employed by private parties and governments over the last decade.
Earlier this year, Prime Minister Scott Morrison announced a repurposing of AUD 1.35 billion towards defending against cyber attacks from hostile foreign powers, and last year the U.S. military budget included USD 15 billion for 'cybersecurity-related activities' – the real figure of what the world spends on cyber weapons rather than defence may never be known.
But let's dig down, from the level of intelligence agencies to the level of businesses and individuals – in a world that seems to become more digitized each day.
How do we defend ourselves from cyber-attacks?
And relatedly, how do we invest in technology and companies which can provide that defence, much the same way we'd invest in Lockheed Martin during a period of physical war?
Some figures behind cyber—attacks and cybersecurity
According to Accenture (a global professional services consultant), security breaches caused by cyber-attacks have increased by 67% since 2014: in the U.S alone, there is a cyber-attack on a business every 39 seconds.
The Federal Government estimate that cyber-attacks cost Australian businesses upwards of AUD 29 billion each year – in 2018 alone, over six million Australians were victims to a cyber-attack.
If those numbers don't seem quite daunting enough yet, a report by RiskIQ estimates that the global cost of cyber crime will exceed USD 11.4 million, each minute, by next year.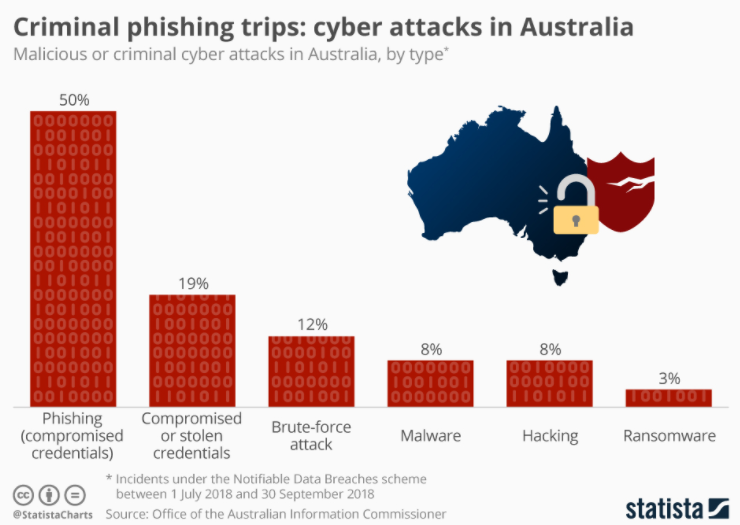 Source: Statista

Perhaps the most relevant statistic to investors is this: whilst 68% of business leaders feel that cybersecurity risks are increasing, only 5% of businesses are sufficiently protected against a potential attack.
That's a large growth runway for any cybersecurity stocks to take advantage of – and these are just numbers on the cost to businesses. The numbers on consumers are a little hard to nail down, the figures are conflicting between sources, but an estimate by PurpleSec (a cyber security specialist) puts malware infections targeted at individual users at 812.67 million in 2018.
Vehicles into cybersecurity
As with most growing industries, you can access exposure through either a direct holding in a company, or through an ETF or managed product which aims to capture exposure to growth through a spread of different holdings within the sector.
Many companies offer a range of products, but most recognisable to industry outsiders would be consumer anti-virus programs or network protection services – so we'll take a brief look at some of those names.
One of the most recent examples of vehicles into cybersecurity is McAfee Corporation (MCFE:NASDAQ).
Purchased by Intel in 2011, McAfee has been operating in antivirus and security software since 1987. According to Forbes, software IPOs are one of the best performing segments on the U.S. exchanges in 2020.
Unfortunately for the moment McAfee is proving Forbes wrong, falling ~13% below the listing price. However, it remains a company to watch in this space.

Source: Bloomberg
Another household name in the anti-virus space is NortonLifeLock (NLOCK:NASDAQ), formerly known as Symantec.
A Fortune 500 company, Norton has also been operating since 1982 and has expanded aggressively into global markets with its consumer solutions. The stock rallied 38% from lows in March, although analysts have raised concerns about the long-term upside of the company after it sold a lucrative enterprise security business to Broadcom (under the name Symantec).
Cisco Systems (CSCO:NASDAQ) is an example of exposure through a larger tech holding – their exposure to networks, software and telecommunications has allowed them to vertically integrate security solutions throughout their own network. In 2020 it was reported that Cisco held 9.1% market share of the global cybersecurity market.
Finally let's look at Okta (OKTA:NASDAQ), a specialist in cloud-based security which has experienced a nearly 100% rally in price since March lows. The 'cloud-based' buzzword always excites an industry outsider, however what is not immediately apparent about Okta's model is the elegance of combining multiple services. Okta allows third party services (for instance Google or Microsoft requiring two-factor authentication to log into your email) to all be sent to one app, allowing integration of security protocol across potentially dozens of different cloud applications.
Investing in the new 'defence'
Cybersecurity is an interesting subsector of technology to consider getting exposure to; in the coming years it may be viewed more as a business security / personal defence play and there is a high level of global incentive to employ their services as the sophistication of attacks ramps up.
Fundamentally, it is an industry that will become a necessity as we exit the COVID-19 pandemic with a permanent shift in our daily lives towards digitization – it's tremendously difficult to hack a coffee meeting, compared to a Zoom call.
The views expressed in this article are the views of the stated author as at the date published and are subject to change based on markets and other conditions. Past performance is not a reliable indicator of future performance. Mason Stevens is only providing general advice in providing this information. You should consider this information, along with all your other investments and strategies when assessing the appropriateness of the information to your individual circumstances. Mason Stevens and its associates and their respective directors and other staff each declare that they may hold interests in securities and/or earn fees or other benefits from transactions arising as a result of information contained in this article.