Throughout any other period in recent memory has health and wellbeing dictated decision making more than the period that just passed – and really, are still going through.
Scott Morrision was meeting with the "National Cabinet" on a regular basis.
This was not the normal cabinet but a meeting between the Prime Minister and state and territory counterparts, the Premiers and Chief Ministers.
Normally the Council of Australian Governments (COAG) meets semi-annually to discuss issues with no legal effect, in this situation like War Cabinets, they were making decisions collectively.
Without your health you've got no wealth.
The actions the Government took was because as individuals we all have different attitudes to good health.
So, if a sector of the economy becomes the focal point, you would expect the healthcare sector would have outperformed?
In fact, the opposite has been the case.
From mid Feb 2020 to now the healthcare sector in the ASX has underperformed the ASX200 by 20%.
Looking at that performance against the rest of the world, that underperformance is more significant at 38% (benchmark- MSCI World Healthcare index).
The chart below shows how over a five-year time period the ASX healthcare names have significantly outperformed their global counterparts, but its changed dramatically as COVID onset.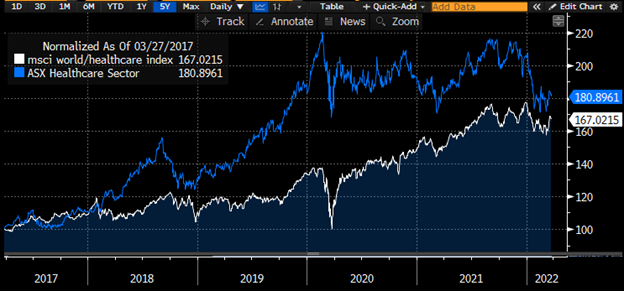 Source : Bloomberg
So what happened?
The ASX healthcare sector is dominated by CSL Ltd.
It's nearly 3x larger by market cap than the next company in line, Resmed, and over 8x larger than the others that round out the top 5; being Sonic Healthcare, Cochlear Ltd and Ramsay Healthcare.
I mention market capitalisation because with the growth of the ETF industry and passive investing, the larger companies do benefit attracting money flows.
COVID restrictions hit companies in different ways.
CSL has suffered, it manufactures and markets human pharmaceutical and diagnostic products derived from human plasma. Plasma is the fluid component of blood and its frozen after donation.
The vast majority of CSL's plasma collections come from the US where it's able to pay donors. Lockdowns and US Government COVID stimulus checks slowed collection with the decline in donations motivated by extra income.
CSL has since improved collection technology associated with sign-up and check-in processes and increased donor payments in response.
The demand for ventilators and ventilation masks skyrocketed globally.
Resmed (RMD) was a clear beneficiary during the pandemic.
It received authorisation from the FDA to modify devices like their anaesthesia gas machines and positive pressure breathing devices and use them as ventilators.
Sonic Healthcare (SHL) is the world's third-largest pathology operator with operations in seven countries.
Laboratory operators outperformed particularly during the initial phase of the Omicron outbreak due to the surge in PCR testing. As this subsided so has SHL's share price.
Cochlear and Ramsay Healthcare have both been COVID casualties.
Ramsay is the largest private hospital operator in Australia and France and the fourth largest in the UK. Private hospitals have endured higher costs and elective surgery was put on hold across the globe.
Cochlear is the market leader for bone anchored hearing implants for conductive hearing loss and single sided deafness. Like Ramsay it has suffered as elective surgery cancellations and backlogs still persist. COH was unable to provide revenue guidance for 2nd half of 2022 at its recent results announcement. But it's safe to say the market for adults and seniors is only growing and the over 700k recipients of existing implants get upgrades every five years.
The COVID pandemic highlighted the stress on the health system.
Older patients with more than 1 long term condition are increasing in number and the cost of caring for them is significantly higher and ongoing than that for healthy adults.
Global life expectancy is increasing with better healthcare and technology and we are all striving to make a healthy life.
Those ASX listed stocks mentioned above are care and treatment focused.
The wellbeing focused component of health dollar spend will be where the growth in the decades ahead comes from but in this environment of rising rates growth names have fallen out of favour.
The ASX listed stocks above have significant earnings from overseas so the strengthening AUD will be a headwind.
While the world headlines are dominated by the movements of Russian troops in Europe it's hard to see a rotation out of materials but as the economy normalises again the Australian healthcare sector's underperformance will get noticed.
The views expressed in this article are the views of the stated author as at the date published and are subject to change based on markets and other conditions. Past performance is not a reliable indicator of future performance. Mason Stevens is only providing general advice in providing this information. You should consider this information, along with all your other investments and strategies when assessing the appropriateness of the information to your individual circumstances. Mason Stevens and its associates and their respective directors and other staff each declare that they may hold interests in securities and/or earn fees or other benefits from transactions arising as a result of information contained in this article.