Now that the major bank results are sitting comfortably in our hindsight, and following on from our banks outlook earlier this month, today we'll consider some further views from the street on bank stocks; both as a rotational play and why they benefit from the current economic and interest rate environment we find ourselves in.
To jump right to the end for a moment, the market appears to be pricing in our major banks (and to a lesser extent, the regionals) as a suitable option for value factor investment – i.e. rotating away from "growth" and into "value".
This is based off the view that markets overestimated the impact that COVID-19 would have on bank balance sheets and loan books, whilst historic lows in interest rates make the dividend provisions of our big four all the more appealing.
Let's explore the merit behind these views.
Economic environment
Like most rotational investments in 2021, our banks were one fortunate sector who came out of COVID-19 overprepared, having been steeling themselves for a catastrophic economic outcome that never eventuated (and which the market seems to think isn't still coming).
At the behest of the banking regulator, APRA, our major banks conducted scenario modelling around the potential impacts of COVID-19 – and when dealing with APRA, it behoves a company to be as conservative as possible.
This led to banks building up large 'loan-loss provisions'; capital to be kept in reserve in the event of drastically higher default rates in the event of economic catastrophe.
Furthermore, most investors will recall that banks cut dividend payments when the March collapse first hit, as part of their provisioning in case the economy ended up crashing as hard as the markets did.
What we have since seen, at least domestically, is that we have weathered the COVID-19 crisis far better than those conservative models accounted for.
There are a vast number of reasons why this is worth a standalone morning note, but suffice to say there are now four financial giants who were equipped for the worst case and are now facing an optimistic outcome.
Deferred repayment loans are now nearly all back to making regular payments, according to APRA, and large corporate clients of the banks have had relatively low defaults compared to the multi-lateral economic crisis that was anticipated.
What this means is that there are billions in loss provisions that the big four can free up to deploy elsewhere, by which any means will eventually make it back to shareholders. We saw this last week when Westpac announced it was releasing AUD $600 million out of its loan-loss provision and directly benefitting its bottom-line profit, shocking the market in the same fashion that seeing a previously destitute friend suddenly ordering a round of drinks for everybody in the bar.
You can see from the chart below that the market response was pleased to say the least.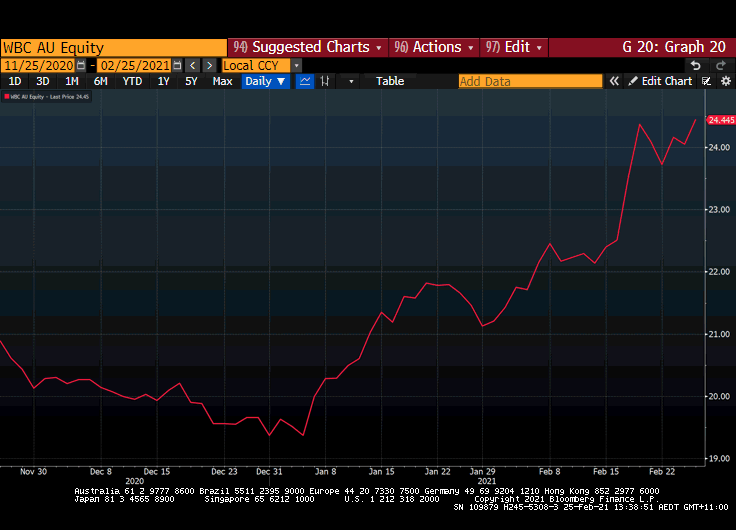 In fact, bank stocks in general have been on a gradual rally since September last year, outperforming the ASX index by 10-12% on average.

This isn't just from loan-loss provisions though: rising 10Y bond rates in Australia (and a similar situation is occurring in the US and their banks) are improving sentiments around our banks.
Besides the technical analysis that there is a historical inverse correlation between rallying long-term interest rates and bank equities, we know that if interest rates go up then banks should generate more net interest margin (NIM); although this is a 10Y government bond, the sentiment around an incremental rise is evidently positive.
To summarize, the banks and the market overestimated the level of economic catastrophe and 'bad debt' that would appear in bank loan books has not come to pass. What does that mean for the future?
The rotation into value
Here is where we now discuss our initial thesis, that the banks are a value investment driven by dividends.
What has hopefully come across in the preamble is that the banks are in a much better financial position than one may have guessed six months ago. If we were discussing fixed income, we would say that they have lower credit risk than previously anticipated.
But it's this comparison to fixed income which may be driving the market sentiment that this is a value play. With short-term interest rates just about at 0%, the availability of bank dividends with low credit risk is becoming increasingly appealing to investors – particularly knowing that banks (such as CBA's $1.8 billion unreleased loss provisions) still have 'dry powder' that is currently encumbered as a provision, but may be reclassified and utilised in dividend payouts.
Although not a growth play, if the market is pricing in 2-3% dividend yields over the next calendar year at least (plus some modest capital gains we hope), then an investment into the major banks could very well be considered a value play (or at least a "search for yield" and more of a steady equity-income-style holding.
Murky growth runway
That sentiment of Australian major banks not being a growth play requires some unpacking, as it's the biggest blemish to the merit of investing into the banks at the moment – and unless a company has some form of growth, it doesn't really deserve to be called 'value' either in the long term, unless you're able to purchase it as a discount to Net Tangible Assets (NTA).

Revenue growth has been hard to come by for our banks; since the Royal Commission in 2018, banks have been selling off a wide range of businesses (particularly wealth management), which used to be a key driver of income growth. By divesting these assets, they are also consolidating revenue streams and losing potential ways to increase income.

Which leaves us primarily with lending growth going forward.
Mortgages are by far the largest part of the loan book across the four major banks, and this market could be seeing some sunshine after a depressed few years.
Nationally, the banks and mortgage brokers are experiencing record levels of applications for new mortgages, particularly for the purchase of new homes as builders come back online.
In NSW, auction clearance rates averaged 81.7% last week (RP Data), and according to the Australian Bureau of Statistics (ABS) there was $22.3 billion total new lending to owner occupiers in December 2020, over 30% higher than that monthly figure has ever been in the last 5 years.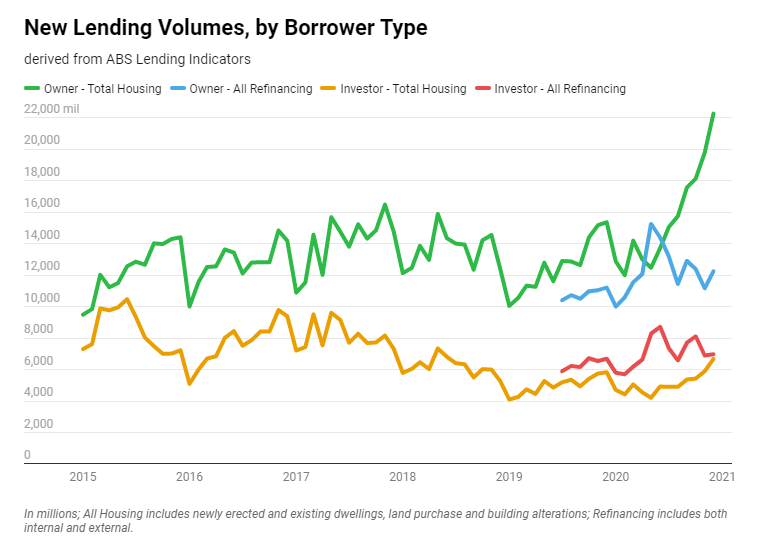 That's the good, so what's the bad?
During the onset of COVID-19, with a flood of public support and stimulus provided by the government, we have become very good savers. And now that the economy looks to be recovering and the outcome is optimistic, we have become very good repayors.
Observations by Citi analysts note that repayments on existing mortgages have gone up significantly, in the realm of 15-20%. Which means for all the boon of new mortgages being written, this is being offset by existing mortgages being paid off at an accelerated rate.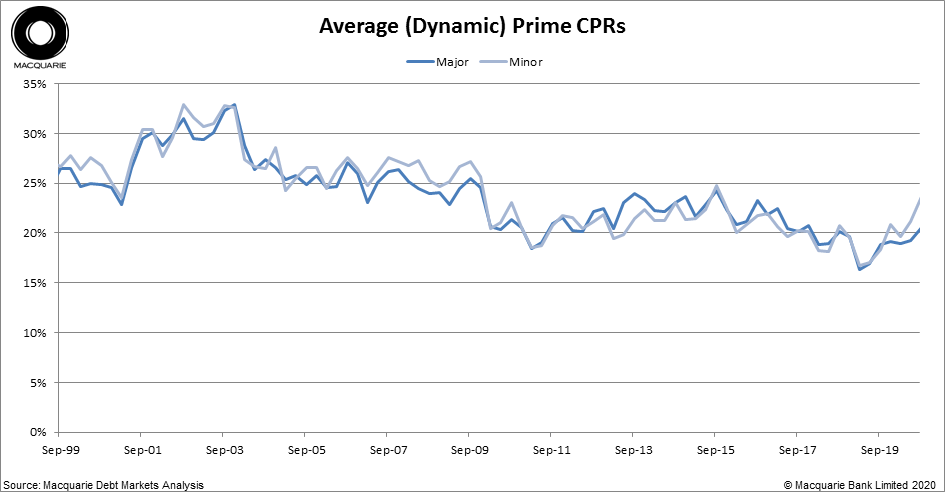 The chart above shows the Constant Payment Rate (CPR) on mortgages, notice the strong uptick going into September 2020.
Estimates suggest that the mortgage book across the major banks is only growing at around 3% p.a. (Citi).
Is it a rotation?
Is an investment into the banks as of today an investment into 'value'? Uncertain.
As Peter Lynch famously said, you don't always have to be buying in the best of times. An industry going from 'crumby to mediocre', going from 'mediocre to good' or from 'good to exceptional' will all cause stocks to go up. But if we look at what the market is pricing in, that run may be losing some momentum for the banks.
Once the improving economy and release of loan-loss provisions is factored in, all the price can fundamentally run on is revenue growth. The path towards that growth is obscured and unsure.
But what is more likely is that an investment into banks right now is an alternative way to chase yield for the investor. Jesse wrote a fantastic note earlier this week about Central Bank policy and made the point that the interest rate environment we're in is one of a kind. So whilst not necessarily traditional, using equities for yield may become the new norm whilst short term rates remain at these levels.
The views expressed in this article are the views of the stated author as at the date published and are subject to change based on markets and other conditions. Past performance is not a reliable indicator of future performance. Mason Stevens is only providing general advice in providing this information. You should consider this information, along with all your other investments and strategies when assessing the appropriateness of the information to your individual circumstances. Mason Stevens and its associates and their respective directors and other staff each declare that they may hold interests in securities and/or earn fees or other benefits from transactions arising as a result of information contained in this article.