Australia has put yet another reporting season behind us, one steeped in uncertainty which was eerily reminiscent of this time last year – uncertainty around COVID outbreaks, lockdowns on the eastern seaboard, all the greatest hits.
Eyes were on company guidance, as our corporate landscape collectively stared down the barrel of an improving economy running headlong into shutting down our two most populous states.
Investor sentiment could be charitably described as "mixed" and depending on which sector you personally are long, earnings or dividends may have either slightly surprised to the upside or severely disappointed you.
Today we will look back at the broad strokes of August's reporting season and eyeball what our listed companies may be telling us about the strength of our market for FY22.
Backdrop to Reporting Season
Companies certainly had to fight against some dour expectations from the majority of the domestic investment community last month, with the ongoing NSW and VIC lockdowns impacting investor sentiment, business confidence and domestic economic activity – talking about pushing earnings uphill.
This does provide a parallel to what the Australian market saw in August last year, when the lockdowns in Melbourne weighed heavily on the collective mind of the market and companies were compelled to become more conservative and bearish in their future guidance.
Unfortunately, this has not been assisted by the ASX underperforming other developed markets, as we lag behind vaccination efforts (and therefore economic reopening prospects) compared to economies such as the U.S.

Source: Bloomberg, Blue = ASX 200, White = MSCI Developed Markets Index

Without a doubt, then, the remaining months of 2021 will be crucial to provide clarity to the market on the recovery of our economy, particularly as we receive more and more information from state governments regarding potential re-opening dates and easing of restrictions.
Last, but certainly not least, we have to consider the level of fiscal stimulus still operating within both domestic and global markets.
We have touched on the accommodative monetary policies of central banks at length, but let's not forget Federal government support for the real economy filtering through to markets as well. For reference, see the record infrastructure investment listed in our FY22 Federal Budget, committing $15.2 billion AUD to new infrastructure projects and creating a further 30,000 jobs within the sector.
For a deeper insight into the current thinking of the RBA, I highly recommend Jesse's latest note.


How did we go?
We have of course already touched on August's reporting season in some sector-specific pieces:
In general, reporting season was a complicated affair, as corporate Australia had to readjust their outlooks for FY22 in light of lockdowns.
The result broadly was a largely disappointing earnings outlook for the next 3-6 months, leading into a strong recovery as we enter 2022.
According to J.P. Morgan, only 27% of the domestic market saw upgrades to earnings, compared to a historic average of 30%+, with healthcare and financials mostly seeing those positive revisions (more on this in a moment).
In fact, August 2021 was the first time since August 2020 that the domestic market on average saw negative earnings-per-share (EPS) revisions, of approximately -1.2%.
A major question which we must ask around earnings is, "how does that reflect in valuations?".
Valuations are a focal point of investment discussion lately, as global markets continue to grind higher and factor trades – such as value versus growth – take centre stage as forces of volatility within equity markets.
Between those two factor buckets, there will always be divergence.
Value, by its definition, will be cheaper than growth stocks. However, the current gap between the two factor buckets is around 12x P/E, a gap which J.P Morgan again cites as historically being closer to the 4x level.
This does present an interesting opportunity for mean reversion by being long value – though being short growth has burned a few too many people recently to bear discussion.
Dividends are also a crucial element to consider and form a tentpole of the appeal of domestic equities over the higher growth profile of markets such as the U.S.

Dividend revisions were more sharply negative than earnings downgrades, but this has to be considered in the context of dividend expectations showing on-going strength from June last year up until now.
There has been plenty of evidence that share buybacks and dividend strength will recover once this lockdown uncertainty has eased, particularly from the financial sector and our majors being in a position to increase their payout ratios.
This is particularly important since the ASX 50 index is one of the highest yielding indexes in the world, followed by the FTSE 100 – what we may lack in the growth aspects of the NASDAQ 100 or S&P 500, we make up for in yield profile.
So a low yield profile = much lower appeal for domestic equities.
As you can see from the chart below, the ASX 50 currently has a ~4.20% dividend yield, versus a ~1.80% yield for MSCI World.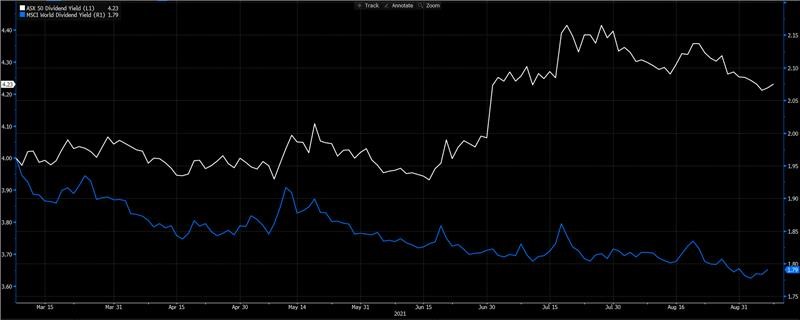 Source: Bloomberg, White = ASX 50 (left axis), Blue = MSCI World Index (right axis)
Improving Corporate Citizens
A side note on the topic of ESG, something we noticed both in our own research into the performance season results of various sectors, but also in assorted institutional commentary.
This results season featured the noticeable presence of thorough and details ESG policies and timelines, particularly for large companies, across various sectors.
One reading of this is that we are improving as corporate citizens and bringing promises around improving environmental, social and governance issues into a more actionable plan.
This is positive for market sentiment around the space too, as ESG continues to become a part of portfolio considerations from individual investors up to institutional bodies.

Source: Bloomberg
The outperformance of the VanEck MSCI Australian Sustainable Equity ETF (GRNV:ASX) over the ASX 200 speaks for itself on what focus investors are placing on our largest companies being good quality corporate citizens.
An Outlook for FY22
As mentioned before, the broad profile for this reports season was to highlight weaker corporate earnings for the rest of 2021 calendar year, leading into a strong recovery for FY22 as lockdowns ease and we once again start to find our feet.
Our domestic economy is still showing signs of recovery, and our vaccination efforts are on track to deliver us from lockdown purgatory.
Despite a meagre reporting season, we can see the hill in front us and have a pretty clear idea of what awaits us on the other side. Don't pull the pin on your Aussie equities holdings yet, the best may be yet to come.
The views expressed in this article are the views of the stated author as at the date published and are subject to change based on markets and other conditions. Past performance is not a reliable indicator of future performance. Mason Stevens is only providing general advice in providing this information. You should consider this information, along with all your other investments and strategies when assessing the appropriateness of the information to your individual circumstances. Mason Stevens and its associates and their respective directors and other staff each declare that they may hold interests in securities and/or earn fees or other benefits from transactions arising as a result of information contained in this article.