It's been a tough start to the year for the equity investor. The only major equity indices positive year to date are the UK's FTSE 100 and surprisingly Hong Kong's Hang Seng index.
Inflation is now a real threat to purchasing power and Central Bank policy will continue to try and address this as the year progresses. Consumer prices increased by 7.5% in January on an annualised basis in the US, the largest year over year increase since 1982.
Focusing on the US market, the SP500 is down over 5% and the technology heavy Nasdaq has been hit harder approaching 10% losses as valuations adjust for higher rates. Many tech companies are unprofitable and their valued on the profits they are expected to make in future years and higher bond yields discount the current value of those future profits. As we approach the conclusion of the US earnings season, lets recap what has transpired.
Earnings growth is still strong; over eighty percent of SP500 companies have reported, and results show 4Q 2021 EPS is up 26% against the December 2020. Importantly that growth has beat street estimates, which stood at 20% when reporting season commenced.
Looking at the breakdown, the continued rally in oil prices is benefitting the Energy sector which is showing 73% sales growth for the quarter against the previous corresponding period. Stripping energy names out, EPS growth for the quarter falls to 18% with the median constituent growing earnings by 13%.
Lockdowns still impact quarterly comparisons, when you look at expectations for the full year for 2022 consensus SP500 EPS is $226 USD, representing 8% annual growth.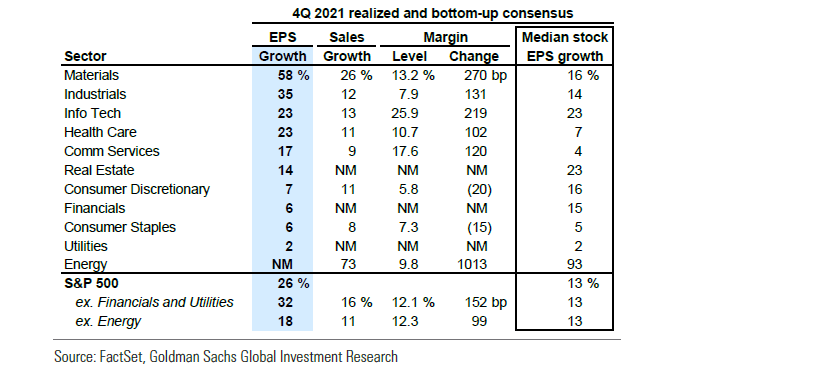 If we look at what companies as a theme have been saying on earnings calls, it's no surprise "inflation" is well cited. FactSet's document search algorithm shows of the companies that have reported, over 70% are discussing inflation impacts on their business and this is the highest on record.
Given the high concern, the positive to be taken is the minimal impact on net profit margin estimates. At the index level the current net profit estimate is 12.3% and that expands to 12.7% an annualised basis and that has only marginally slipped since December. Prices are going up, but they are being passed on to the consumer successfully (source: FactSet Earnings Insight). So, from the earnings perspective the outlook remains overall positive. What has changed is the outlook for inflation. Goldman last week lowered their SP500 year-end price target to 4900 from 5100. Their earnings assumptions are the same, but their economists now expect 7 Fed hikes in 2022, the equity risk premium is contracting, and that modelling reverts to a forward P/E multiple of 20x from 22x previously forecast.
It's been socially a difficult couple of years with the increased Government intervention in our lives. While it's been a welcome to have the profile of health and science experts raised in their contribution to Government decisions, a vaccinated population is ready to move and start interacting again. I subscribe to the view being marketed by JPM analysts globally, where they anticipate a strong cyclical recovery this year as COVID-related restrictions and distortions ease, leading to increased mobility, and releasing pent-up consumer and corporate demand. The world appears on the verge of normalizing and conversations and plans are shifting to more ambitious travel plans again.
Markets have been volatile recently and that is to be expected given how loose monetary policy had been dealing with the pandemic. Monetary policy is about normalization now and geopolitical risks are always going to attract focus when shorter term market momentum suits. Most investment banks still believe risky asset markets have mostly adjusted to anticipated monetary policy shifts by now and continue to market index targets significantly higher than current levels supported by solid earnings growth.
Equity markets typically fall in anticipation of the first interest rate hike and tend to firm up following as the market accepts the tightening is a confirmation of strength of the underlying economy. JPM's quantitative analysts looked at the last eight Fed hiking cycles going back to 1972.
S&P500 Median Performance Around First Fed Hikes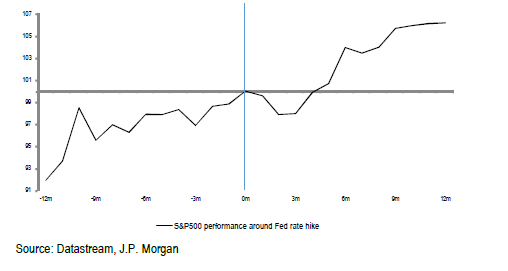 If the market has been adjusting its assumptions on the Federal Reserve's actions this year, once the cycle has started, the US stock market has a solid track record of returning its focus to creating and maintaining earnings and the positive price action and returns should follow.
The views expressed in this article are the views of the stated author as at the date published and are subject to change based on markets and other conditions. Past performance is not a reliable indicator of future performance. Mason Stevens is only providing general advice in providing this information. You should consider this information, along with all your other investments and strategies when assessing the appropriateness of the information to your individual circumstances. Mason Stevens and its associates and their respective directors and other staff each declare that they may hold interests in securities and/or earn fees or other benefits from transactions arising as a result of information contained in this article.