As Jesse said earlier this week, investing is always interesting.
As participants in capital markets, we are privy to a minute-by-minute update on where a vast collective of investors value a company, an economy or even a whole class worth of securities.
One particularly interesting aspect of markets, one which we are very proud to help our clients access at Mason Stevens, is that of "primary market deals".
The primary capital market ("primary market") is involved when new securities (be it debt or equity) are issued for the first time: this is where new securities are created in order to then become tradeable on the secondary market (a regular exchange) sometime in the future.
These issuances are generally offered to the market through investment banks or brokers, known as "lead managers" on the deal, and are not offered openly to all investors.
The dynamics of each deal is different, but the vast majority of primary issuances are directed towards an institutional and wholesale market, normally only to those who are direct clients with the bank or trade through their equity capital markets (ECM) or debt capital markets (DCM) desks.
This is why, since we trade through over 60 brokers across debt and equity, Mason Stevens and our clients are able to participate in such a wide variety of primary market transactions.
And wide the variety has been.
The mergers and acquisitions (M&A) activity throughout 2021 has been diverse and looks to carry on despite the on-going lockdowns in NSW, with Goldman Sachs reporting that over the first half of 2021 there was over $148 billion AUD worth of primary deals announced to the market in Australia and New Zealand.
Over the past month alone we have seen more than 20 live or upcoming primary market deals in just domestic equity markets.

According to a Deloitte corporate survey in July, 82% of corporate leaders expect the number of deals their companies pursue to increase over the next 12 months, compared to only 39% in July 2020.
Therefore, it's reasonable to assume that we will continue to see these high levels of primary activity throughout the rest of 2021.
With this background in mind, we are left with one overwhelming question:
When a primary deal becomes available, how do I know if it's a good investment?
Further to Jesse's comprehensive breakdown of investment rationale 101, let's examine some of the key points and decisions in equity and debt deals, which our investment team have used for many years and currently employ in any of our mandates which can tap primary markets.

Equities (IPOs, Placements, Capital Raises)
The process will differ slightly between IPOs and other primary issuances, since this company has never traded before, versus a placement or capital raise where you can see historical price levels and market liquidity.
Deal size;
An important factor to consider at first glance; consider the public profile and potential buying interest in a $50 million IPO versus a $2 billion IPO, or if the market will consider a $100 million company raising $50 million to be negative since it dilutes existing shareholder value too severely.
Company background;
Know what you are buying, always.
Consider the sector the company operates in, if it is a growing sector or one which has been downtrodden by the market, consider any pre-existing profile of the company, how they have made money in the past and how this may change post-deal.
The type of company is also important to consider from your own risk tolerance: are you buying an industrial with existing income and contracts, or are you buying a biotech whose success hinges on a clinical trial and maybe yet to become profitable? Both are completely valid investments, respective of your risk profile.
Use of proceeds;
What the company is going to use the proceeds of the deal for is generally more clear to equity than it is to debt.
You want to look out for uses which promote revenue or profit growth within the company, such as the purchase of a new asset for a miner, the funding of further clinical trials for biotech, M&A activity for a financial or technology operator, or for new facilities that may help lower costs.
A point of potential concern is when you see proceeds being used solely to pay down debt, fund corporate expenses such as buying a new HQ, or paying bonuses.
This was a point we discussed internally when reviewing the F45 (FXLV:NYSE) IPO in mid-July, noting that employee bonuses and repaying indebtedness were two prominent use of proceeds.
In itself these uses do not mark a deal as good or poor, but they can be a reflection of how much this deal is focussed on growth versus benefitting existing holders.
Market sentiment and liquidity:
How the market views the company/deal, and how easily you could potentially exit, go hand in hand.
Part of this falls to company background, if this is a market favourite which has been well supported, if the company is down on its luck trying to raise money to save a sinking ship, these can greatly impact how the price moves after the securities begin trading.
Liquidity can be influenced by how large a company is, the daily volume that is traded, the amount of shares available to public markets and the size of the deal – which also ties into your own position sizing and how much capital you are willing to have potentially locked in the market until liquidity is available.
Debt (Bond Issuances)
Debt is often a more rational market to analyse; yields are known up-front (hence: "fixed income"), credit ratings guide the quality of the issuer and investors can plot out curves to see the proposed offering versus comparable securities in the market.
We'll forgo discussing company background – since the same principle applies in terms of assessing the strength and positioning of the company in the market – and use of proceeds, which are often murkier and sometimes associated with regulatory capital levels.
Issuer rating;
The issuer rating helps determine the relative quality of the underlying issuer of the bond, which in turn affects what yield the bond is offered to the market. You'd want to be paid more for a sub-investment grade, "junk" bond with a higher probability of loss, than what you'd expect to be paid for a higher-rated bond issuer with a lower relative probability of loss, such as our major bank's senior unsecured debt.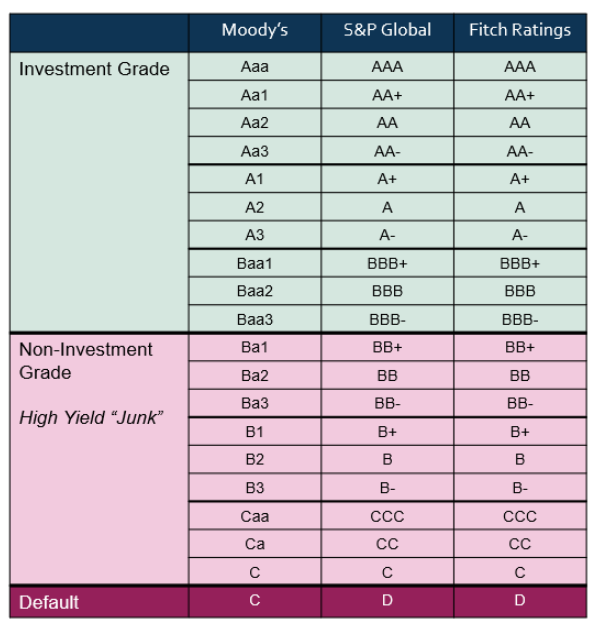 Source: Moody's, S&P Global, Fitch Ratings, Mason Stevens


Bond structure:
Fixed income securities come in many forms, and have many different structures, which is a combination between capital structure and interest rate type.
Capital structure refers to the rank of the debt obligation within the corporate entity, where the highest-ranking debt is the first to be repaid, before lower ranking debts.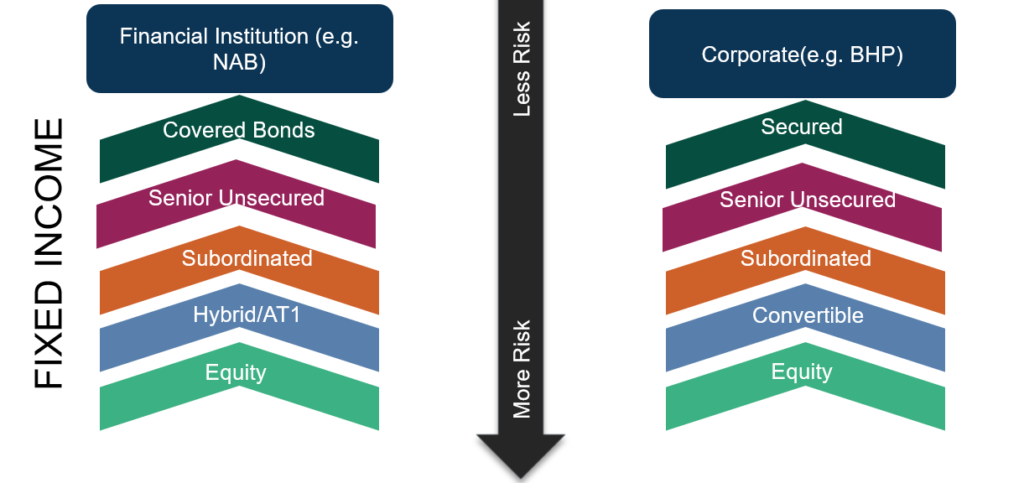 Source: Mason Stevens
Interest rate type is a reference to the bond issuer's ability to issue debt with a fixed-rate coupon (say 4% p.a.), or floating rate (say quarterly BBSW +3%) or inflation-linked (i.e. CPI+2.5%).
For instance, you could buy a subordinated floating rate note, or a senior unsecured fixed-rate bond, or an asset-backed (secured) inflation-linked bond, or any variance of these terms and interest rate types.
These structures change the risk profile and market positioning of the deal, and how you should consider the security in light of your risk profile and macroeconomic outlook.
This dynamic can make it quite complex to understand the intricacies of bond structures, and the Fixed Income team are always available to assist with questions you may have.
Relative value:
Relative value looks to assess the fair value of the bond, versus the price at which is it being offered. If you see that the fair value (based on the yield, price, term, and duration) of a bond is below the current spread, then this is a strong indication that this is a worthwhile deal.
For example, when we reviewed the Dexus Wholesale Property Fund 7-year unsecured fixed-rate note last month, the new issuance was pricing almost exactly where we considered fair value to be.
This leaves no real premium from the deal, an aspect that an investor generally wants to see when participating in a primary issuance – notice that the new deal denoted by the purple dot is offering a lower yield to existing Dexus bonds trading in secondary market (blue dot)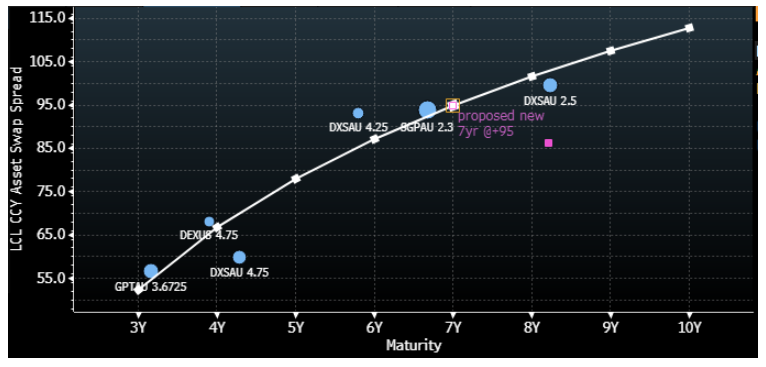 Source: Mason Stevens, Bloomberg
Coming to an Investment Decision
There are many different factors at play to analyse a primary markets deal, and the timing is often very brief to consider the deal and make an investment decision.
Being aware of your risk parameters and tolerance is always key to anticipating which deals you are willing to bid for, given there is not always the time to put the thought and consideration that you may otherwise do for a security in the secondary market.
To link back once again to Jesse's note, keep in mind the fundamental criteria around any investment and do not sacrifice quality assessment and confidence for the sake of the excitement of a new deal. There will always be another, and there will always be opportunities to test your investment philosophy in the market.
The views expressed in this article are the views of the stated author as at the date published and are subject to change based on markets and other conditions. Past performance is not a reliable indicator of future performance. Mason Stevens is only providing general advice in providing this information. You should consider this information, along with all your other investments and strategies when assessing the appropriateness of the information to your individual circumstances. Mason Stevens and its associates and their respective directors and other staff each declare that they may hold interests in securities and/or earn fees or other benefits from transactions arising as a result of information contained in this article.